This is an archival story that predates current editorial management.
This archival content was written, edited, and published prior to LAist's acquisition by its current owner, Southern California Public Radio ("SCPR"). Content, such as language choice and subject matter, in archival articles therefore may not align with SCPR's current editorial standards. To learn more about those standards and why we make this distinction, please click here.
Morning After Report: 90210 Episode 20 'Between a Sign and a Hard Place'
We need to hear from you.
Today, put a dollar value on the trustworthy reporting you rely on all year long. The local news you read here every day is crafted for you, but right now, we need your help to keep it going. In these uncertain times, your support is even more important. We can't hold those in power accountable and uplift voices from the community without your partnership. Thank you.

Donna Martin knows what she wants...or does she?
Last week, Donna Martin (Tori Spelling) dropped in on Kelly and Silver and then dropped a bomb: She and David Silver (the noticeably absent Brian Austin Green) have separated. Everything is busy-busy-busy in the Taylor-Silver-houseguest Martin-Silver home this weekday morning, and while everyone else is rushing off somewhere, it seems Silver isn't back among the living yet at school, so she's handing in her homework through Kelly.
Morning at the Wilson manse has Mom sorting out stuff for a yard sale (dressed up in business casual blouse, slacks, dress shoes, and earrings for the task for some reason). Naomi shows up to give Annie a ride--suddenly they're besties--but they are not very good at being pals...awkward convo! They do, however, bond about foosball...seems Naomi used to play with Bella Cruise (Tom Cruise-Nicole Kidman adopted child Isabella?).
At school, Ethan is stopped by Liam on his way to English class. Liam's theory is that if you go to English class, you must want to be an English teacher, because if you like English in high school you'll go to college and be an English major, and "graduate with a useless degree that only qualifies you to teach English at high school to snot nosed kids." (Actually, a teaching credential is what qualifies you to teach high school, so, like, way to sell higher education, d-bag.) Anyhow, Liam's point is Ethan should cut school and go to the beach with him. Hey, Liam, in English classes I took for my useless degree they told us to be concise. How about: "Wanna ditch and hit the beach, man?"
Navid and Adrianna are in the cafeteria, loading up their trays. This is strange because...isn't it like first thing in the morning? Why would the cafeteria be selling french fries, kale, and chocolate cake before school starts?

Ethan is not going to be an English teacher, but Naomi might have a career as a fly-catcher...or, errr, something that puts that mouth to good use.
Donna and Kelly are at the realtor's office so that Donna can look for a property where she can open up a clothing store. She lists this impossible series of wants, and the realtor says "You sure do know what you want for your store!" which I'm guessing will lead to Donna saying she wished she knew what she wanted in her life. She tells Kelly about how a temporary move to Japan ended up going on for years, and then they had the kid (so the kid was born in Japan?) and now Donna wants to raise her at home, but she and David have been fighting about it for months now. But if she leaves David in Japan and moves home to Beverly Hills...does that mean D-I-V-O-R-C-E? Okay, this is really just plain sad...Donna and David were supposed to live happily ever after in make-believe land! I'm too depressed now to fist bump during the opening riff.
So now it's the end of the school day and Liam is dropping Ethan off at school. Semi-Hot Teacher sees this, and immediately accosts Ethan in the parking lot. Despite my allegience to people with useless degrees, Semi-Hot is a bit too intense about how not cool it was for Ethan to miss one class...also, how the hell did he get his bag all packed and his day's work all tied up so that he could be heading off at the same time as the students? Maybe all those pink slipped LAUSD teachers should get a job in a district like West Bev, where you have time to chase one random kid in the parking lot at 3:01 p.m.
Silver shows up at the Dr Pepper Pit to meet Dixon, but two catty bitches rib her about her psychotic break porno film they saw on YouTube, and we realize that she's been missing school because she's embarrassed, not because she's not healthy enough to go. That could be pretty daunting, I'll give her that. Like enough to make a girl want to switch schools daunting. "Put on a smile and act like nothing happened" is Dixon's advice. That and tell everyone for the past month she's been either gardening or reading Jane Austen. Hello, dumbass, she's trying not to come off like a freak!

There's nothing better to dress up for on a weekday than sorting out the junk you brought from Kansas to sell at your Beverly Hills yard sale!
After school at the Wilson house, Mom is still sorting out yard sale junk, and still over-dressed. Dad is home (also eerily soon after a workday) and clowning around, and Annie shows up (in a totally different outfit than what she was wearing at school that day), and Dad breaks the news that Naomi's dad is being sued for sexual harassment by the mother of a kid Annie goes to school with. "Poor Naomi!" This is a weird storyline...
Donna's solution for her "Bev Hills or Japan" dilemma: A Psychic consultation. Classic Donna Martin ramble follows, while Kelly looks on skeptically. I'm with ya, Kel. This psychic friend seems kooky. "Look for a sign," is her expert advice. Uh huh.
Now she points to Kelly. "You're going to meet a man!" she tells Kelly. Very handsome with a six pack. My guess is a six pack of beer or...oops, I forgot what show this was...Dr. Pepper!
Now the Wilsons are presiding over their sale of Kansas crap in Beverly Hills. Naomi is inexplicably there, and Annie gets her into a game of foosball, and tries to get her to talk about Naomi's dad.

Just a couple of girls who love foosball...
Meanwhile Navid is helping Adrianna look at pamphlets about prospective adoptive parents for her every-growing oven bun. Navid is so very into Adrianna and the baby...I think he wants to try to sell her on the idea of the two of them raising it together. Adrianna is like totally not interested in dwelling on anything about the baby proper, because she knows she's just going to be giving it away. This makes Navid make a wistful face...because, y'know, teenage boys with girlfriends who got knocked up by old drug buddies get really thoughtful and pensive about the prospect of helping raise a baby.
Kelly and Donna are out looking for signs: Stop signs, Japanese restaurants, rain... They're also hatching a plan to get Kelly that hot guy the psychic talked about. Arm in arm they stop two girls on the street and ask them where they can go out to have fun. "Truck Stop" is the suggestion...is it me or is this setting up a joke where Donna and Kelly go to a dyke bar?
Silver is now in a church looking for...uh...Jesus?
Naomi's dad finally spills the beans about the lawsuit, and this means Naomi needs to move out of the hotel, you know, like "for his image." His reasons: First, they need to look good and present a "unified front" and, second, it's illegal for her to be there alone. Gee, you think, Dad? You're just now coming to this conclusion? Excellent parenting skills. Naomi: "No! You can't make me!" Uh, actually...yes, he can, genius.

What's wrong with two girls who love each other?
Kelly and Donna are out on the town, in a glamorous club that seems to be full of...women. "Ohmigod, we're totally at a lesbian bar!" realizes Donna. They decide to drink a couple of Dirty Girl Scouts and make the best of it.Now Naomi is meeting Annie at the Dr Pepper Pit, where Naomi overshares about her nasty Chinese-restaurant-bathroom sexcapades with Liam. She still refuses to share about her Dad, and when some more catty bitches (the kid of the woman suing Naomi's dad, included) confront Naomi, Annie jumps to her defense. This pisses off Naomi, and this makes me wonder why anyone bothers going to the Dr Pepper Pit, since really delicious french fries don't make up for its abundance of Dr Pepper product placement and catty bitches who try to stir things up.
After dazzling the lezzies at the Truck Stop, Kelly and Donna stumble drunkenly down the street. Donna sees an empty store, and it's just what she's been imagining...and the sign? Oh, the one saying FOR LEASE. Light bulb moment! "Looks like someone's moving back..." says Kelly. Woohoo, Donna!
Annie shows up to Naomi's hotel (the W that isn't actually open yet) to apologize. She offers for Naomi to stay at Casa Wilson, but Naomi's condition is that they attempt to be real friends, not scared of telling each other stuff. Looks like we have a deal.
Adrianna is interviewing a prospective adoptive couple. This is odd because she is with Navid and not, oh, let's say her mother, and there's no lawyers or adoption agency folks present. Just Adrianna, Navid, and the friendly couple sitting in some conference room in those big black conference room chairs. I'm sure the state of California is cool with 16-year-olds and their boyfriends making choices about adoption without any legal or parental consent or supervision.
Donna is having some sort of "opening" which necessitates she and Kelly getting tarted up again and going out. But Donna is sad-face because after talking to David on the phone and telling him about the store, his solution is for them to work out a schedule for shuttling the baby between LA and Japan. Oh, David, say it isn't so? Donna thought he would just want to move back...but, alas, not everyone wants to return to 90210. The zip code or the new show, it seems. PS How come Donna hasn't mentioned her mom yet?

Kelly isn't so sure about Donna's Psychic Friend...
So I guess the "opening" is for Donna's new store, which, correct me if I'm wrong, she just saw as being vacant the night before (a Saturday night) which makes today Sunday. So in around 12 hours she bought a store (on a non-business day) and prepped it to open, and put together an opening party? That is BEYOND ABSURD. I can forgive the writers having the cafeteria selling french fries at 8 a.m., but THIS IS RIDICULOUS. To do this would take MONTHS.Of course all the WestBev kids are there...Silver and Dixon (Silver's first social outing since "the incident"), Annie and Naomi (why?) and Adrianna and Navid (again, why?). Everyone has turned out in spades for a Sunday evening party they could have only heard about sometime that afternoon. Kelly runs to a convenience store to buy crackers and cookies (this also doesn't make sense--looks like a slamming catered spread at the instant party) and she bumps into Semi-Hot...who has just taken a six pack of something (surprisingly NOT Dr Pepper!) out of the fridge.
Okay, here we go again, writers. We know Semi-Hot lives in a moody film-noir old school pad down by the beach. We know Donna's store is somewhere high-profile and in a business area, like somewhere between WeHo and Beverly Hills. Why in the world would Semi-Hot be picking up a six -pack of brewskies to chug solo anywhere in the vicinity of where Donna's new store is?
Behind Donna's store, though, is a cool artistically graffiti-ed wall, against which shell-shocked Silver can lean, and chat with Ethan, who is just arriving. Why is Ethan at Donna Martin's clothes store opening? Easy--Navid texted him to say "everyone is hanging out" so he and Liam came by. Yup. That's how things work here in L.A. Text about a shindig and the trendy high schoolers come rolling in on a Sunday night, la di da!

Two things you will find at the Peach Pit: Dr. Pepper and catty bitches. Right, Silver?
Meanwhile, Naomi meets Liam in front of his muscle car on the roof of some parking structure. She says she refuses to be his booty call, which is why they start eating each others' faces. She's one of those leopards who can't change her spots.
Ethan and Silver continue to bond in the alley (not the same kind of bonding Liam and Naomi are doing on the roof, btw). Silver admits she's going to go to St. Clair's, a private Catholic school, which will take her mid-semester, and not go back to West Bev. There's really only a few weeks left in the school year, so this seems a little absurd. Couldn't she finish the year out at West Bev, even from home? Or just suck it up and go back for six weeks? Wouldn't Jackie Taylor-Silver have a say in this, or Mel Silver?
Speaking of bonding...Semi Hot has hauled Kelly back to his beach pad, and she is basically pouncing his bones. Rrrrrowl!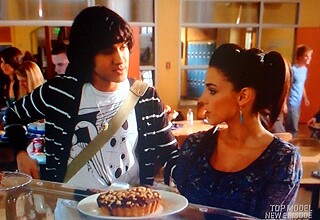 Would you like fries with your teenaged husband?
Other post-Donna Martin instant store party goings on: Dad and Mom Wilson eating fruit and drinking wine in the kitchen and chatting with Naomi and Annie, and Adrianna and Navid hitting up the Dr Pepper Pit for a refreshing Dr Pepper and a talk about the future life of Adrianna's demon seed. "You don't have to give your baby up if you don't want to," hints Navid. He declares his love for Adrianna, and offers to go to baby swim class with the kid, and to go to college nearby to be with her and the kid...oh, being 16 is so fun! "I wanna be with you forever," says Navid. "Let's get married!" he says. "Okay, yeah, okay!" says Adrianna.
Yeah, this is so like totally awesomely okay, kids!
90210 airs Tuesdays at 9 (new time!) on the CW
Get caught up: Episodes 1 & 2; Episode 3; Episode 4; Episode 5; Episode 6; Episode 7; Episode 8; Episode 9; Episode 10; Episode 11; Episode 12; Episode 13; Episode 14; Episode 15; Episode 16; Episode 17; Episode 18; Episode 19; or go retro.
But Yeoh is the first to publicly identify as Asian. We take a look at Oberon's complicated path in Hollywood.

His latest solo exhibition is titled "Flutterluster," showing at Los Angeles gallery Matter Studio. It features large works that incorporate what Huss describes as a "fluttering line" that he's been playing with ever since he was a child — going on 50 years.

It's set to open by mid-to-late February.

The new Orange County Museum of Art opens its doors to the public on Oct. 8.

Cosplayers will be holding court once again and taking photos with onlookers at the con.

Littlefeather recalls an "incensed" John Wayne having to be restrained from assaulting her and being threatened with arrest if she read the long speech Brando sent with her.