This is an archival story that predates current editorial management.
This archival content was written, edited, and published prior to LAist's acquisition by its current owner, Southern California Public Radio ("SCPR"). Content, such as language choice and subject matter, in archival articles therefore may not align with SCPR's current editorial standards. To learn more about those standards and why we make this distinction, please click here.
Metro Unveils Ambitious $120 Billion Plan For The Next 40 Years
Stories like these are only possible with your help!
You have the power to keep local news strong for the coming months. Your financial support today keeps our reporters ready to meet the needs of our city. Thank you for investing in your community.

Last week, Metro teased us with a preliminary "wish list," which included things like a tunnel through the Sepulveda pass, new and improved bus routes, and rail extensions, should Measure R pass in November (which, it likely will). Today, they released the plan in full in an 81-page document that outlines the projects Metro hopes to undertake through 2057.In a statement, Metro CEO Phillip Washington said, "As LA Metro plans for future growth and transportation needs, it is imperative that we look at all mechanisms at our disposal to ensure the region's mobility needs are met. Working with our community stakeholders, this expenditure plan brings us a step closer in defining what projects are needed and where the funding could come from to complete those projects."
Metro pulled out all the stops with this interactive, stats-heavy page for "The Plan" which not only lists projects that are currently in the works, but also touts transit growth the county has seen over the last 25 years.
Measure R would increase the countywide sales tax by a half-cent for 40 years, and would be adding an extra 18 years (reaching through to 2057) to the existing measure that's been raising money for transit since 2008.
According to the L.A. Times' Laura Nelson, one of the "sticking points" in this proposal was how to prioritize the projects over the next 40 years.
Here's a chart that breaks down how that $120 billion in tax revenue from Measure R would be allocated: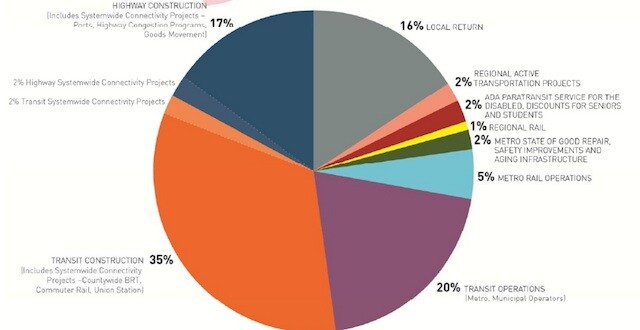 (Metro)
The full proposal itself breaks down the projects into several different categories: like "Highway Projects," and "Transit Projects," and is divided into three different phases for each: the 1st phase goes from 2017-2032, the 2nd phase from 2032-2047, and third and final phase 2047-2057.
Here are some highlights for Transit Projects for Phase 1, which could begin as early as 2018:
Construction of a station where Crenshaw/ LAX Line passengers can transfer to a people mover that will serve LAX terminals.

A Purple Line extension to all the way to Westwood (aiming for completion ten years ahead of what's currently been planned)

A potential rail line or bus rapid transit project on Van Nuys Boulevard in the Valley.

Lots of changes for the 405 and nearby areas, including a new "ExpressLane" and bus service along the 405 spanning the Sepulveda Pass; a potential underground rail line connecting the Orange Line and the Purple Line; and an extension from the Purple Line to LAX.

Extending the Gold Line from Azusa to Claremont.

Improvements for the Orange Line bus route to prepare for an eventual conversion to light rail.

A potential light rail between Artesia and the Green Line in South Gate, which would eventually extend from the Green Line to Union Station.

A rapid bus project on Vermont Avenue between the Red/Purple Line and the Expo Line.
Also in the plans, Metro hopes to complete the L.A. River bike path between downtown and the western part of the San Fernando Valley within those first 15 years.
For the second and third phases, Metro has listed further extensions to the Gold Line, Green Line, converting the Orange Line (currently a bus route) to a light rail, and adding a rapid bus line to Lincoln Blvd. Most interesting, but not very expanded on, are notes for a "master bike plan" and a "Historic Downtown streetcar." There was word in 2012 that downtown streetcar routes might be getting revived... could this be it?
According to Steve Hymon of Metro blog The Source, The Board of Directors will decide at their meeting next Thursday whether to formally release this plan to the, which will begin a series of community meetings and "Telephone Town Halls" across the county, in which they'll seek review and input.
"Another point of emphasis: This is a draft plan for public review. It could change," Hymon writes. "The Metro Board will have the final say on the spending plan and whether to put a ballot measure before county voters." That meeting is scheduled for June 23. Hymon also noted that environmental studies will be needed for some of the proposed projects before they can proceed with actually starting them.
At any rate, let's take another LOL look at these tunnels.