This is an archival story that predates current editorial management.
This archival content was written, edited, and published prior to LAist's acquisition by its current owner, Southern California Public Radio ("SCPR"). Content, such as language choice and subject matter, in archival articles therefore may not align with SCPR's current editorial standards. To learn more about those standards and why we make this distinction, please click here.
Would The Burger Robot Cause Riots in L.A.?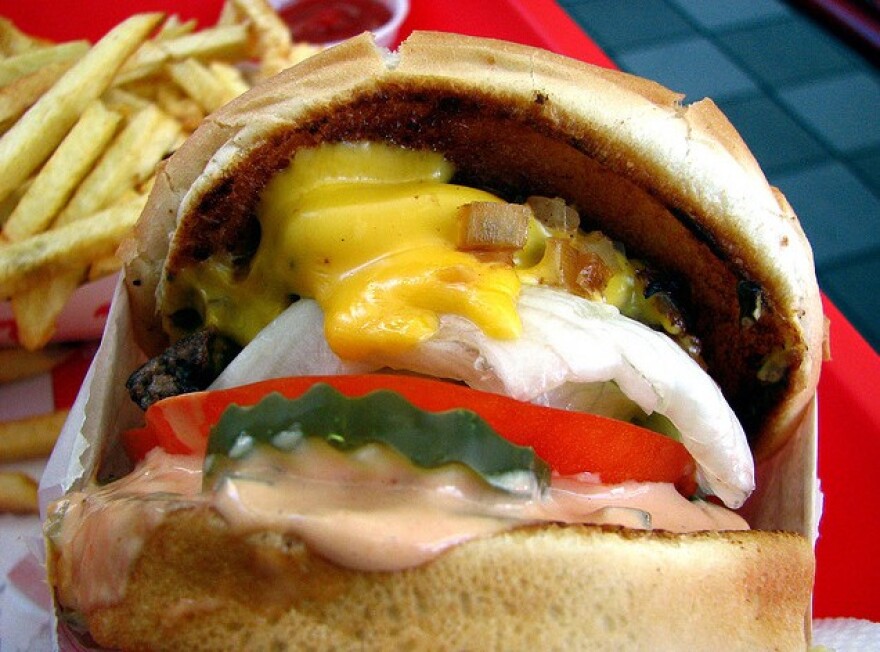 Support your source for local news!
The local news you read here every day is crafted for you, but right now, we need your help to keep it going. In these uncertain times, your support is even more important. Today, put a dollar value on the trustworthy reporting you rely on all year long. We can't hold those in power accountable and uplift voices from the community without your partnership. Thank you.
L.A. is serious about burgers. Whenever a new "best" list comes out, it practically incites riots. Which is why we're a little concerned about the idea of a burger robot being released. Not unlike the Sprinkles' cupcake ATM machine), these little robots claim to bust out a gourmet product in a matter of minutes.
The machine, says Huffington Post, "is capable of producing approximately 360 burgers an hour in a 24-square foot area ... and the creators have expressed plans to create their own 'smart restaurant' chain to strut the capabilities of their burger-making robot."
But is this really a smart idea? And are they really "gourmet?" Do we need such a thing here in L.A.?
If you're really in a hurry you could always go to In-N-Out. At least we know there are people -- albeit in super-dorky uniforms -- working there. There's something so impersonal about a burger being pumped out of a machine on the street. But then again, who would have predicted the success of the Sprinkles ATM? Or of the pizza vending machine? Or the Japanese robot who makes pancakes?
The future of food is looking kind of odd, to be frank. Between this and theedible packaging,we're hoping things slow down a bit.
Cruise off the highway and hit locally-known spots for some tasty bites.

Los Angeles-based restaurant owners rejoice as a new ordinance makes its way to the city council.

The new season of LAist Studios' WILD podcast is a fictional rom-com set in Southeast L.A. Diners play a big role in fostering conversation between the shows' two hosts this season. Here are host Erick Galindo's must-visit L.A. diners — whether you like breakfast or not.

The new season of LAist Studios' WILD podcast is a fictional rom-com set in Southeast L.A. Donuts play a big role in episode two of the show. Here are some of our favorite, wildly creative, and iconic donut shops in Los Angeles.

Cheap Fast Eats visits one of L.A.'s most distinctive neighborhoods for some nighttime bites.

How to get the best eggs in town without leaving your yard.