Willie Wonka must have done a bunch of layoffs
Stories like these are only possible with your help!
Your donation today keeps LAist independent, ready to meet the needs of our city, and paywall free. Thank you for your partnership, we can't do this without you.
I happened upon this event last year and giggled for about 4 days. Last year I had the fortune of walking by just as the women's figure competition was finishing up, and there was this voice of God over a microphone that would say "LEFT DELTOID" and then everyone would turn and flex their oily glistening shoulders in unison and smile their most constipated smile while standing atop 4 inch tall plastic hooker shoes.
This year, however, we stumbled upon the competition just as they were beginning the Men's 40+ competition. Then the 50+. And then the 60+. Don't let your imagination run wild, I took some photos for you. This is not just any bodybuilding competition. These are men eligible for MediCare and Social Security who are standing in front of hundreds of people all greased up and wearing nothing but tiny shiny speedos.
We also apparently missed the Oompa Loompa competition as there were dozens of men walking around the competition area who were orange. I know no other way of describing their hue. They were like traffic cones. Carrots. Basketballs. Cal-trans workers. Orange. Their coloring was so unnatural we felt they may have been better off just choosing another color, like blue or green so there is no pretense. The Blue Man Group may have some suggestions.
Go ahead, adjust your color balance. It will do you no good. These people are orange. I took my sunglasses off and they didn't change colors.
This is clearly an Oompa Loompa refugee who is not receiving pension from Willie Wonka. He shaved off his green hair because of the shame.
Maybe he's a Giants fan and he's just very very dedicated.
This guy finished up the competition and wanted to try to wash off his body grease, so he went over to the outdoor showers adjacent to the restrooms. We stood there watching for a good 15 minutes because we expected a river of orange to run from his body to the drain. Unfortunately it did not. Despite several minutes of exfoliation, the color maintained itself on this man's body.
Apparently this year's competition was riddled with controversy as the founder of Muscle Beach (who has run this competition for the past 40 years) was banned from the ultra slick premises by the competition's new promoter. I didn't see any protesters or picket signs, and there weren't any men wearing black armbands around their 42 inch biceps that said "save muscle beach." I suppose one cannot focus on politics when there is flexing to be done.
These are the "mandatory poses" for this particular competition. So it's not their fault that they're standing like that looking like they're extremely constipated and about to have a self-induced aneurysm. But it is clearly not mandatory that your head match your body in any way. From the looks of it, there is a real possibility that the heads and bodies are actually interchangeable.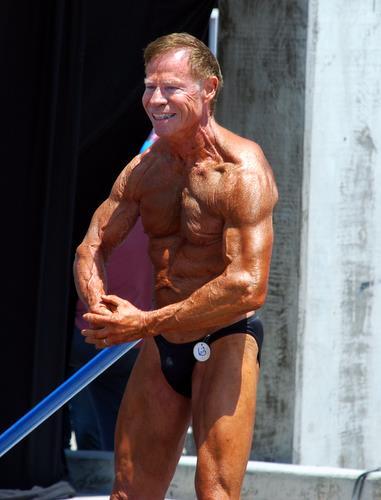 Neck up, he's your friendly neighborhood grocer. Neck down, he's an orange Hefty bag draped over 200lbs of muscle. Maybe it's time to start wondering what's underneath those postal service uniforms.
Next year, I'm going to try to get a press pass.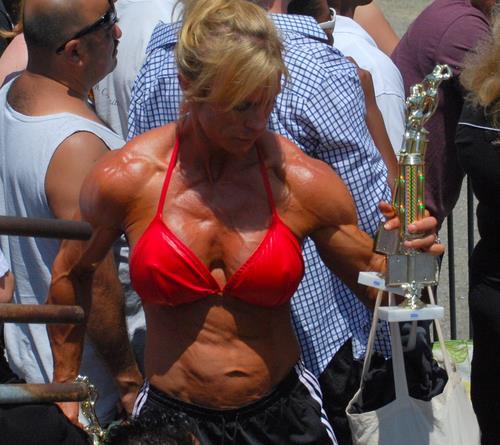 All photos by Malingering, who will never touch another carrot for fear of turning into an Oompa Loompa.
Note: Believe it or not, these photos came straight from the camera, no post-processing, no photoshop, no color alteration. Hey, I tell it like it is.