This is an archival story that predates current editorial management.
This archival content was written, edited, and published prior to LAist's acquisition by its current owner, Southern California Public Radio ("SCPR"). Content, such as language choice and subject matter, in archival articles therefore may not align with SCPR's current editorial standards. To learn more about those standards and why we make this distinction, please click here.
Villaraigosa Supports DWP Transfer, but Doesn't Have Authority to Furlough Employees 2 Days a Week
Before you read more...
Dear reader, we're asking you to help us keep local news available for all. Your financial support keeps our stories free to read, instead of hidden behind paywalls. We believe when reliable local reporting is widely available, the entire community benefits. Thank you for investing in your neighborhood.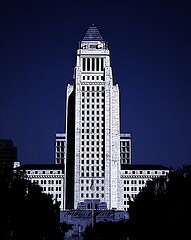 Photo by hall.chris25 via LAist Featured Photos on Flikcr
Speaking to Larry Mantle on KPCC, Mayor Antonio Villaraigosa this morning said he supports the $73.5 million transfer of LADWP funds to Los Angeles' general budget, which pays for core services like police and streets. Without the transfer, Los Angeles will be out of money by May 5th. However, the Mayor noted that he "can't force [the Board of Water & Power Commissioners] to do something that in their minds that would violate their fiduciary responsibility." The Commissioners, along with the LADWP's General Manager, are appointed by the Mayor. Traditionally the utility makes an annual $220 million transfer in surplus funds to the city's general fund. That amount was budgeted this year and $143 million has already been given, but the LADWP is withholding the $73.5 million because they say a standoff over carbon surcharge-related rate hikes has left them with no surplus (many believe the LADWP is sitting on a large surplus). Credit rating agency Fitch has withheld LADWP's nicely-ranked rating and the city's credit rating was once again downgraded today by Moody Investor Services.
"I can't advise them to break the law," Villaraigosa said of the transfer. "I can't advise them to break their fiduciary responsibility to protect the ratepayers."
When asked by Mantle why the carbon surcharge plan had no blueprint for renewable energy, Villaraigosa avoided the question and began talking about the rate hike's back-and-forth history. He said the way out of this is if unions would cut pay by 15%. If so, he says, the city could avoid shutting down two days a week, a move that has unions questioning his authority.
The same sentiment was being talked about in City Hall. Los Angeles City Councilmembers this morning questioned city budget officials about the proposed two-day-a-week cut of services. Staff said the Mayor does not have unilateral authority to furlough employees for two days. In response to that, Councilmember Paul Koretz said Villaraigosa is wasting city staff time (and money) working on the proposal he can't act on.
When asked by Councilmember Tony Cardenas, budget officials said they "did not throw this on the table to help the address he current year issue," saying they found out just prior to yesterday's press conference.