This is an archival story that predates current editorial management.
This archival content was written, edited, and published prior to LAist's acquisition by its current owner, Southern California Public Radio ("SCPR"). Content, such as language choice and subject matter, in archival articles therefore may not align with SCPR's current editorial standards. To learn more about those standards and why we make this distinction, please click here.
Venice Residents Pressure LAPD To Crack Down On Homeless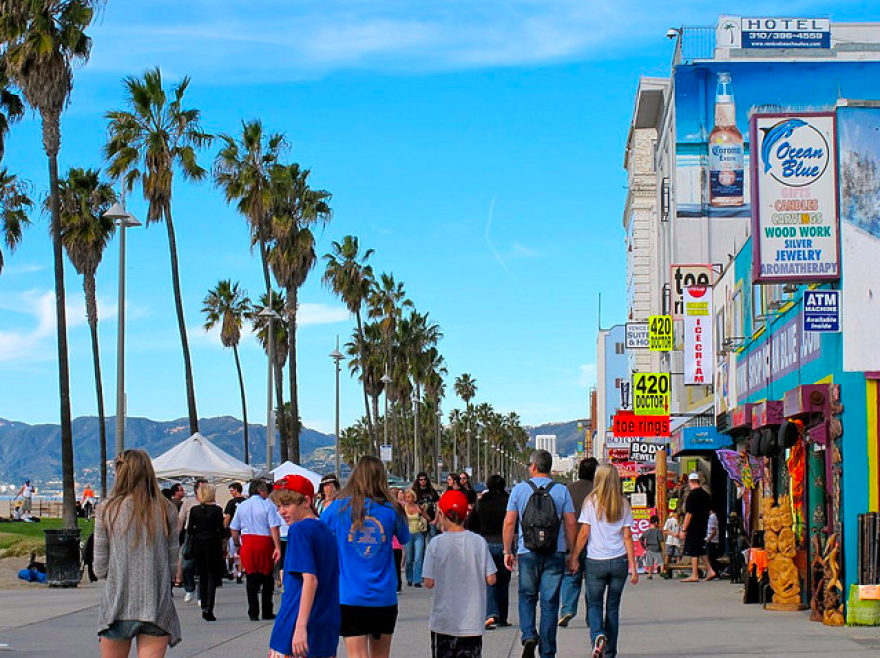 Before you read this story...
Dear reader, we're asking for your help to keep local reporting available for all. Your financial support keeps stories like this one free to read, instead of hidden behind paywalls. We believe when reliable local reporting is widely available, the entire community benefits. Thank you for investing in your neighborhood.
With the influx of new businesses like Snapchat and Google and property values on the rise, the divide between rich residents and the increasing number of transients who call Venice home is coming to a head.
Sgt. Theresa Skinner told the Los Angeles Times that about 75 percent of the area's complaints she handles involve the homeless. "Sometimes I wish I had crime that was more police-related," she said. She added, "We'll never make enough arrests or write enough tickets to get rid of homelessness."
LAPD started ramping up their patrols around the Venice Beach Boardwalk last week. Police said they were doing it in part because of a few high-profile crimes in the area, including one where two men viciously beat a homeless man with a folding chair in December and last August's deadly Boardwalk rampage. But those incidents were months ago, and the more likely reason for the increased patrols seems like community pressure.
Lt. Steve Lurie of the LAPD Pacific Division told LAist that the newly-implemented bike patrols were partly added because of the growing requests from the community to do so. "The community has been asking for a more sort of constant and approachable presence on Ocean Front Walk."
The homeless in the area are feeling the pressure of getting squeezed out of Venice. They complain that police write them citations that they won't be able to pay. Businesses aren't friendly either. Brian Connolly, wrote a blog post about how because he looked homeless, he was told by a Starbucks manager in Venice told him he'd have the eat the food and drink he bought there outside. He accused the coffee shop of creating "Jim Crow-style" laws for the homeless since they were willing to take his money but force him to sit away from everyone else. Local folks are upset about storage bins being installed for the homeless, and a boutique owner suspects wealthy residents were the culprits who put extra padlocks on a bin to prevent the homeless from using it.
The city says its hands are tied. City Councilman Mike Bonin says that although Venice has medical and health services, it's hard to do much more right now since U.S. Housing and Urban Development vouchers are frozen. He told the Times, "Looking to the city to solve homelessness is like asking your plumber to rewire your house."