Lawsuit: Here Are The Creepy, Threatening Texts A Former Tinder Exec Got From Her Boss
LAist relies on your reader support.
Your tax-deductible gift today powers our reporters and keeps us independent. We rely on you, our reader, not paywalls to stay funded because we believe important news and information should be freely accessible to all.
When a former Tinder exec slapped the company with a sexual harassment and discrimination lawsuit, exhibit A was a series of racist, homophobic and threatening text messages allegedly sent from a Tinder co-founder.
Tinder marketing vice president Whitney Wolfe dated Justin Mateen, who was co-founder, marketing chief and most importantly for this story, her boss at the time of these texts. They broke up while they were working together, and things got ugly. Wolfe took screenshots of the texts he sent her way, according to the lawsuit.
Wolfe says her complaints about Mateen harassing her—coupled with the fact that Tinder execs didn't take her seriously as a co-founder because she is a 24-year-old woman—eventually led to CEO Sean Rad firing her.
According to the lawsuit, these following texts were the threats Mateen sent to Wolfe. In them, she repeatedly tells him the messages are "inappropriate" and asks him to stop sending them, but he continues and makes anti-Muslim and homophobic comments about a new guy in her life. Here is just a snippet of some of the texts: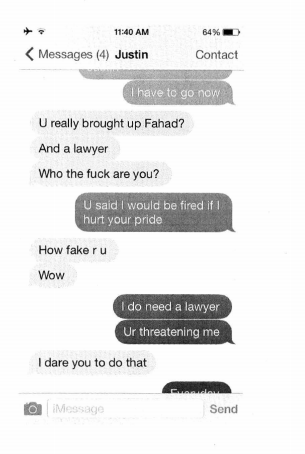 Parent-company IAC says it looks like the texts belong to Mateen, and he's been put on leave while they investigate. The company said in a statement, "Through that process, it has become clear that Mr. Mateen sent private messages to Ms. Wolfe containing inappropriate content."