This is an archival story that predates current editorial management.
This archival content was written, edited, and published prior to LAist's acquisition by its current owner, Southern California Public Radio ("SCPR"). Content, such as language choice and subject matter, in archival articles therefore may not align with SCPR's current editorial standards. To learn more about those standards and why we make this distinction, please click here.
Vitello's
Before you read more...
Dear reader, we're asking you to help us keep local news available for all. Your tax-deductible financial support keeps our stories free to read, instead of hidden behind paywalls. We believe when reliable local reporting is widely available, the entire community benefits. Thank you for investing in your neighborhood.
After flirting with local hipsters Aroma and Alcove, I thought maybe what I needed was someone older, more distinguished. A real gentleman. Someone who would pay for my valet parking and make sure my glass was never empty. Someone who would ply me with wine and sing to me. I wouldn't have far to look since Vitello's was right there, waiting across the street for me to wise up.
Yes, I'm talking about THAT Vitello's. Sadly, its name will forever be linked to the murder of Bonnie Lee Bakley. The sensationalism could have felled a lesser restaurant. Look what happened to poor Mezzaluna. But Vitello's rode out the storm. Even a change in ownership two years ago has not affected Vitello's service or quality. Vitello's is all about making the customer feel welcome. The second time I went there they remembered my name, and while I wait for takeout orders they always bring me an iced tea to sip while I wait - on the house.
The ambiance is very central casting Italian with comfy pleather booths. But it's classy - one step up from the checkered tablecloths and chianti bottles. I like to sit in the back, in the piano bar. I especially like the crazy Toulouse-Lautrec-inspired paintings. It's like what he would have been painting if he had somehow been even more wormwood-addled. I also like the entertainment. Friday, Saturday, Sunday and Wednesday nights are opera nights, with various regulars coming up to sing opera and show tunes. Thursdays are piano nights with Robert, who sings everything from Phantom of the Opera to Avril Lavigne.
Vitello's food is not the best Italian I have ever had, but it is pretty darn good. The combination of friendly service and nice ambiance make pretty darn good worth going back for. The quality of their appetizers vary. The fried zucchini is a little soggy and greasy. But the appetizer pizzetti - oh my God. All pizzas should strive for this kind of perfection. And I haven't even tried their pizza entrees yet. The house salad is standard, but care has gone into developing the salad entrees. The Chicken Arugala has fresh greens doused in an unusual and refreshing citrus dressing. I found the chicken on the salad to be a little too salty, but the two friends I forced to try it thought it was just fine.
The pastas are swoon-worthy. The first time I went to Vitello's the "Robert Blake" was recommended to me. In spite of the stigma, my friends insisted it was the best dish on the menu. I felt weird ordering it. I silently pleaded, "Please, please, please don't think I'm a gorehound". The "Blake", as the waiters more tactfully call it, is al dente fusilli doused in a nicely seasoned marinara and mixed with sauteed spinach. (I will NOT say it was to die for. The dark humor is almost irresistible). It was pretty damn good. I wouldn't mind having it named after me.
The basic spaghetti with marinara or meat sauce is also pretty standard but exactly what you want when you are in that kind of mood. The farfalle with pink sauce relies on ricotta rather than cream for its pinkness, but the ricotta is of such a high quality that you don't miss the richness of the cream. Where Vitello's takes it over the top for me is with the cannelloni and manicotti. Homemade crepes (not tubes of pasta as some restaurants will try to fob off on you) are filled, then drowned in red sauce and baked with mozzarella. The manicotti is stuffed with creamy ricotta while the cannelloni is bursting with a ground beef filling that tastes like it was ground in-house from that night's steak trimmings. I did not see the face of Christ in the manicotti, but I can understand how someone might.
Vitello's entrees combine traditional offerings with the more unusual. The Chicken Marsala was moist and gently cooked. But it had a strange citrus tang and was missing the intense wine flavor that you would expect to be predominant from a place like this. It seemed like a cross between Marsala and Picatta. There were mushrooms, but there were no capers. After studying the menu, I think we accidentally ended up with Chicken Arancio, "Mushrooms and garlic sauteed in an orange sauce". The sausage and peppers comes with spicy but not too spicy sausage with a nice snap. The braciola did not quite measure up to the braciola we make out of Rao's cookbook. There were pinenuts and cheese in the stuffing, which are not my thing. I prefer a more traditional breadcrumb stuffing.
I dropped by to pick up a to-go order last week and was sipping my iced tea while playing my favorite game of "How many C-list actors can I identify from their headshots on the wall?" There was Victor French, ooh, and Mr Whipple! Good one! A newish hostess started chatting with me. She almost immediately brought up Robert Blake, and started hunting for his picture. I said, "I don't think it's here". She hollered back to the kitchen, "She wants to know if we took down the picture of Robert Blake!" Oh God. No, no, no, no, no! A guy came out and gave me that "Oh geez, another gorehound" look. Ugh. He shrugged and said, "He never dropped one off for us." I was tempted to say, "Yeah. Maybe he got confused when he heard someone needed a headshot and thought they meant a head shot." But I felt embarassed and stupid and said ingratiatingly, "I really like the fusilli. I'm so glad you didn't take it off the menu." He replied defensively, "It's been on the menu for 15 years." There's just no avoiding it. Once a restaurant has become infamous, it will always be infamous.
When I got home, my husband peeked into the take-out containers. "What's that?"
"The Robert Blake."
"Looks killer."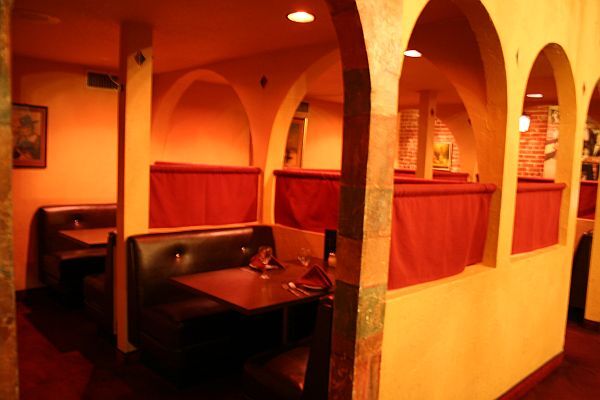 Vitello's 4349 Tujunga Avenue Studio City, CA 91604 (818) 769-0905
(Photography by Elise Thompson)