Historic Tail O' The Pup Hot Dog Stand Will Return To La Cienega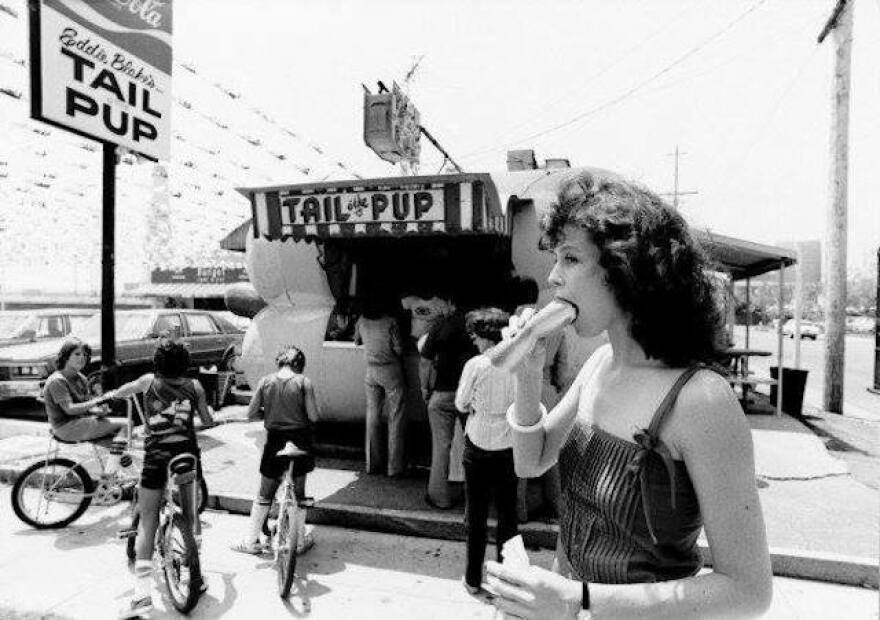 Stories like these are only possible with your help!
Your donation today keeps LAist independent, ready to meet the needs of our city, and paywall free. Thank you for your partnership, we can't do this without you.

The 70-year-old hot dog-shaped stand, Tail O' The Pup, will finally reopen in a few months near its original location.The iconic, 17-foot wide stand, beloved by Angelenos since 1946, is scheduled to return just two blocks from its former site on La Cienega near Beverly Blvd on May 1, according to Curbed LA. The giant, mustard-adorned weenie—a great example of the programmatic architecture that was once seen all over L.A.—closed in 2005 and moved to a storage space in Torrance to make way for other developments in the area. And while it took a road trip to Las Vegas for extensive restoration in 2014, sadly, the structure opening in May is not the original. It seems the restored structure did not pass health inspection, possibly due to the old building materials used like plastic and chickenwire. No word yet on what will become of the refurbished original.
Last year, the Tail O' The Pup franchise was bought by Brett Doherty and Kevin Michaels, who own the Killer Shrimp restaurant in Marina Del Rey. They reportedly outbid Rick Curuso, developer of The Grove, who wanted to bring the wiener there. Instead the duo will open the hot dog stand at 451 North La Cienega Blvd. and plan to open another Tail O' The Pup replica at downtown's The Bloc. They also plan to keep the historic stand in the family by having husband and wife Jay and Nicole Miller run the La Cienega location, as Jay is the grandson of Eddie Blake, who ran the stand for over 30 years after purchasing it from the original owner Milton J. Black.

As far as the menu goes, we can expect to see "higher-end sausages" added to the classic hot dog offerings, and the prices will be a little higher when they closed in 2005. And Doherty tells the L.A. Business Journal (subscription required) that the stand is "not selling a 45-cent hot dog anymore." Guess we can't hang onto everything.