This is an archival story that predates current editorial management.
This archival content was written, edited, and published prior to LAist's acquisition by its current owner, Southern California Public Radio ("SCPR"). Content, such as language choice and subject matter, in archival articles therefore may not align with SCPR's current editorial standards. To learn more about those standards and why we make this distinction, please click here.
Security Footage Shows Thieves Fleeing After Kim Kardashian Robbery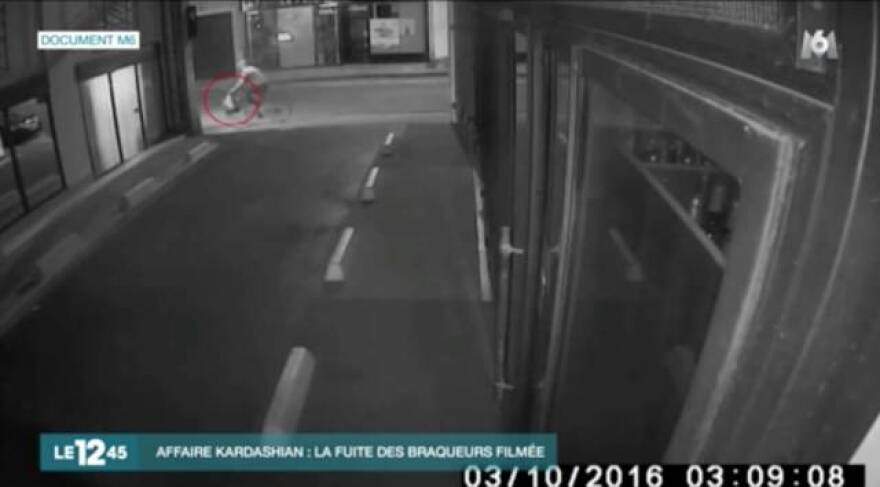 Stories like these are only possible with your help!
You have the power to keep local news strong for the coming months. Your financial support today keeps our reporters ready to meet the needs of our city. Thank you for investing in your community.
The alleged armed robbers who broke into Kim Kardashian's Paris hotel suite earlier this month have been caught on tape. M6 News in France originally published the security footage from nearby the Hôtel de Pourtalès, which shows the suspects headed towards the hotel, and then 49 minutes fleeing via foot and bike. TMZ notes that, "One of the men on bike appears to be toting a backpack during the getaway, and all of them are moving much faster." Police have not identified the men in the video, nor have they made any arrests.
During the 49 minutes, they held up the concierge, gained access to to Kardashian's suite, and tied her up as they stole millions in jewels and other items.
In a recent piece in the Daily Mail the concierge—named only Abdulrahman—spoke out, saying, "I saw police [uniforms], the hats, also the police jackets, with reflective badges, like the police have... he made me come to open the door. So I came to open it and just when I opened it, he grabbed me and handcuffed me." He says two of the five men were wearing balaclavas. "In the first seconds, I thought they were policemen making an intervention," he told the outlet, "I told them, I'm working here, what is wrong? After that he questioned me, where is the security video? At that time, I said shit, it's a robbery."
Abdulrahman added that "There was no real security" at the hotel—which is frequented by celebrities. "It's a choice. We told them years and years before, you have to make a camera, you have to put [in place] a security process, about keys. Nothing was locked, there was no proper security there."
Kardashian has since been laying low in Los Angeles, and reportedly has "zero desire" to return to her old life. Her constantly updated social media accounts have gone silent, though her assistant updated fans on Kardashian's app on Sunday, writing: "Hey guys. So you may have noticed we haven't updated the app in a couple weeks. Keeks is taking some much-needed time off."