This is an archival story that predates current editorial management.
This archival content was written, edited, and published prior to LAist's acquisition by its current owner, Southern California Public Radio ("SCPR"). Content, such as language choice and subject matter, in archival articles therefore may not align with SCPR's current editorial standards. To learn more about those standards and why we make this distinction, please click here.
The magic of the number 11 (or, why Giants fans are pathetic)
Stories like these are only possible with your help!
You have the power to keep local news strong for the coming months. Your financial support today keeps our reporters ready to meet the needs of our city. Thank you for investing in your community.
The Dodgers won their 11th straight game at Pac Bell/SBC/AT&T Park yesterday. The Giants were held to 11 runs during this weekend's series (compare this to the Dodgers' 22 runs - or should we say 11*2?). Brett Tomko's ERA is no longer as close to 11 as it was prior to the game (and it was getting there...). I spent 11 hours in the car this weekend driving back and forth from SF and now hold hour long conversations with myself. Oh and Malingering has 11 letters. So does "coincidence."
The Dodgers won yesterday despite the fact that Tomko started, which is shocking to all Dodger fans. Take some time to let that sink in. Even better, Barroids went 0-5 including a strikeout and a pop up to end the game. It was a beautiful day in San Francisco. Oh and Martin was on base 4 times. Yay.
Enough happiness, now we cut over to AT&T Park and why it (and all of the orange people inside it) pisses me off.
First off, I did not drive 800 miles round trip and spend almost $40 per ticket (regular price for reserve level) to sit in an obstructed view seat. My tickets said ROW 1. Therefore I figured I was in the front row. Oh no. The idiots who designed Telecommunications Park decided it would be a good idea to make the first row "ROW 0." WHY? It's a goddamn anti-Dodger conspiracy. So not only am I not in the first row, but I am behind this.
Even when the 300lb ice cream gulping monster got up to get his next round of frozen treats I still could not see home plate or first base because of this angled glass and green railing. In my humble opinion, home plate, first base and all that happens in between are rather integral to the game of baseball, and SBT&T Bell Park thought it okay to charge $40/seat for someone to sit there and not see what's happening. Maybe next time they make a ballpark, someone who knows baseball should decide where to put the obstructions. Because of this bullshit I had to half-stand out of my seat just to see the pitch, and even with a lot of moving around, this was the best shot I could get. But it's a shot of Barry striking out, so that's worth something.
Maybe it's because they're 12 games back or maybe just because they're Giants fans, but the Dodger hating spirit that usually seeps from the ballpark just wasn't there.
Not only were the Giants fans just plain apathetic, sitting behing me was this gray-haired anal-retentive crab. Bottom of the 9th. 2 outs. Full count. Bonds at the plate. Saito about to throw the payoff pitch. I stand up and cheer. Crabfest behind me starts bitching. DOWN IN FRONT. I CAN'T SEE THE BATTER. SIT DOWN. BLAH BLAH. Are you kidding me? I don't care which team you're with, you stand for the last pitch of the game, even if you're a cranky old bitch and your team is getting swept. Plus, tell that to the railing in front of me. I tolerated that in my way for 3 hours.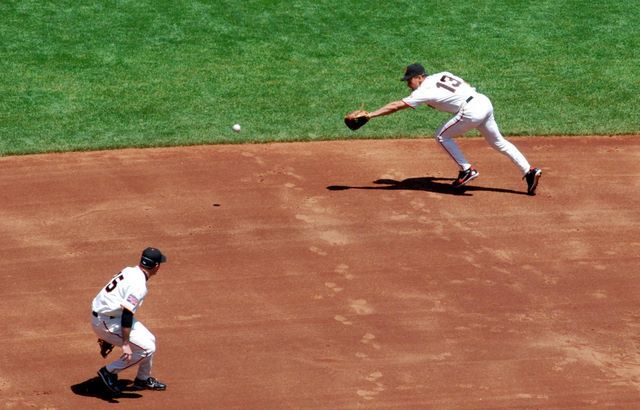 Someone up in the booth tried to start a LET'S GO GIANTS cheer over the PA system. Not one person joined in. Just to instigate, as this is what I do, I changed it to LET'S GO DODGERS and began shouting from my own seat. I expected someone to try to drown me out with "Giants" or at least pour beer on my head but instead more Dodger fans joined in and the orange people sat there silent. Pathetic. They don't ever have home field advantage at this point.
The kid behind me (whose girlfriend asked - in the 8th inning mind you - "are baseball games 7 or 9 innings?") kept shouting "the Dodgers are FAT." This was the best he could come up with after 3 hours. Um, okay. Well at least we're not called the Giants.
But how angry can one get (even at dipshits) when you just swept your bitter rivals for the 3rd straight series in their own ballpark?
And just as a bonus point on the topic of life's mysteries, now we know where puffy paint went to die.
All photos by Malingering especially for LAist.