Stucco Apocalypse: Now Is The Time To Buy!
Stories like these are only possible with your help!
You have the power to keep local news strong for the coming months. Your financial support today keeps our reporters ready to meet the needs of our city. Thank you for investing in your community.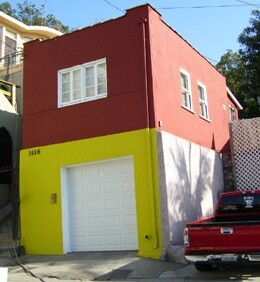 Ken Layne is the West Coast editor of Wonkette.com. Each week he makes another ridiculous claim about his LAist feature: This week, it's apparently a real-estate column or something!
How about paying $1,500 a month for 30 years for a no-bedroom loft over a single-car garage in a cramped corner of Echo Park? With six grand per year in property taxes and insurance and maintenance, that's $24,000 a year for three decades -- $720,000 in all, not counting property-tax and insurance increases, and not counting catastrophes.
That's what you get at 1416 Fairbanks Place, just off Echo Park Avenue north of Sunset, for the asking price of $295,000 or $893 per square foot, not quite double the 90026 norm.
No slight on Echo Park is intended. I live up the street from here, my kid goes to day care right up the road, Elysian Park is where I hike with the dog every day and the neighborhood is full of great little bars and restaurants. It's also filled with the homeless, gangstas, lunatics, couches dumped everywhere, piles of human shit, syringes, and utterly crap public schools.
You can generally walk around at night without catching a stray bullet or being grabbed by a stray nutty cop, unlike a decade ago, but it's still Echo Park.
And at the end, you'll still have a 330-square-foot guest quarters atop a single-car garage in Echo Park, which will either be semi-sketchy, very sketchy, totally abandoned or covered in earthquake rubble by the time that title is free and clear.
According to the property fanatics at LA Curbed, this very same tiny abode sold for $29,000 in 1996, just 11 years ago.
But of course you'll sell it at a profit and everything will be fine because real estate always goes up. Except it doesn't, and this whole real estate boom has been a particularly savage example of the usual SoCal boom & bust cycle.
When the last bust hit in the early 1991, prices didn't recover -- in inflation-adjusted dollars -- for 10 years. That's where we're going now, again, and it's been happening for 18 months. Don't be fooled by the "median price gains."
The sub-$1 million market is so dead that the only action is in the fancy wealthy properties, which are still dropping while simultaneously skewering the median upwards. Even the boosters admit prices won't recover before 2011. Millions of people in the American Southwest are already upside down: They owe more on their mortgage than what the house is worth.
It could be worse. It will be worse, but at least not today. In Nevada, one of every 166 homes is in foreclosure. Those kinds of horrid numbers are only starting to hit the terribly overbuilt Central Valley and the "Inland Empire" this summer.
Once the 7.0+ earthquake/permanent drought/$10 gasoline catastrophes start to hit, we will wonder how a 1927 single-car garage with a living space above ever sold for $29,000.