Stucco Apocalypse: Now Is The Time To Buy!
LAist relies on your reader support.
Your tax-deductible gift today powers our reporters and keeps us independent. We rely on you, our reader, not paywalls to stay funded because we believe important news and information should be freely accessible to all.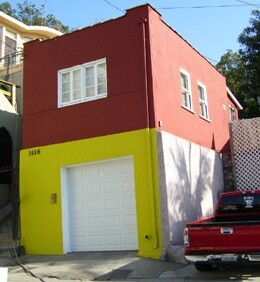 Ken Layne is the West Coast editor of Wonkette.com. Each week he makes another ridiculous claim about his LAist feature: This week, it's apparently a real-estate column or something!
How about paying $1,500 a month for 30 years for a no-bedroom loft over a single-car garage in a cramped corner of Echo Park? With six grand per year in property taxes and insurance and maintenance, that's $24,000 a year for three decades -- $720,000 in all, not counting property-tax and insurance increases, and not counting catastrophes.
That's what you get at 1416 Fairbanks Place, just off Echo Park Avenue north of Sunset, for the asking price of $295,000 or $893 per square foot, not quite double the 90026 norm.