This is an archival story that predates current editorial management.
This archival content was written, edited, and published prior to LAist's acquisition by its current owner, Southern California Public Radio ("SCPR"). Content, such as language choice and subject matter, in archival articles therefore may not align with SCPR's current editorial standards. To learn more about those standards and why we make this distinction, please click here.
Why Are So Many Young Sea Lions Starving To Death In California?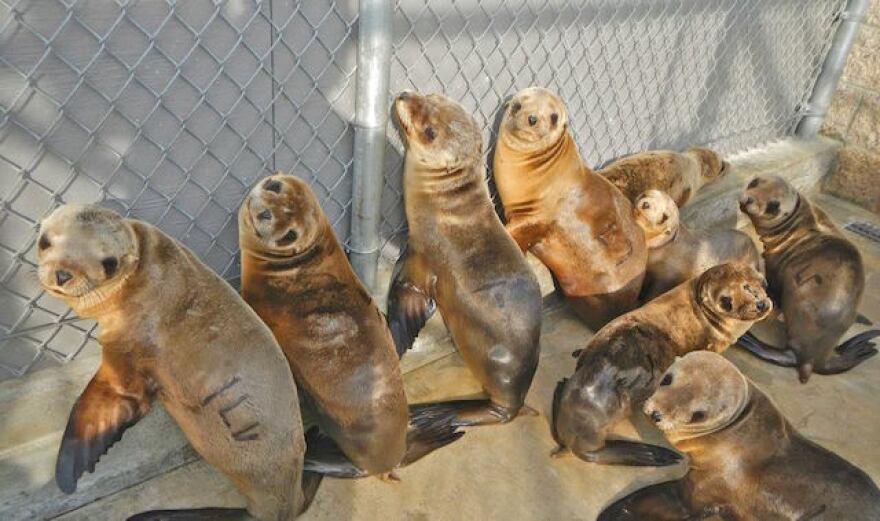 We need to hear from you.
Today, put a dollar value on the trustworthy reporting you rely on all year long. The local news you read here every day is crafted for you, but right now, we need your help to keep it going. In these uncertain times, your support is even more important. We can't hold those in power accountable and uplift voices from the community without your partnership. Thank you.

Barely three months into the year and over 1,600 young sea lions have stranded on California's beaches, starving and on the brink of death.The alarming numbers have already surpassed 2013, which scientists declared an "unusual mortality event." That year, almost 1,300 young pinnepeds were stranded by the end of March. "We've doubled our rescues and there seems to be no end in sight," Peter Wallerstein, president of Marine Animal Rescue in Playa Del Rey, told NBC 4.
No cause has been officially declared to explain this year's high numbers, but scientists think the unusually warm waters have made food harder to find for their mothers. The Channel Islands, home to the largest breeding population of sea lions in America, are where most of the stranded pups come from in Southern California. With warm water driving their mothers away from the islands for longer periods of time, the pups, who are too young to be able to hunt on their own, venture off and wind up stranded on the beaches—if they survive.
"The environment is changing too rapidly. Their life history is so much slower that it's not keeping up," Sharon Melin, a biologist with the National Marine Fisheries Service, told the New York Times.
With marine mammal rehabilitation centers up and down the coast filled with sick pups, sometimes the difficult decision must be made to not admit or even euthanize some of the animals. "We're doing everything we can to take in as many patients as we can," said David Bard of San Pedro's Marine Mammal Care Center. To help out, SeaWorld parks in San Diego and San Antonio, Texas have suspended their sea lion shows in order to send trainers to aid in the rescue and rehabilitation efforts.
As catastrophic-sounding and tragic the numbers are, the sea lion population remains quite robust and the species won't be going away any time soon. Scientists estimate the are over 300,000 individuals.
If you would like to volunteer at or donate to your local marine mammal rehabilitation center, click here (pdf) for a map and phone number of the ones in California.
It's been many, many years since we saw this much snow in our mountains. Going up there right now isn't safe, but here are some places where you can enjoy the view and snap a pic.

April Valentine died at Centinela Hospital. Her daughter was born by emergency C-section. She'd gone into the pregnancy with a plan, knowing Black mothers like herself were at higher risk.

A look at years past when snows creeped into our citified neighborhoods, away from the mountains and foothills.

In the face of a drier future, that iconic piece of Americana is on its way out in Southern California.

Bob Gregory, 62, went missing the same day as Sands. His body was recovered near Mount Islip.