Proposition 8 Appeal Moves Forward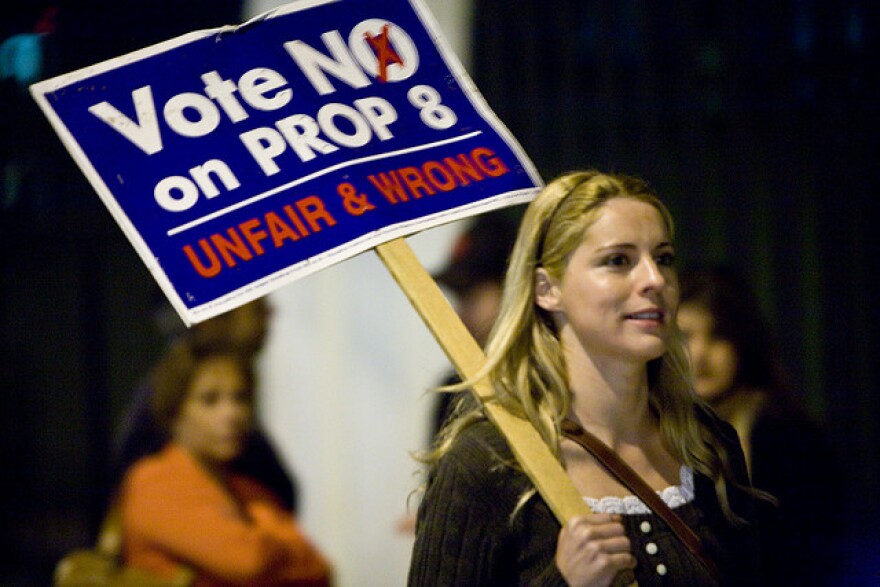 LAist relies on your reader support, not paywalls.
Freely accessible local news is vital. Please power our reporters and help keep us independent with a donation today.
A panel of judges on the California State Supreme Court agreed today to take on a case in which they'll decide whether the proponents of Proposition 8, ProtectMarriage, have the legal standing to appeal a ruling from August of last year that struck down Prop 8. The twists and turns of the case, since its inception, go something like this: Proposition 8 passed in 2008, re-enacting a ban on same-sex marriage in California. In August of 2010, a federal judge in San Francisco determined that the ban was unconstitutional, after hearing from experts that sexual orientation is, for the most part, fixed.
State officials could have appealed the ruling, but refused to do so. Instead, ProtectMarriage tried to appeal, but the court -- the U.S. 9th Circuit Court of Appeals -- had to first ask the California Supreme Court to determine whether the group had the legal standing to do so. If the CA Supreme Court had refused the 9th Circuit's request, the 9th Circuit would have rejected ProtectMarriage's appeal on procedural grounds.
But the CA Supreme Court didn't refuse, and so as early as September of this year, they will begin the process of determining whether ProtectMarriage can file an appeal. If the court rules in favor of ProtectMarriage, the 9th Circuit will rule on the constitutionality of Prop 8, and the case may well go on to have national implications, perhaps traveling as far as the United States Supreme Court.
Because of that, both conservatives and liberals are expected, according to the L.A. Times, to push for ProtectMarriage's ability to appeal (in other words, liberals are expected to be like, "BRING IT," to which we can only hope that conservatives will reply, "OH, IT'S ALREADY BEEN BROUGHTEN").