This is an archival story that predates current editorial management.
This archival content was written, edited, and published prior to LAist's acquisition by its current owner, Southern California Public Radio ("SCPR"). Content, such as language choice and subject matter, in archival articles therefore may not align with SCPR's current editorial standards. To learn more about those standards and why we make this distinction, please click here.
Robot Journalist Broke The Earthquake Story Before Everyone Else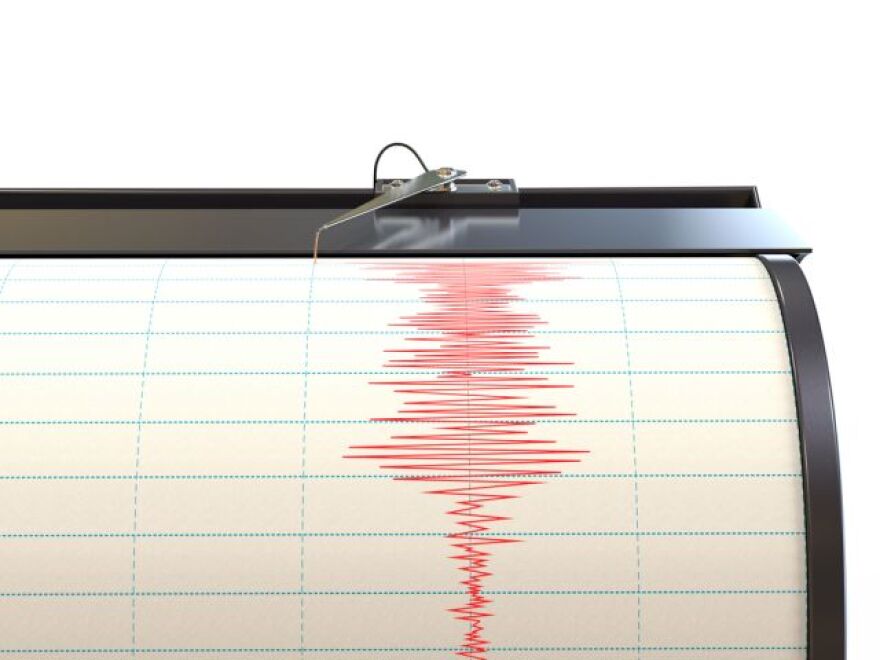 Support your source for local news!
The local news you read here every day is crafted for you, but right now, we need your help to keep it going. In these uncertain times, your support is even more important. Today, put a dollar value on the trustworthy reporting you rely on all year long. We can't hold those in power accountable and uplift voices from the community without your partnership. Thank you.
Prepare for your new robot journalist overlords: Los Angeles just got a taste of the future with a program designed to pump out a story immediately after an earthquake hits.
Los Angeles Times journalist Ken Schwencke's new program, QuakeBot, may be the most fascinating thing about yesterday's Shamrock Shake, even more so than the temblor itself. QuakeBot is programmed to gather information about an earthquake at a moment's notice, putting together all the important bits—magnitude, location, frequency of that kind of earthquake—and put it together to form a story, according to Slate. All Schwencke had to do was look over the story on his computer and publish it. The story was up three minutes after the quake happened, way before everyone else was able to scramble to their laptops.
Schwencke tells Poynter that he began working on QuakeBot in 2011, right after the devastating Japanese earthquake/tsunami. Realizing the possibility of a breaking news algorithm in seismic Southern California, Schwencke, "started playing with using the USGS data feeds,"
Here was the riveting yarn that resulted from QuakeBot's algorithms, courtesy of Slate:
A shallow magnitude 4.7 earthquake was reported Monday morning five miles from Westwood, California, according to the U.S. Geological Survey. The temblor occurred at 6:25 a.m. Pacific time at a depth of 5.0 miles. According to the USGS, the epicenter was six miles from Beverly Hills, California, seven miles from Universal City, California, seven miles from Santa Monica, California and 348 miles from Sacramento, California. In the past ten days, there have been no earthquakes magnitude 3.0 and greater centered nearby.

This information comes from the USGS Earthquake Notification Service and this post was created by an algorithm written by the author.


Compelling stuff, for sure. As to the inevitable question of
when
if programs like QuakeBot will replace breaking news writers in the newsroom, Schwencke is quick to point out to Slate that the human element will still be there:
The algorithm's goal, Schwencke says, is not to write a compelling or insightful story. That's up to the LAT's human staff. Rather, it's to "get the basic information out" as quickly and accurately as possible. That way, "Everybody else can go out and find out: Was anybody hurt? Was anything damaged? What do the people at the USGS actually have to say?"
Still though, it's a little disconcerting that a hungry young journalist who is expected to work like a robot may one day be replaced by an actual robot. The future is here, everyone.
Cruise off the highway and hit locally-known spots for some tasty bites.

Fentanyl and other drugs fuel record deaths among people experiencing homelessness in L.A. County. From 2019 to 2021, deaths jumped 70% to more than 2,200 in a single year.

This fungi isn't a "fun guy." Here's what to do if you spot or suspect mold in your home.

Donald Trump was a fading TV presence when the WGA strike put a dent in network schedules.

Edward Bronstein died in March 2020 while officers were forcibly taking a blood sample after his detention.

A hike can be a beautiful backdrop as you build your connection with someone.