Possible Hostage Situation Near Pico/Robertson Starbucks [Updated]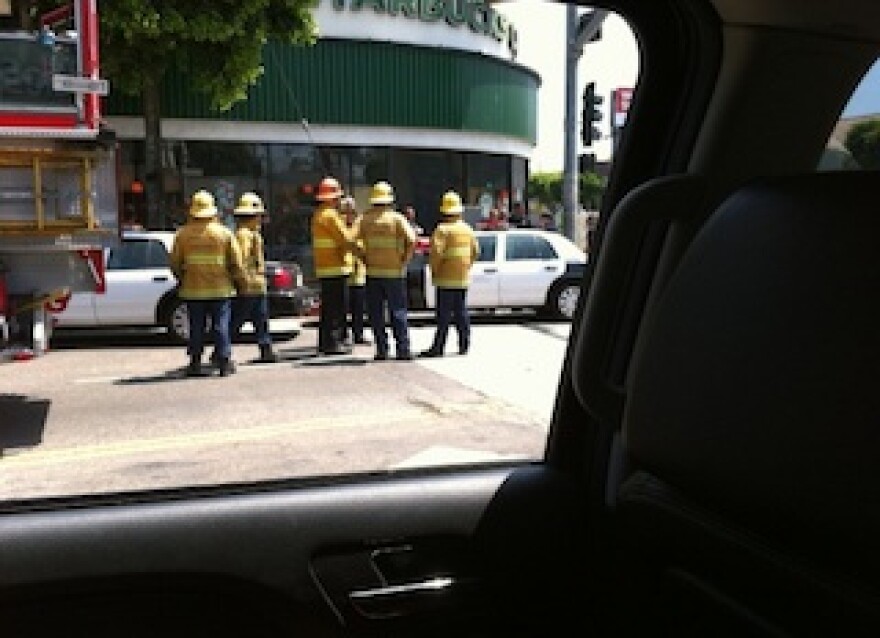 Stories like these are only possible with your help!
You have the power to keep local news strong for the coming months. Your financial support today keeps our reporters ready to meet the needs of our city. Thank you for investing in your community.
What is being described as a "hostage situation" has the area of Pico Blvd. at Robertson locked down to traffic. Based on some accounts from people near the scene, the incident involves is near the Starbucks at 8783 W. Pico [map] which has since been shut down."Swarm of cops w guns drawn, chopper overhead. Starbucks closed down, dumped us onto the street and I'm walking fast in the opp direction," said blogger and LAist guest writer Esther Kustanowitz on Twitter, who had been evacuated from the Starbucks. "Some kind of crazy hostage situation or something on corner of Pico/Robertson. Copter. Cops with guns drawn. Excitement!" Tweeted Geoff LaTulippe.
The streets may affect those in transit from the Westside to the Emmy Awards being held downtown today. E! reporter Michael Ausiello was one of those caught in the traffic tangle and had time to Tweet out a photo: "First Emmy setback: Hostage situation on Robertson has brought traffic to a standstill!"
More information on the situation as it becomes available.
Update: 1:47PM We are hearing from an unconfirmed source that there may have been a break-in at a store that may house an upstairs residential unit near the Starbucks, and the suspect has barricaded himself. Some reports indicate the helicopters have left the scene, which may indicate the standoff has come to an end.