This is an archival story that predates current editorial management.
This archival content was written, edited, and published prior to LAist's acquisition by its current owner, Southern California Public Radio ("SCPR"). Content, such as language choice and subject matter, in archival articles therefore may not align with SCPR's current editorial standards. To learn more about those standards and why we make this distinction, please click here.
Photo Essay - Kaiser Steel Fontana 1996
Support your source for local news!
The local news you read here every day is crafted for you, but right now, we need your help to keep it going. In these uncertain times, your support is even more important. Today, put a dollar value on the trustworthy reporting you rely on all year long. We can't hold those in power accountable and uplift voices from the community without your partnership. Thank you.
Located in the farthest eastern part of Los Angeles county, Fontana is infamous for its distinction as the birthplace of the Hell's Angels and as perhaps the key southern California hub for methamphetamine distribution. Fontana's image to the outside world is now largely the product of its NASCAR speedway, which makes TV appearances throughout the year. Fontana is hot, dry, windy and dirty. The only geological feature of this industrial center in what would otherwise be uninhabitable desert is the presence of massive piles of slag, a byproduct of steel production. These massive mounds of gravel-like material are visible from the 10 freeway, and are an ever present reminder of why Fontana exists in the first place - Kaiser Steel.
All pictures by ©.
The full story and more than 20 images after the jump.
During World War II, Kaiser Steel hastily assembled their Fontana plant, and quickly owned steel production on the west coast, supplying arguably the most crucial material needed at the time to fuel the war effort. The war ended, technology advanced, the Environmental Protection Agency was created, and Kaiser Steel shut down, leaving behind it a sprawling complex of massive warehouses housing machines whose scale dictates that they were clearly designed to make the most amount of material physically possible in the shortest amount of time. When our current governor gets melted into oblivion at the end of Terminator 2, it is in one of the ridiculously huge furnaces at Kaiser. The grandiose interior spaces are staggering in scale, and yet the buildings feel light due to their construction using a steel frame covered with simple corrugated steel panels. Decades of some of the most unforgiving weather conditions available to southern Californians have done their damage to this thin steel skin, allowing majestic beams of sunlight to stream into the buildings, catching the ambient dust and turning the very industrial spaces into something surprisingly beautiful.
Other than speed, dust, and 90 mile per hour winds, the last thing that Fontana is flush with is trucks and everything that one would associate with the sale, operation, or repair of semi tractors and trailers. My father had a truck dealership in Fontana during the 80's and 90's and so I spent a significant amount of time in this most interesting part of the southland.
In the summer of 1996, I went to a rave that just happened to be in Fontana. There was no location posted, but we were directed to park in a huge commercial lot off of the 15 freeway. In one of the sketchiest moments I have ever experienced, we were all loaded in batches of about 30 people into a U-Haul moving van and transported to what I would learn was the Kaiser Steel facility. Stone cold sober, I was blown away by the size of the buildings and machines. I vowed to come back and shoot some photos of the place. The only problem was that I would somehow have to get past security, who had been paid off in order to ignore the event I had just attended.
Among the innumerable colorful characters that I interacted with in Fontana was one of the best repo men in the business, who shall remain unnamed. When I found out his office was a trailer on the Kaiser lot, I hit him up to get me into the place. He could pull that off, but I would still have to avoid security patrols around the buildings. Armed with a Hasselblad, a light meter and a tripod, I managed to dodge security, several work crews, and looming rain clouds to get about 30 minutes of shooting in. Just as the first drops of rain started to fall, I got bounced by a security guy.
Here's what I came up with. These photos have been lost in storage for the last decade, and I am pleased to be able to share them with you today.
I strongly recommend reading the superb and timeless Mike Davis book City of Quartz. The last chapter of this biting and concise look at LA history addresses the quirky nature of Fontana in a very entertaining and informative way that made me want to take a closer look at this seemingly drab industrial town.
Enjoy! ©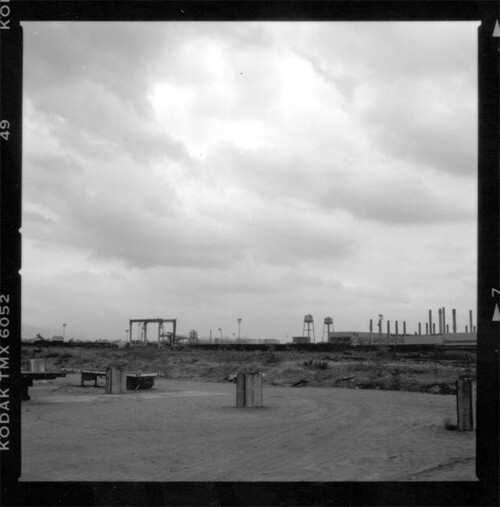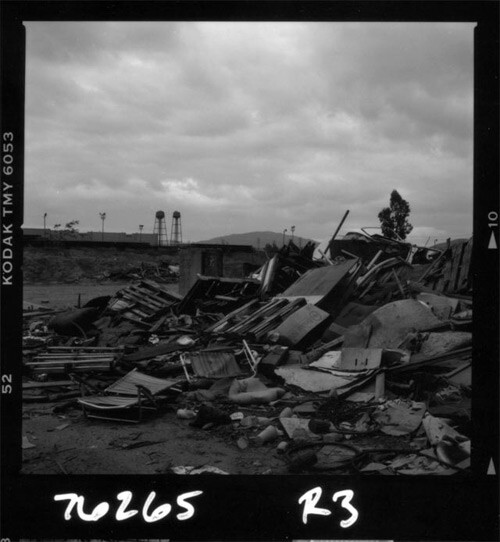 Larger versions of these images can be found here.
Cruise off the highway and hit locally-known spots for some tasty bites.

Fentanyl and other drugs fuel record deaths among people experiencing homelessness in L.A. County. From 2019 to 2021, deaths jumped 70% to more than 2,200 in a single year.

This fungi isn't a "fun guy." Here's what to do if you spot or suspect mold in your home.

Donald Trump was a fading TV presence when the WGA strike put a dent in network schedules.

Edward Bronstein died in March 2020 while officers were forcibly taking a blood sample after his detention.

A hike can be a beautiful backdrop as you build your connection with someone.