This is an archival story that predates current editorial management.
This archival content was written, edited, and published prior to LAist's acquisition by its current owner, Southern California Public Radio ("SCPR"). Content, such as language choice and subject matter, in archival articles therefore may not align with SCPR's current editorial standards. To learn more about those standards and why we make this distinction, please click here.
Photo essay: Candy Cane Lane
Support your source for local news!
The local news you read here every day is crafted for you, but right now, we need your help to keep it going. In these uncertain times, your support is even more important. Today, put a dollar value on the trustworthy reporting you rely on all year long. We can't hold those in power accountable and uplift voices from the community without your partnership. Thank you.
There's nothing like an over-elaborate Christmas lawn display to get us in the spirit of the season. Unfortunately, it seems that this year there has been some neighborly discord regarding a particular display in Hancock Park. You see, a nice Jewish lady in this nice Jewish neighborhood appears to have more of a sense of humor than her neighbors and, among other things, has erected a large Santa in her yard that asks rhetorically, "What is this Hanukkah you speak of?" before erupting in his trademark laughter (original NY Times story here, but much funnier comments can be found at Defamer).
Because of this, we figured that even though the annual Seventeen Statues of David Wearing Santa Hats display in the same neighborhood was alive and well, the pickings overall in the area might be a little slim this year. So we hopped in the car and drove up to Woodland Hills to check out Candy Cane Lane.
Candy Cane Lane is actually a few blocks around the vicinity of Oxnard Street and Lubao Avenue. We're not sure it had the most "amazing, elaborate" displays to be found in the Southland, but it was pretty fun to park the car and walk the route while carloads of families and teenagers drove by shouting, "Merry Christmas!" Check out some pictures after the jump:
The Nativity had Mary and Joseph gone to Chernobyl: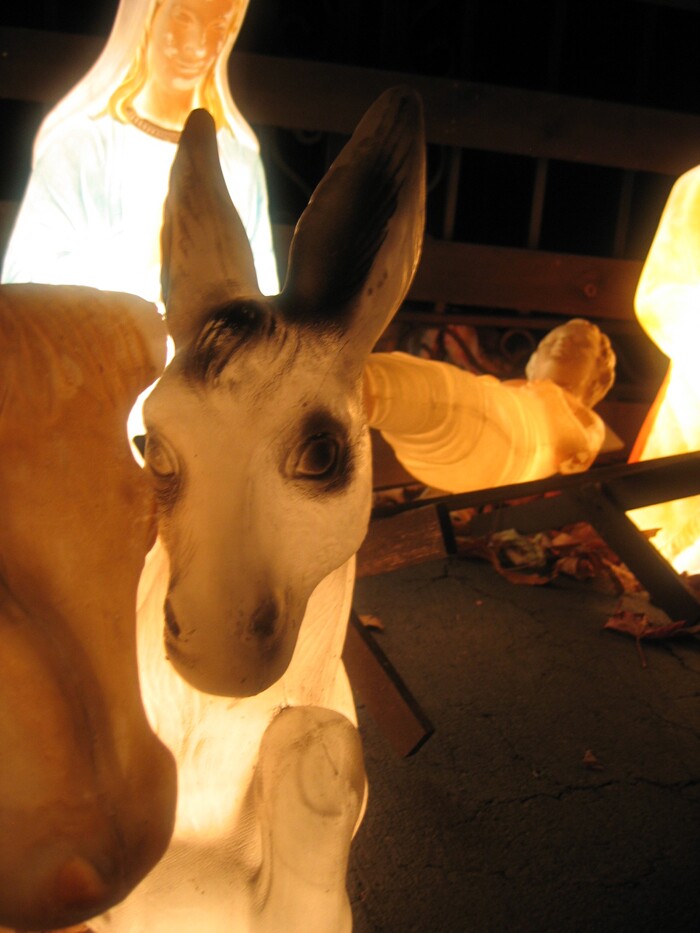 Santa and Rudolph laughing their asses off because Frosty fell over:

Yo yo yo:

Why yes, those are America's Heroes hanging out with Spidey, Elmo, and some dalmatian puppies:

This is a little blurry because he wouldn't stop singing and dancing. Ugh:

Did we already say "Yo yo yo"? These elves are even phresher than those hip hop candy canes. Yo!

And, of course, the most familiar lights in LA, regardless of the season:

Cruise off the highway and hit locally-known spots for some tasty bites.

Fentanyl and other drugs fuel record deaths among people experiencing homelessness in L.A. County. From 2019 to 2021, deaths jumped 70% to more than 2,200 in a single year.

This fungi isn't a "fun guy." Here's what to do if you spot or suspect mold in your home.

Donald Trump was a fading TV presence when the WGA strike put a dent in network schedules.

Edward Bronstein died in March 2020 while officers were forcibly taking a blood sample after his detention.

A hike can be a beautiful backdrop as you build your connection with someone.