No LA Pride Parade IRL Again This Year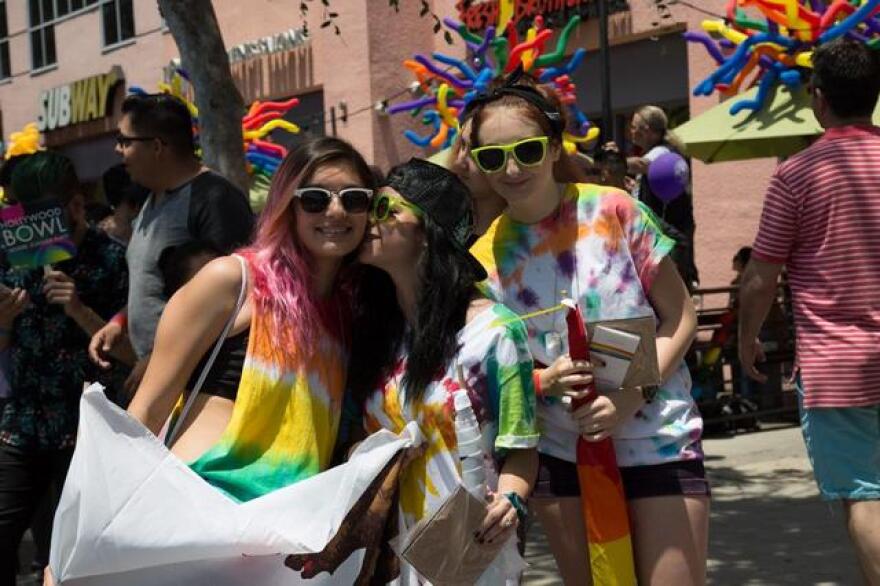 Support your source for local news!
Today, put a dollar value on the trustworthy reporting you rely on all year long. The local news you read here every day is crafted for you, but right now, we need your help to keep it going. In these uncertain times, your support is even more important. We can't hold those in power accountable and uplift voices from the community without your partnership. Thank you.
For the second year in a row, LA Pride is gonna be virtual.
Things kick off June 10 with a concert live streamed on Tik Tok, headlined by Charlie XCX, but there won't be a parade. That parade normally draws hundreds of thousands of people to West Hollywood, but organizers don't think it's safe with the risk of COVID-19 transmission.
Noah Gonzalez is vice president of the Board for Christopher Street West, the nonprofit that puts on LA Pride. He says this year's event will focus on uplifting the less fortunate in the LGBTQ community through a new volunteering effort: Pride makes a Difference.
"We'll be focusing on a handful of pillars that we know affect the community. Those will be housing insecurity, food insecurity, mental health, and abuse," he says.
Pride Makes A Difference runs the entire month of June.
Christopher Street West received criticism after the murder of George Floyd last summer, when they announced a march in conjunction with Black Lives Matter Los Angeles, but Black Lives Matter said it never endorsed the event.
As a result, Board President Sharon Franklin-Brown says this year's programming comes from the will to change:
"That was a direct reflection of having intentional conversations with the community, within the organization itself, on how we could be better, how we could provide a better support for the community."
— Board President Sharon Franklin-Brown
Long Beach Pride is also going virtual again this year. It's set for May 16th, streaming on YouTube.

It's been many, many years since we saw this much snow in our mountains. Going up there right now isn't safe, but here are some places where you can enjoy the view and snap a pic.

April Valentine died at Centinela Hospital. Her daughter was born by emergency C-section. She'd gone into the pregnancy with a plan, knowing Black mothers like herself were at higher risk.

A look at years past when snows creeped into our citified neighborhoods, away from the mountains and foothills.

In the face of a drier future, that iconic piece of Americana is on its way out in Southern California.

Bob Gregory, 62, went missing the same day as Sands. His body was recovered near Mount Islip.