This is an archival story that predates current editorial management.
This archival content was written, edited, and published prior to LAist's acquisition by its current owner, Southern California Public Radio ("SCPR"). Content, such as language choice and subject matter, in archival articles therefore may not align with SCPR's current editorial standards. To learn more about those standards and why we make this distinction, please click here.
Malingering 1, Dodgers 0
Stories like these are only possible with your help!
You have the power to keep local news strong for the coming months. Your financial support today keeps our reporters ready to meet the needs of our city. Thank you for investing in your community.
This may be the first time anyone has ever heard me say this, but last night the Dodgers lost and I still feel like a winner.
My sheer joy was a gift from a generous benefactor who will be referred to as JC, not only because those are his initials but also because he is now holier than Christ himself. JC hooked us up with seats in the Dugout Club, which is where I am hoping to have my ashes spread after I pass on through the pearly blue gates. We were sitting with the likes of Larry King and Tommy Lasorda, we could talk to the players as they entered the dugout, and I could shoot all the photos I wanted and the only person in my way was Brad Penny, who I forgive entirely.
Unfortunately for the Dodgers, whenever I get great seats to a game, they lose. Four times this season I was given seats directly behind home plate, and each time the Dodgers lost. Last week I was given tickets on the baseline, and not only did the Dodgers lose, but my hand got crushed. So it was a bit selfish for me to sit in the Dugout Club, knowing that the Dodgers were guaranteed a loss, but sometimes I've gotta take care of number one, you know what I'm sayin'?
Some nice up close photos after the jump.
Look at us, right above the Dodger dugout!
For those of you who have never experienced the beauty of the Dugout Club, I express my deepest condolences as I am unable to articulate the absolute joy of all-you-can-eat buffets, free concessions brought right to your seat, a fabulous view of the ballgame, and the chance to talk to the players and I wish I could. Maybe Alyssa Milano can, since she sits there all the damn time. Oh wait, she only goes when Penny is pitching. Some fan.
But first let's talk about the food. Beef medallions in fresh tomato and basil sauce. Tender, melt-in-your-mouth sirloin and horseradish cream. Fresh grilled zucchini and squash, perfectly seasoned and wonderfully crisp. Spicy tofu stir-fry with a great kick, even for us Asian Americans. The best piece of turkey I have ever eaten (sorry Grandma), with aioli and grilled asparagus. It was truly blue heaven on earth.
One of Nomar's (many) pre-game rituals. I never truly appreciated Nomar's at-bat routine until I was able to sit 10 feet away. There are a lot of butt scratches and bat rubbing that you miss by sitting up in reserve. Sigh.
Billingsley got the start with a record of 5-0. He had a rough time in the beginning, giving up a home run to Ramirez, the first batter of the game. He struggled a bit with his control, giving up 3 runs and pitching 92 pitches in five innings. He left the game ahead, however, as the Dodgers came up with a 5 run rally in the 5th.
What happened? First Abreu walked. Rafi with the sac bunt to move him to 2nd. Pierre singles in Abreu.
Two outs. Martin hits a 2 run homer to score himself and Pierre, tying the game at 3-3.
Kent singles, and Gonzo drives him in. Nomar pops the ball up into right field which should have been a plain ol' can 'o corn but Hermida drops the ball like a little leaguer and Gonzo scores. And that was the last time the Dodgers would score in the game.
Derek Lowe was pleased.
Then the Marlins started to climb back. Ramirez hit yet another home run (off Houlton). We were still up 5-4.
Saito was coming in for the save. We jumped and danced and cheered and screamed. We ended up on Diamondvision twice. All is well at Dodger Stadium.
Saito ended up giving up the tying run. He was really upset. I've never seen such a look of despair on his face before. It was truly painful to watch.
Martin was pulled from the game and Lieberthal took his place. Martin didn't seem happy about this either.
We go into the 10th and we'd already used Beimel, Broxton, Houlton, Seanez and Saito. The bullpen was empty. They called Tomko to pitch. Anyone who is half a Dodger fan knows that Tomko has been having huge confidence problems. And a record of 1-6 (after last night, 1-7). He is having a rough time. Now he's the absolute last resort in a tie game. And these jackasses just go off on him. What do these morons think they are going to accomplish by loudly booing him and calling him every name in the book as well as saying "you SUCK, Tomko" every 5.2 seconds? (Which I loudly tried to disguise as "you ROCK, Tomko," since my seats were closer to the pitcher's mound than theirs I figured I had a chance at covering it up.) Cut the guy a break. Don't you think he knows his pitching has been awful these days? Don't you think he knows he loses game after game for us and no one likes him so much right now? Who assigned you to be the guy's superego? I am a loud and very obnoxious fan, but I don't start screaming and putting my own team down before they even take the mound. Especially a guy who's obviously struggling mentally and knows that he's not pitching well. So I booed these guys for being morons, and they were so pleased with themselves they smiled for the camera. Feel my wrath, Negative Nancies, as I sit here and tell you how much YOU suck and should be sent back to the minors. Go root for the Vegas 51s or something.
After Tomko gave up the go-ahead run in the top of the 10th, we tried to push the 10th inning rally even harder by bobbling our bobbleheads when Furcal came up to bat. He'd already broken the curse of the bobblehead by getting two hits, the most of any player on his own bobblehead night. We felt it would be fitting if he also had the walk-off hit in the 10th. People were shaking their bobbleheads so hard that a few actually snapped off. The rally didn't go as planned, though he did walk. This only to made room for Juan Pierre, who popped out with the bases loaded to end the game. Sigh.
Other notes from the game:
Matt Kemp made an awesome catch at the wall and didn't hurt his shoulder! YAY!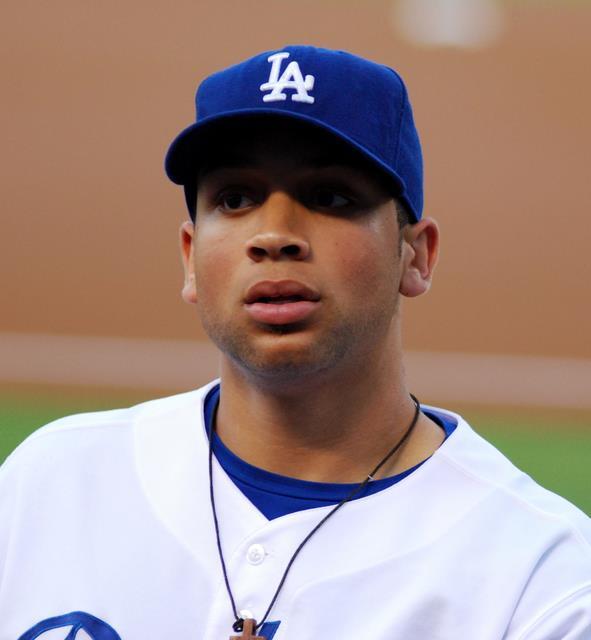 Loney didn't get the start (Nomar went back to 1st and Abreu started at 3rd), so he kindly signed a few baseballs for us. Thanks, James. Keep that average over .400 okay?
Furcal makes fish faces when he throws. I don't know why.
Larry King was one section over. He had some trouble with the stairs.
We were given two balls that had been used in the game... one from Mariano Duncan and one from Bat Boy Steve. One ball for me, one for my sister, who caught them for me since my hand is still out of commission.
All photos taken especially for LAist by Malingering, who is still giddy with pleasure and being so close to the boys in blue.
Click here for The official Dodger photo gallery for this game.