This is an archival story that predates current editorial management.
This archival content was written, edited, and published prior to LAist's acquisition by its current owner, Southern California Public Radio ("SCPR"). Content, such as language choice and subject matter, in archival articles therefore may not align with SCPR's current editorial standards. To learn more about those standards and why we make this distinction, please click here.
Los Feliz walks the streets
Before you read more...
Dear reader, we're asking you to help us keep local news available for all. Your tax-deductible financial support keeps our stories free to read, instead of hidden behind paywalls. We believe when reliable local reporting is widely available, the entire community benefits. Thank you for investing in your neighborhood.
After returning to Los Angeles after living back east, one of the things I missed most about NYC was the street fairs. Sure they got a bit redundant, the $5 bra and panties booth and the turkey leg cart and the Abercrombie irregular outlet store reject booth, but for a people watching voyeur like myself, street fairs are like having a parade in my honor. I can park my ass on the curb and the oddities just flow by without any effort on my part. One can imagine my joy, then, upon ending up at the Los Feliz street fair on Vermont yesterday. Jackpot.
There was a brief disturbance when a rather large dinosaur entered the premises, and several natives came rushing to the scene with blow darts and safety pins. The large reptile was found to be of a friendly nature, and all poachers were immediately removed from the area given the endangered status of this beast.
The recycling demands clearly exceeded the need on Vermont Ave. But kudos to everyone for resisting the urge to put recyclables in the trash and looking out for our planet. It's pretty rare these days.
The stroller races were a popular event; the betting areas were packed to the brim and people were throwing down big cash for the exacta. The $1000 Bugaboo stroller showed no significant advantage over the others, which should be taken into account when creating baby shower registries and other "spend excessive amounts of money on me" request lists.
As with all street fairs, and especially this one, there was a bit of something for everyone. No street fair patron could reasonably claim to be left out, and there were several education booths providing valuable information to the people. After an impressive demonstration of capoeira, this man showed everyone how to keep one's nether regions smooth and soft while practicing martial arts at the same time.

Everyone had a fun day on the street, even the fugitive asswriting which was forced to hide its identity with a mask of white pants.
There are several public service booths, such as this one educating people about the dangers of cell phones. For the love of the children, monitor your cell phone use! It's all about the CHILDREN!!!
Save the CHILDREN from psychiatrists! And cell phones! And asswriting!
It was good to see this information being spread to people who may not otherwise be exposed to it, like the all-purple lady seated here. My guess is she generally doesn't visit the scientology exhibit on Hollywood Blvd and likely hasn't toured their facility over on Sunset. That's what street fairs are all about. They bring the goods to you.
Since I live on the Westside, the preponderance of non-Ugg boots was refreshing to my tired and sheep-sympathizing eyes. Hooray for the anti-Ugg movement in Los Feliz. May it live long and prosper.
I love that the street fair brings the people watching straight to my camera. No parking costs or finder's fees, the Angelinos just parade up and down Vermont Avenue right in front of my lens. I was impressed with the findings.
I am now presenting the award for "hair color best matches shoes" to this woman for her impeccable ability to match hues. That takes some serious dedication and attention to detail, and I raise my camera to her. Cheers!
The award for largest platform shoes of the day goes to these two people. I'm still not sure if they were actually a part of the street fair or just patrons walking around and shopping with the rest of us. Hey, the stilts need to get out of the house every once in a while too, and it's not always for the benefit of our entertainment.
The award for most invisible couple of the day goes to this pair. They have been spotted before in loud red outfits with polka dots and stripes, but in honor of the street fair they chose to be more subtle. People kept crashing into them and stating "oh, I'm so sorry. You're just so camouflaged!" Fortunately no major injuries were suffered.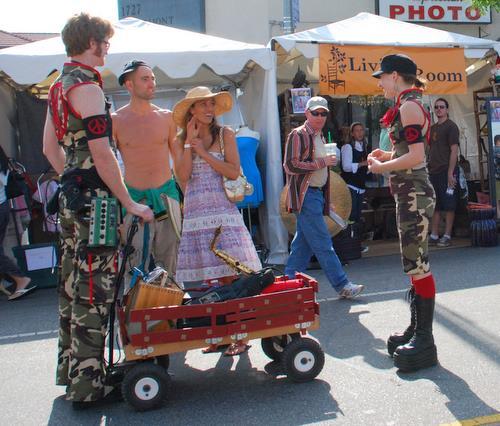 The award for most stringent believer in "reduce, recycle, reuse" was given to this woman, who found something fun and safe to do with all of those expired flavored condoms she found at the bottom of her nightstand drawer. No point in tossing them out when they can bring pleasure to the children!
The award for best use of those old rags you use to clean your car's dipstick goes to the man with the marionettes, who captivated audiences with his dancing figures and billowing cigarette smoke. He had a top hat full of cash by the late afternoon, and can be called a huge success by any standards.
Best food bargain of the day: The $3 crunch roll served by Niko Sushi. Yum.
The biggest admirer of Angelina Jolie goes to this woman, who was presumed to be thinking, "Angelina may adopt babies from other countries, but I adopt babies of other species. Who's the humanitarian now, bitch?"
Not everyone was as riddled with joy as myself. For some the street closures and loud music acts bookending the streets were a bit too disruptive. As Old Man Willard said, "there would be more peace and quiet without these stinkin' kids!"
All photos taken by Malingering, who was asked 3 times "what kind of camera is that and can I see it?" No.