Stories like these are only possible with your help!
Your donation today keeps LAist independent, ready to meet the needs of our city, and paywall free. Thank you for your partnership, we can't do this without you.
Being a natural born cynic, this is hard to say and even harder to do. But the Dodgers did played a 5 hour long game on Sunday and pulled off a win over the Padres, so I will try to hide my disappointment about getting killed 9 to 1 on Monday night by the Diamondbacks, who are now up on the Dodgers by half a game.
I was sad to find that Russ Martin would not be starting Monday night; his thighs must have been burning from 17 long innings of squatting and turning unassisted double plays along with general asskicking, so he's forgiven, though sorely missed.

It was a bad sign when Wolf gave up a home run to Chris Young on the second pitch of the game, I don't like to think that the first at bat is a harbinger of a bad game to come - but it was.

It got so bad when the score was 8-0 that we were giving standing ovations to anyone who could get on base, even if it was on a fielder's choice.

And as usual, the beach ball was getting 99% of the crowd's attention because of the huge score gap. I detest beach balls. I could rant and write about this for at least 8 days straight, but since I am staying positive, you can read last season's rant here.

The goal was to remain positive, so here are some of the good things that happened tonight:
The Camachos lady gave me extra salsa! Yum! If you are ever tired of Dodger Dogs or are looking for another food group, the Camachos Nachos are highly recommended: crispy tortilla chips with pinto beans, carne asada, guacamole, sour cream, salsa and jalapenos. *Insider tip: Though that sign may say "Camachos Nachos in THIS LINE ONLY," it's not true. You can get them at ANY LINE.*

Even better news, Stacey got a date to the prom!

The kids stayed positive all night, and they cheered for everything. Every strike the pitcher threw! Every time there was a play at first base! Even foul balls! Even when the other team scored! This is life lesson #1 of the night. We can all be winners if we just change our perspective.


Life lesson #2: The aisle seat sucks, especially in upper reserve. It is well worth it to spend the money to sit closer to the field, somewhere in the middle of a row, with people who are keeping score so they get up after every 9th pitch to get something else to drink. Learn from my mistakes! I know I did! (Otherwise you will get a memory card full of photos like this:)

It was 58 degrees throughout the game, making the weather perfect for miniskirts, Uggs, and belly buttons. Woo hoo!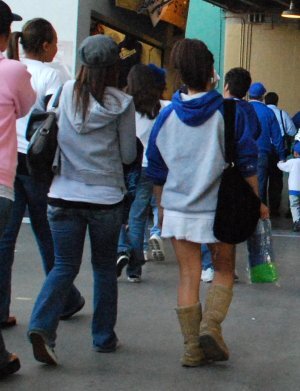 Everyone in attendance got a fleece blanket. And they didn't run out as early as last year, when they left hundreds of furious fans at the gate brandishing their tickets making idle threats until some official looking person got out a legal pad and a pen and told everyone to write their name and phone number down for a consolation prize (one of the leftover Dodger promotional items from earlier that year, like a t-shirt or beach towel). Hey, those who do not learn history are destined to repeat it, so someone's been studying up. Good work, Dodgers' front office.

The game was painful to watch, but some of us did stick it out through the end and we were rewarded with a very quick exit from the parking lot since most "fans" left in the 7th. Not us. We believe in the Dodgers. We even believed it was possible that they could hit back-to-back-to-back-to-back-to-back-to-back-to-back-to-back-to-back home runs in the 9th. It WAS fleece blanket night, after all.
All photos by Malingering, who is working on turning that frown upside-down.