KT Tunstall @ WGA Strike, Disney Gates, 11/14/07
Stories like these are only possible with your help!
You have the power to keep local news strong for the coming months. Your financial support today keeps our reporters ready to meet the needs of our city. Thank you for investing in your community.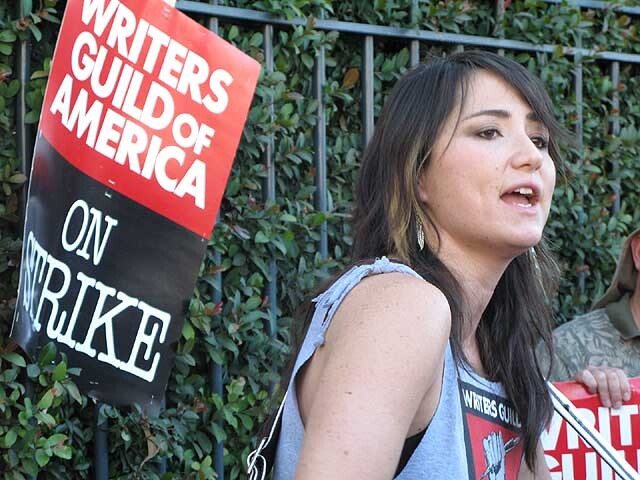 KT Tunstall was supposed to play Leno and Carson Daly's shows this week while she was in town. But since the strike happened she figured "how about playing in front of NBC?" When a better location down the street in front of the Disney gates was suggested she took her guitar and tambourine and supported the writers with three tunes, two of her own, and in the video below you will see her do a 70s classic.
After the jump tons of pictures from today's rally in Burbank.
The strikers had some nice tshirts.
All the best shows were represented.
The sweet signs were out in full force.
The press interviewed the striking writers.
KT arrived around 3pm and the photographers and press and strikers gathered around her and it was nearly a Britney moment of "omg the celeb"! But people were professional and chilled out.
Then she stood on top of her guitar case, did her big hit from a few years back and asked people if they wanted a cover tune or another one of her songs. The crowd asked for one of her songs and she really seemed surprised, so she played her new hit. Then she covered the Jackson 5.
It was hot, it was quick, and it was really fun.
If you didn't see the interview we did with KT this week, click here
photos by Sonny I. LaVista for LAist