LAist Interview: KT Tunstall
LAist relies on your reader support.
Your tax-deductible gift today powers our reporters and keeps us independent. We rely on you, our reader, not paywalls to stay funded because we believe important news and information should be freely accessible to all.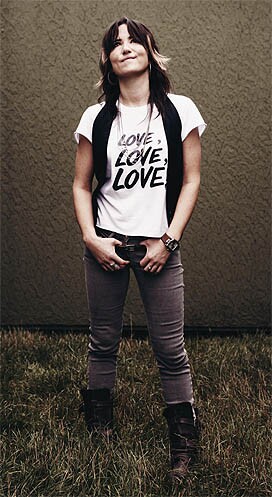 by Kira Gouriluk for LAist
KT would have rather haven been on the DL yesterday in LA, but it's OK. Shortly after landing into LAX yesterday from Scotland, the first thing she had to do was start answering questions from the press, and worse, from bloggers!
Such are the ups-and-downs of the 32-year-old KT Tunstall who had to wake up at 4am for a flight that took her 'round the world where today she will meet-and-greet-fans, having meetings, and then do even more interviews to hype (and then play) another big show - like tonight's at the Avalon.
All while keeping a smile on her face and being as optimistic about life as a person can.
If you haven't heard of KT, you've probably heard her hit single "Black Horse and the Cherry Tree" - if not on the radio, you may have heard it on a tee vee commercial. And if you've heard it, you might be sick of it now as it's everywhere. Such are the ups and downs of being hot right now, which KT certainly is. Her latest single "Saving My Face" dropped on iTunes yesterday, the second cut off her new cd Drastic Fantastic, which we were lucky enough to ask her about, but one thing that stood out was that she repeatedly mentioned her gratitude and appreciation of her fans all over the world and she credits much of her success to them.
"If I could dedicate one song to my fans it would be 'I Want You Back' by the Jackson 5. Hopefully, they'll keep coming back!," Tunstall said.
"My audience originally started out as an older crowd ranging from 25 - 30 and older, but progressively grows younger. There are lots of young guys in the front row now which surprises me but I love it. They're interested in guitar and lyrics and think it's great. I know at that point in my life lyrics in music meant so much to me. Music can be such a positive force in peoples lives, especially in a world full of dark corners I'm glad people can find strength in music from the evil [in the world]. I would love to do a college tour but first I have to see how successful [Drastic Fantastic] turns out to be."