LAist Interview: KT Tunstall
Stories like these are only possible with your help!
You have the power to keep local news strong for the coming months. Your financial support today keeps our reporters ready to meet the needs of our city. Thank you for investing in your community.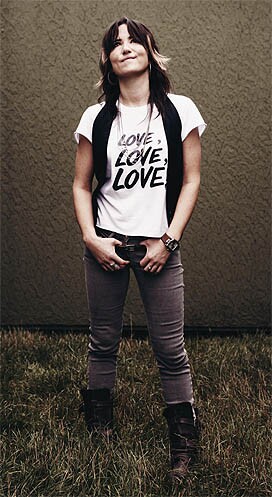 by Kira Gouriluk for LAist
KT would have rather haven been on the DL yesterday in LA, but it's OK. Shortly after landing into LAX yesterday from Scotland, the first thing she had to do was start answering questions from the press, and worse, from bloggers!
Such are the ups-and-downs of the 32-year-old KT Tunstall who had to wake up at 4am for a flight that took her 'round the world where today she will meet-and-greet-fans, having meetings, and then do even more interviews to hype (and then play) another big show - like tonight's at the Avalon.
All while keeping a smile on her face and being as optimistic about life as a person can.
If you haven't heard of KT, you've probably heard her hit single "Black Horse and the Cherry Tree" - if not on the radio, you may have heard it on a tee vee commercial. And if you've heard it, you might be sick of it now as it's everywhere. Such are the ups and downs of being hot right now, which KT certainly is. Her latest single "Saving My Face" dropped on iTunes yesterday, the second cut off her new cd Drastic Fantastic, which we were lucky enough to ask her about, but one thing that stood out was that she repeatedly mentioned her gratitude and appreciation of her fans all over the world and she credits much of her success to them.
"If I could dedicate one song to my fans it would be 'I Want You Back' by the Jackson 5. Hopefully, they'll keep coming back!," Tunstall said.
"My audience originally started out as an older crowd ranging from 25 - 30 and older, but progressively grows younger. There are lots of young guys in the front row now which surprises me but I love it. They're interested in guitar and lyrics and think it's great. I know at that point in my life lyrics in music meant so much to me. Music can be such a positive force in peoples lives, especially in a world full of dark corners I'm glad people can find strength in music from the evil [in the world]. I would love to do a college tour but first I have to see how successful [Drastic Fantastic] turns out to be."
10th November, 2007 HIYA HOLLYWOOD! Saturday, November 10th

Packing up for LA…where does a girl start!

Gold lamé bikini – check…
Tiny live wingless bat plus $10k wingless bat travel bag – check…
Shades a la Timmy Mallet – check…
Let's, like, totally go!

- KT's online diary 11/10/07


LAist: By reading your blog at kttunstall.com or on myspace, one seems to pick up the impression that besides being a rockstar working hard and on the road, you're a cool and down to earth person with a great heart who appreciates everything life brings you. How has stardom impacted your life?
KT Tunstall: That's kind of funny seeing as my blog is only about myself [laughs] ... but stardom. I'd probably say if anything it's made me very self-analytical which is strange because I never was that way before. Especially in interviews it makes me wonder if I'm going to want to take back any of my words because my mind changes quite frequently, I could love something one day and then love another the next and it makes my brain twisted like, did I really mean that? I try to be honest and everything usually ends up OK.
Overall I love it!"
Your new cd Drastic Fantastic is a huge success with very beautiful and inspirational songs. If you had to pick, what would you say is your favorite song on the album?
Oh my God, that's like making me choose a favourite baby! My answers may be one thing today but then change again tomorrow but if I had to choose today I would probably say "If Only".
I like "If Only" because there is so much mystery to it, so many ways to go about it and it's difficult to sing so it's a challenge in itself.
Also "Beauty Uncertainty" I love for different reasons. It kind of goes along with a screenplay I helped write with a friend, Brian Hendricks in Vancouver called "The Beauty Uncertainty" and it has a film aura about it.
Alright, different kind of question for you: If you had 24 hours right now to do anything you want, anywhere you want, and take anybody with you, what would you do, where would you go and who would you take!
Oh my goodness you've got me daydreaming now! I guess I would like to go to the Maldives, have dinner with my boyfriend, hmm.... go shark diving at night... I would wake up LATE... go see a movie, I've been wanting to see Eastern Promises, and then maybe go see some Arcade Fire.
That sounds good. Any day ending with Arcade Fire would be great.
While we're daydreaming, if you could tour with one artist who you've never toured with before, who would you pick?
Aaaaaah! I would have to say The Flaming Lips. [Wayne Coyne] is wicked and so amazingly talented. I've sat down and talked with him before and I think we would musically put on a great show if we were to perform together.
OK. another hard one... What is the best thing about being KT Tunstall?
The best thing is feeling like I'm not doing a job. I'm passionate about music, I love being a nomad, I love living out of a bag, I love meeting new people all the time, and I feel most at home on stage and performing.
Any advice to current artists?
My motto is "Luck is being ready". Which basically means you can be lucky in life but don't be afraid of any opportunity that comes your way. Say "yes" if somebody asks you if you'd like to do something - even if you don't think you can do it. Even if that means playing at a local pub or out on the street with your guitar.
Life has a way of opening windows and you may not realize the opportunity is there until after it has passed so be ready for it anyways.
How do you feel about playing the Avalon tonight? Do you like LA?
There is something surreal about playing in LA. Saying "Good evening, Los Angeles!" to a sold out crowd kind of makes you feel like you're dreaming or watching a movie.
I originally didn't know what it was going to be like to play in LA because from an outsiders global point of view, Hollywood is a place that you usually only see on TV and has so much media influence around it doesn't seem real.
I love LA. I cannot wait to play!

KT Tunstall - "Saving My Face"
Tonight KT Tunstall will be rocking the Avalon on Vine in Hollywood, opening up is Teitur from the Faroe Islands.