This is an archival story that predates current editorial management.
This archival content was written, edited, and published prior to LAist's acquisition by its current owner, Southern California Public Radio ("SCPR"). Content, such as language choice and subject matter, in archival articles therefore may not align with SCPR's current editorial standards. To learn more about those standards and why we make this distinction, please click here.
ICE Increases Attendance At Local Recruiting Events Ahead Of 'Hiring Surge'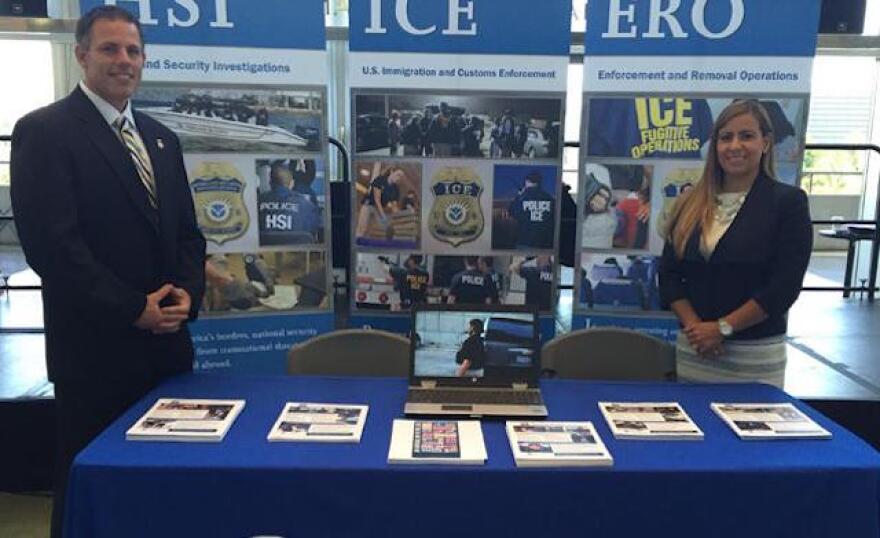 Support your source for local news!
The local news you read here every day is crafted for you, but right now, we need your help to keep it going. In these uncertain times, your support is even more important. Today, put a dollar value on the trustworthy reporting you rely on all year long. We can't hold those in power accountable and uplift voices from the community without your partnership.
U.S. Immigration and Customs Enforcement is upping their presence at local hiring fairs ahead of an "upcoming hiring surge," according to a press release from the agency. The press release was specifically issued to highlight their presence at a "major recruiting event" and forthcoming hiring plans. The Trump administration announced plans for the hiring surge back in February, as additional agents are needed to carry out the President's hardline immigration policies. The President has said that he plans to "to triple the number of ICE agents" in the field.
According to the agency press release, ICE was one of 60 exhibitors at a job fair geared toward veterans. ICE Homeland Security Investigations and ICE Enforcement and Removal Operations's Los Angeles teams will "work together throughout the recruitment period by attending events, representing the law enforcement workforce and educating potential applicants on the benefits of working for ICE," according to the agency.
There have been two large-scale ICE enforcement operations so far this year in the Los Angeles area, one in February and one in May. Although the raids targeted individuals with criminal records, 10% of the nearly 200 people arrested in March had no prior criminal convictions.
Fear of increased immigration enforcement has had a chilling effect on some Los Angeles communities, affecting many aspects of civic society. LAPD Chief Charlie Beck spoke in March about how reporting of sexual assault and domestic violence by members of L.A.'s Latino community had dropped significantly during the first months of 2017, compared to last year. Community groups have seen a marked uptick in landlords exploiting immigration fears to threaten tenants since the election. Officials conducting much-needed outreach around Exide lead contamination in June worried that immigration fears could hinder participation. According to a recent poll, 37% of Los Angeles County residents fear that they, a family member or a friend will be deported from the United States.
"We see this impact all across our city," Mayor Eric Garcetti said at a press conference in March, adding that the Lincoln Heights youth center where the press conference was held had itself seen a 34% drop in enrollment so far that year.
"The ICE recruiters say they are excited about working together in a joint recruitment effort to identify competitive applicants who will be the future of ICE," the agency statement continues.
Related: This Is What It's Like When A Father Of 4 Is Detained By ICE While Dropping His Daughters Off At School
ICE Detains Former Unaccompanied Minor With Pending Asylum Case On His 18th Birthday
Sexual Assault Reporting In L.A.'s Latino Community Down 25% Amid Fears Of Immigration Enforcement
Garcetti Signs Executive Directive Expanding Protections For Undocumented Angelenos
Cruise off the highway and hit locally-known spots for some tasty bites.

Fentanyl and other drugs fuel record deaths among people experiencing homelessness in L.A. County. From 2019 to 2021, deaths jumped 70% to more than 2,200 in a single year.

This fungi isn't a "fun guy." Here's what to do if you spot or suspect mold in your home.

Donald Trump was a fading TV presence when the WGA strike put a dent in network schedules.

Edward Bronstein died in March 2020 while officers were forcibly taking a blood sample after his detention.

A hike can be a beautiful backdrop as you build your connection with someone.