ICE Increases Attendance At Local Recruiting Events Ahead Of 'Hiring Surge'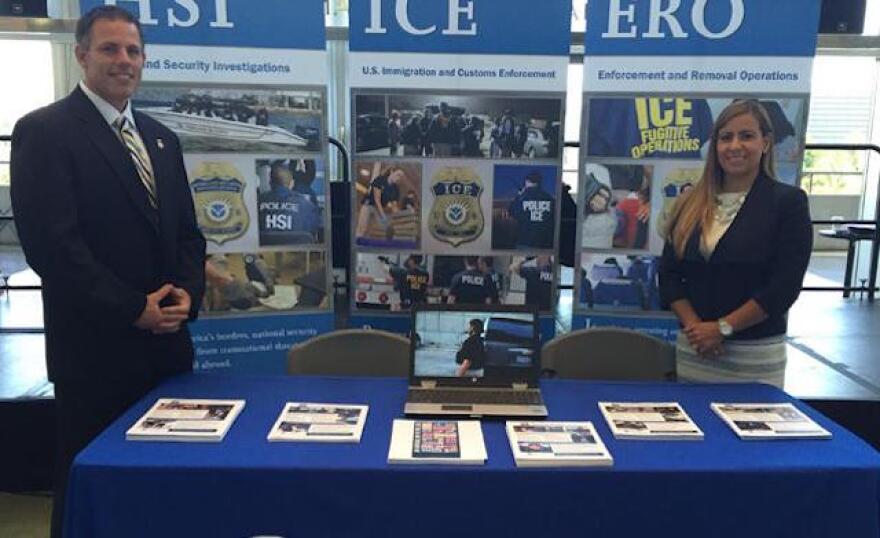 Stories like these are only possible with your help!
You have the power to keep local news strong for the coming months. Your financial support today keeps our reporters ready to meet the needs of our city. Thank you for investing in your community.
U.S. Immigration and Customs Enforcement is upping their presence at local hiring fairs ahead of an "upcoming hiring surge," according to a press release from the agency. The press release was specifically issued to highlight their presence at a "major recruiting event" and forthcoming hiring plans. The Trump administration announced plans for the hiring surge back in February, as additional agents are needed to carry out the President's hardline immigration policies. The President has said that he plans to "to triple the number of ICE agents" in the field.
According to the agency press release, ICE was one of 60 exhibitors at a job fair geared toward veterans. ICE Homeland Security Investigations and ICE Enforcement and Removal Operations's Los Angeles teams will "work together throughout the recruitment period by attending events, representing the law enforcement workforce and educating potential applicants on the benefits of working for ICE," according to the agency.
There have been two large-scale ICE enforcement operations so far this year in the Los Angeles area, one in February and one in May. Although the raids targeted individuals with criminal records, 10% of the nearly 200 people arrested in March had no prior criminal convictions.
Fear of increased immigration enforcement has had a chilling effect on some Los Angeles communities, affecting many aspects of civic society. LAPD Chief Charlie Beck spoke in March about how reporting of sexual assault and domestic violence by members of L.A.'s Latino community had dropped significantly during the first months of 2017, compared to last year. Community groups have seen a marked uptick in landlords exploiting immigration fears to threaten tenants since the election. Officials conducting much-needed outreach around Exide lead contamination in June worried that immigration fears could hinder participation. According to a recent poll, 37% of Los Angeles County residents fear that they, a family member or a friend will be deported from the United States.
"We see this impact all across our city," Mayor Eric Garcetti said at a press conference in March, adding that the Lincoln Heights youth center where the press conference was held had itself seen a 34% drop in enrollment so far that year.
"The ICE recruiters say they are excited about working together in a joint recruitment effort to identify competitive applicants who will be the future of ICE," the agency statement continues.
Related: This Is What It's Like When A Father Of 4 Is Detained By ICE While Dropping His Daughters Off At School
ICE Detains Former Unaccompanied Minor With Pending Asylum Case On His 18th Birthday
Sexual Assault Reporting In L.A.'s Latino Community Down 25% Amid Fears Of Immigration Enforcement
Garcetti Signs Executive Directive Expanding Protections For Undocumented Angelenos