This is an archival story that predates current editorial management.
This archival content was written, edited, and published prior to LAist's acquisition by its current owner, Southern California Public Radio ("SCPR"). Content, such as language choice and subject matter, in archival articles therefore may not align with SCPR's current editorial standards. To learn more about those standards and why we make this distinction, please click here.
Notes on last night's Dodger game
Before you read more...
Dear reader, we're asking you to help us keep local news available for all. Your tax-deductible financial support keeps our stories free to read, instead of hidden behind paywalls. We believe when reliable local reporting is widely available, the entire community benefits. Thank you for investing in your neighborhood.
The good news is, I am not a jinx. Going into tonight's game, the Dodgers had a 19-12 home record. Their record with me in attendance? 7-9. I was considering staying home and just listening to Vin on TV as I seem to have a negative effect on the team and I was on a three game losing streak. But last night, the curse was broken.
How appropriate it be broken by a fellow Asian Hong-Chih Kuo, who I once chased down at the 2004 Chinese New Year parade in Chinatown and yelled at the driver of his car to stop because it was very important I have a photo taken with this man. At that time he had apparently put his head in a bowl of peroxide and turned his hair orange, but that is beside the point. Since then he had Tommy John surgery, got a brand new elbow, and worked his way back to the big leagues. Kuo made his second start this season as a Dodger, got his first win, and hit the third homer in a back-to-back-to-back run in the second inning.
No, that's wasn't a typo. The 7, 8, and 9 batters (Betemit, Kemp, Kuo) went back-to-back-to-back on three consecutive pitches. They weren't wasting any time. I was getting the chills from the memories of September 18th, 2006 the greatest day of my baseball watching career. Kuo became the first Taiwanese player to ever hit a home run in the major leagues. And he's a pitcher.
Kuo has a very large cheering section in the left field bleachers. Something we noticed while at the world baseball classic last year: The Asian teams have very well organized fans. They bring musical instruments and have matching banners and choreography and pre-arranged chants. The Americans couldn't even unite enough to say "USA" three times without coming apart at the seams. Kuo had the backing of this entire section, and each person had a matching flag which they would all raise in unison. Impressive.
Unfortunately, one of the Taiwanese cheerleaders was escorted out by security. Don't know what that was about, my guess is that some idiot Mets fan made a cruel and unusual remark about Kuo and set this guy off. Taiwan: not really an instigating people, after all.
So the Dodgers got a 4-1 win over the Mets, who have the best record in the National League. Saito got his 18th save. Kuo got his first win. Everyone was happy. Especially me, since the curse was lifted.
Anyway. A few more notes on the game:
Some kids from Palms Elementary School showed up to do this interpretive arm swaying thing during the national anthem. I have no idea what it was for. Initially I hoped it was sign language, but then they all put their hands up and started swaying back and forth for 3 lines to represent the star-spangled banner and that's when I gave up trying to figure things out. If anyone understood this better than I did, please let me know.
Nomar's splits are improving. Good work, Mia.
The food at the Loge Terrace Grill is the only made-to-order food I've found at Dodger Stadium, unless you count the nachos. It wasn't half bad. My burger was overcooked and they forgot to put the cheese on it while it was still on the grill, but given that this was my third meal in four days at Dodger Stadium I was just glad to have options beyond the heat-lamp soggy Carl's Jr. sandwiches and the standard Dodger Dog. There is also a barbecue chicken sandwich at the grill that is highly recommended by our usher, Andrea, but I was having an e. coli craving so I went for the beef.
Here we have Lo Duca trying to get all man-friendly with Martin as he taps Martin's shin guards with his bat. Oh, back off Paulie. I wore your jersey for years until I found out you were cheating on your pregnant wife with teenagers at 18-and-over clubs and we're glad you've taken your pillaging ways out of Dodger Stadium. Just leave Martin alone. We don't want him to be your friend. He's beating you in the All Star voting. Go back to your dugout and text message one of your 19 year olds.
No thanks to this guy who brought a metal whistle to the game. The kind traffic cops and NBA refs and gym teachers use. Then he proceeded to blow it at intervals of 1 every 45 seconds in between his sips of beer. Okay, enough. Our whole section had lost our ability to hear anything, our ears were ringing, and he just kept on blowing. Eventually I had to change seats. This guy blows. Literally.
Alyssa Milano's TOUCH line of overpriced feminine designer baseball gear is on sale at the left field team store and on the club level. (I've already ranted about this, so I will spare you.) The most recent arrival is this LA Dodgers kimono top, which is made of mesh and completely see-through which you can purchase for a mere $60. Then you can drag those kimono sleeves through your nachos and dip them in your neighbor's beer and every time you stand up for the wave you can slap someone in the face with your soggy cheesy sleeve. Just sayin'.
"Yeah, he looks sort of like me but instead of an A there's an L on his chest... do you see him?"
And last but not least, we have this, which I can't even come up with a caption for so we'll leave it at that.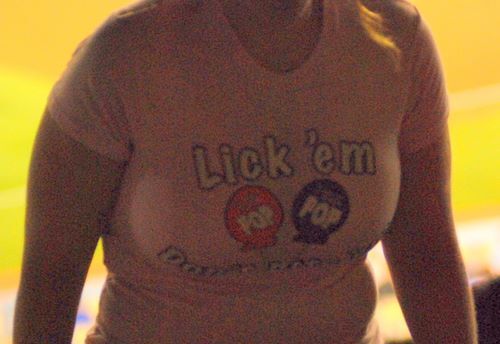 All photos taken by Malingering, who may be cursed, but isn't cursing the Dodgers.