L.A.'s Red Light Enforcement Cameras 'Not Necessarily' at Most Dangerous Intersections
Stories like these are only possible with your help!
You have the power to keep local news strong for the coming months. Your financial support today keeps our reporters ready to meet the needs of our city. Thank you for investing in your community.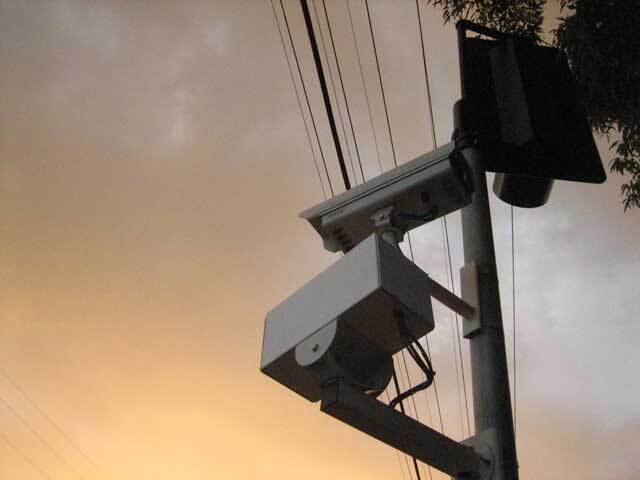 Photo by Zach Behrens/LAist
How effective is Los Angeles' Photo Red Light Program? That's the question City Controller Wendy Greuel will be talking about at a press conference later this morning. The enforcement cameras, which record drivers who will eventually receive a ticket in the mail running red lights, are supposed to improve public safety by reducing accidents at the city's highest risk intersections.
Greuel's office, however, said the city's 32 cameras have "not necessarily" been installed at those dangerous intersections, instead making sure there was at least one camera per city council district -- read: politics, mini fiefdoms -- instead of putting them at some state-controlled locations that require additional analysis before a camera can go live.
The good news is that there have been no fatalities at camera-controlled intersections since 2006 when they first began popping up in Los Angeles, but traffic accidents overall only decreased at half of those intersections.
The City currently has 32 Photo Red Light cameras, whose primary purpose is to improve public safety, by reducing accidents at the City's highest risk intersections. Still, Greuel's audit concluded that a better and more comprehensive approach to evaluating the program was needed because an increase in public safety could not be proven with current methods.
Despite doubling income with the cameras in 2009, $2.6 million has been spent supporting the cameras over the last two years without full cost recovery.
Related: City Wants to Lower Red Light Camera Fines & Reap Higher Revenues at the Same Time