The Homesick New Yorker's Guide To Eating In Los Angeles
Stories like these are only possible with your help!
Your donation today keeps LAist independent, ready to meet the needs of our city, and paywall free. Thank you for your partnership, we can't do this without you.
I'm an ex-New Yorker who made the leap to Los Angeles before the New York Times declared it chic. I knew my life would be different, but I never thought the food would be different too. Bacon, egg and cheese sandwiches were hard to come by and when I did find one, it had avocado and alfalfa sprouts on it. A native Angeleno told me the best bagels were from a place that had banana and mango flavors (which I argue are just donuts, though New York has also been suckered by fruity bagels). It suddenly became crystal clear: I was no longer in New York.
Over the past eight years, I've fallen madly in love with my adopted city, but I'm still on the hunt for tastes that remind me of home. I've eaten a lot of horrible "New York-style" food. But there are also a lot of amazing eats if you know where to go. If you've asked, "Where are there good bagels? Meatballs? Bacon, egg and cheeses?" Well, here are my answers.

Photo by Kerry Quinn/LAist
Everyday Meatballs: Vito's PizzaThere are times when I've longed for a meatball hero with extra gravy. I quickly learned two things: in L.A. a hero is a guy who saves the day and gravy is found only on Thanksgiving. Instead, order a meatball sub with extra sauce. My favorite fast, casual meatball option is Vito's Pizza. You can have your beef balls in a variety of ways: with spaghetti, on a sub or on a pizza. Either way, they are divine (and their pizza is pretty good, too).
Vito's Pizza is located at 846 N La Cienega Blvd., Beverly Grove, (310) 652-6859.

Photo by Jon & Vinny's/Instagram
Fancy Meatballs: Jon and Vinny'sFor a fancier experience, Jon and Vinny's meatballs have the blessed trifecta of pork, beef and veal—the way your Italian grandma made them on Sundays. As the owners of Animal and every other delicious restaurant you can think of, it's no surprise that they offer a meatier option. You'll get two sizable meatballs, plus some ricotta and a piece of garlic bread. While more expensive than your traditional duo of balls, they're delicious enough to have you say "Fugettaboutit."
Jon and Vinny's is located at 412 N Fairfax Ave., Fairfax District, (323) 334-3369.

Bagels: Bagel Broker
While urban legend says the key to a great bagel is New York water, it's really in proofing (resting the dough in a cooler for a few days which allowing the yeast to ferment and release extra flavors) and boiling before baking. This is what packs the crunch on the outside. Bagel Broker has mastered this process: their bagels are big with a firm outside and soft, doughy inside. Your stomach will feel like it's been transported to Manhattan. You'll find freshly baked flavors like onion, poppy, sesame and everything, as well as cheese & jalapeño if you prefer a little California twist. Their baker's dozen comes with 14, if you want to stock up.
Bagel Broker is located at 7825 Beverly Blvd., Fairfax District, (323) 931-1258.

Photo by Kerry Quinn/LAist
Coffee: Andante Coffee Roaster'sNew York coffee trucks give you a paper cup full of muddy coffee that gives you a kick in the pants that's long on caffeine and forceful flavor. While Los Angeles has fantastic boutique coffee shops, the cold brew flavors tends to be softer and often more palatable. Andante Coffee Roaster's cold brew is seriously strong in the best way possible. With hints of chocolate, it's a multi-layered coffee experience that gives my neuroses a jolt in all the right ways and makes me feel like I can get things done in a New York minute. Bonus: no muddiness in sight. They also have pourover coffees as well as espresso drinks all made with beans roasted in Koreatown.
Andante Coffee Roasters is located at 7623 Beverly Blvd., Beverly Grove, (323) 525-0355; 2201 W Sunset Blvd., Echo Park (213) 568-3099; and 816 S Grand Ave., downtown, (213) 628-3670.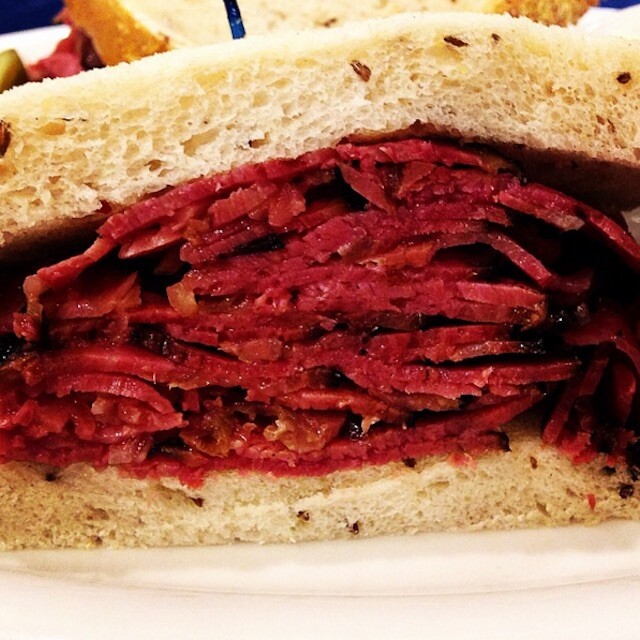 Photo by Greenblatt's Deli/Instagram
Deli Food: Greenblatt's DeliWhen it comes to pastrami on rye, matzo ball soup and potato knishes, you'll feel like you've died and gone to see your bubbe in heaven at Greenblatt's Deli. Get the pastrami on rye with coleslaw and Russian dressing and your mouth will feel like it's on the Lower East Side. The matzo ball soup is the perfect cold remedy, with one big ball along with pieces of chicken, carrots and onions. The delicious knishes are round, fluffy potato pillows that you may not even want to slather in mustard (but I always do anyway).
Greenblatt's Deli, 8017 Sunset Boulevard, Hollywood Hills West, 323-656-0606.

Photo by Free Range LA/Instagram
Bacon, Egg & Cheese: Free Range LAThere's something about a buttered kaiser roll with an over easy egg, a square of American cheese and two curly pieces of bacon. While you can achieve this greatness at any NY deli or bodega, in L.A. it is hard to come by. But The Free Range truck has you covered. Their standard offering is applewood smoked bacon, over easy egg, spicy ketchup and cheddar on a homemade biscuit. I skip the ketchup and ask for a brioche roll (pictured). Beware, you may get egg on your face, but in the best way possible.
The Free Range LA truck moves around the city. Check here for locations and schedule.

The proper way to eat a super Dodger Dog (Photo by Joe Chang via the Creative Commons on Flickr)
Street Hot Dog: Super Dodger DogThe closest thing to a street cart dog (which my dad calls "A Man On The Street") is an all-beef super Dodger Dog at Dodger Stadium. (The regular Dodger Dog is a beef and pork blend.) It's 10 inches long and is served on a steamed bun. It not only looks right, but also the skin has that crunch you can only get from a street vendor. Points for the full table of condiments with spigots for yellow mustard and ketchup, plus hand cranks for relish and onions. When the Dodgers left Brooklyn, at least they were smart enough to take the hot dog recipe with them.
Dodger Stadium, 1000 Vin Scully Ave., (323) 224-1507.

Photo by Chin Chin/Instagram
Takeout Chinese: Chin ChinSure, the San Gabriel Valley has the best Chinese food in America. But sometimes you're in the mood for something a little more simple and satisfying. There's nothing like a greasy, spicy aluminum container of sesame chicken, pork fried rice and wonton soup. Most Chinese takeout places in L.A. skip the unhealthy layer of grease and MSG that kicks the flavor up a couple of notches. Chin Chin cuts most of the grease but comes close to the flavor with an array of familiar NY menu options that are delicious. I love the barbecue spare ribs, lo mein, fried rice and scallops with black bean sauce.
Chin Chin is located at 206 S Beverly Dr., Beverly Hills, (310) 248-525; 11740 San Vicente Blvd., Brentwood, (310) 826-2525; 8618 W Sunset Blvd., West Hollywood, (310) 652-1818; 12215 Ventura Blvd., Studio City, (818) 985-9090.
Kerry Quinn is a writer based in Los Angeles. She's written for The Establishment, Playboy, Thrillist, DailyWorth and her blog, The Kerry Diaries. Follow her on Twitter @kerrylquinn and Instagram @kerrydiaries.
Related:
Best Foods For L.A. Transplants Missing Their Hometowns