This is an archival story that predates current editorial management.
This archival content was written, edited, and published prior to LAist's acquisition by its current owner, Southern California Public Radio ("SCPR"). Content, such as language choice and subject matter, in archival articles therefore may not align with SCPR's current editorial standards. To learn more about those standards and why we make this distinction, please click here.
Neighborly Love: Reducing The Sting of Urban Beekeeping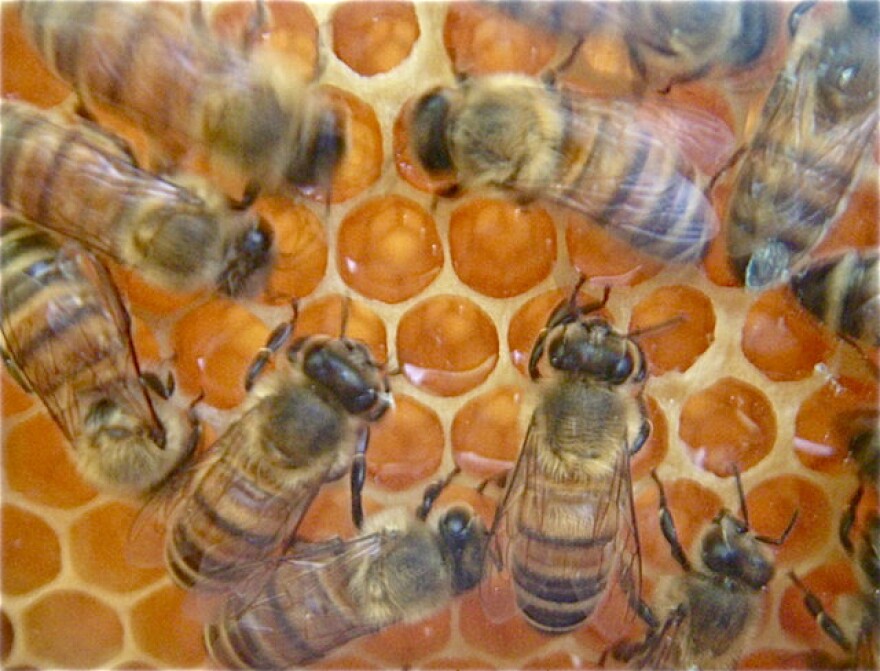 Before you read more...
Dear reader, we're asking you to help us keep local news available for all. Your tax-deductible financial support keeps our stories free to read, instead of hidden behind paywalls. We believe when reliable local reporting is widely available, the entire community benefits. Thank you for investing in your neighborhood.
Urban beekeeping has seen a rise in popularity with the resurgence of home gardening. But not everyone is excited about enthusiasts plopping bee boxes in their backyards. In fact, many cities are experiencing battles over home hives. Those for domestic beekeeping site the importance of pollination for our food supply, and those against are concerned with allergies and safety.
Some are so upset by the urban beekeepers that they're taking matters into their own hands. Grist published a guide to beekeeping etiquette today, which sited the loss of one local beekeeper.
"Earlier this summer Michael Schwartz, a newbie beekeeper in Altadena, Calif., lost the roughly 10,000 bees inside three hives that he kept on the roof of his garage. He believes someone scaled his garage and sprayed something — a pesticide, maybe, or even something like oven cleaner — into the hives. 'The bees would come out of the hive and then just fly in circles until they stopped moving,' he says. It's not just the monetary and emotional toll of the lost hives that bother Schwartz: 'Someone put poison into the food supply for me and my family,' he says."


That's not so different from what would happen if the hives were reported, though. According to Pat Morrison's
recent piece in the L.A. Times
, if neighbors complain, hives are immediately terminated, regardless of the positive impact they might have on the current epidemic of colony collapse.
Says Morrison's story:
"Bees are so scarce that California almond growers are having to patronize rent-a-hive businesses to get the bee pollinators into their orchards. Agriculture isn't just "out there" either. Urban gardeners and urban gardens could help to save bee populations, and Los Angeles still bears traces of what it once was, even after World War II: the richest agricultural county in the nation."
Beekeeping is still illegal here in Los Angeles, but Santa Monica has legalized the activity, and an L.A.-based group called Honeylove is working to expand that area to the rest of L.A. (They celebrated National Honey Bee Awareness Day this past weekend.)
Grist suggests some tips for activists and gardeners seeking to keep the peace while keeping bees: Talk to neighbors before bringing in the hives; educate them about the important role pollinators play in our food supply; register your bees with a state registry and keep good records; ensure that you always provide water for the bees, so they don't go looking for other water sources; have an emergency plan if things go wrong and bees become aggressive; and don't work with your beehive when people are nearby.