Black Hogg Temporarily Shut, Readying For Liquor License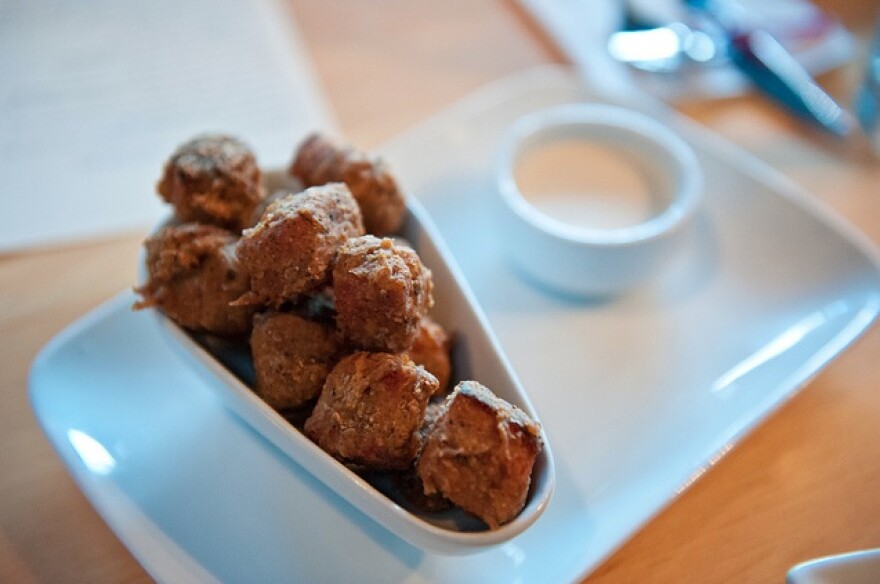 LAist relies on your reader support.
Your tax-deductible gift today powers our reporters and keeps us independent. We rely on you, our reader, not paywalls to stay funded because we believe important news and information should be freely accessible to all.
Silver Lake's Black Hogg has garnered rave reviews from our city's critics, and it's definitely become a neighborhood favorite for the Eastside crowd. The only thing that chef Eric Park's inventive cooking was lacking was a liquor license to go along with his gutsy, gastropubby food.
It appears that Park, formerly of New York's Spotted Pig and Eleven Madison Park, will soon have beer and wine to pair with his famous popcorn bacon (pictured above). After checking the site to make a reservation last night, we noted that the restaurant has been closed to make way for the proper permitting. The Silver Lake Neighborhood Planning Commission gave the Korean-American chef their support back in July, and plans are reaching their final stages:
Says Black Hogg's site:
"Important announcement: We will be temporarily closed starting Sunday, August 19th as we undergo some renovations to bring you beer and wine. For updates, please follow us on twitter @black_hogg. We look forward to having a drink with you soon!"
We tried reaching Park and the team at Black Hogg for comment, but at the time of publishing all we could gather from their Twitter feed is that as of yesterday, they are still "a few weeks out" from re-opening. Stay tuned.