Tonight In Rock: Aretha Franklin, Rhett Miller, In Flames, O'Death
Stories like these are only possible with your help!
You have the power to keep local news strong for the coming months. Your financial support today keeps our reporters ready to meet the needs of our city. Thank you for investing in your community.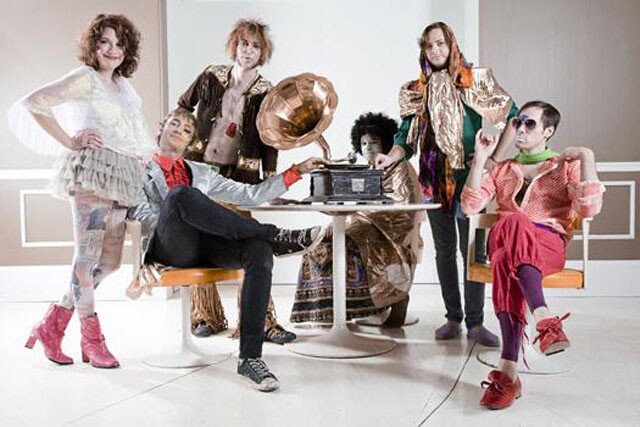 Of Montreal will be playing tonight at the Hollywood Palladium | Photo by Patrick Heagney via Of Montreal's Myspace
Our Pick: Of Montreal, HEALTH @ Hollywood Palladium
Tonight the "Queen of Soul," Aretha Franklin, will conclude a two-night stint at the House of Blues Sunset. Old 97's front man Rhett Miller is stopping through the Largo at the Coronet. Swedish metal band In Flames will be shredding at Club Nokia. And, lastly, NY-based folk rockers O'Death are sharing the stage at Spaceland with some great local bands, Le Switch and Death to Anders. But we suggest plopping down at the newly renovated Hollywood Palladium to experience Of Montreal. The last time the prolific Athens-based indie pop act played here, nearly a year ago to the date, "I felt like I was tripping on acid." LA's own noise rock troupe HEALTH (LAist Review) will be opening.
Of Montreal - "Wicked Wisdom"

Aretha Franklin @ House of Blues Sunset
Rhett Miller @ Largo at the Coronet
In Flames, All That Remains @ Club Nokia
Of Montreal, HEALTH @ Hollywood Palladium
imarobot @ The Echo (Canceled!)
O'Death, Le Switch, Death to Anders @ Spaceland
Gears, Mike Watt and the Secondmen @ Mr. T's Bowl
Happy Hollows, AM, Dirt Dress, The Primos, Traps, PS, Widow Babies @ Pehrspace
Duhka, Not the Government, Corridor, The Antarcticans @ The Smell
Zachariah & the Lobos Riders @ The Hotel Café
Agent Ribbons, Heart of Gold @ Tangier
Cinder Cone @ Echo Curio
Other People @ The Cocaine at Live Jazz
The Shore, The Meadows, Mitchell's Folly, Happy Stars @ Molly Malone's
DJ David Guetta @ Vanguard
Underground Dance Masters @ Echoplex
Bring Me the Horizon @ Troubadour
The Curse @ The Roxy
Smiling Face Down, Shaun Karma, Kings of the Wild Frontier @ Redwood Bar
Ludacris @ Pomona College (Canceled!)
K.D. Lang @ Terrace Theater
Buckethead @ House of Blues Anaheim