This is an archival story that predates current editorial management.
This archival content was written, edited, and published prior to LAist's acquisition by its current owner, Southern California Public Radio ("SCPR"). Content, such as language choice and subject matter, in archival articles therefore may not align with SCPR's current editorial standards. To learn more about those standards and why we make this distinction, please click here.
CMJ Day Two
Before you read more...
Dear reader, we're asking you to help us keep local news available for all. Your financial support keeps our stories free to read, instead of hidden behind paywalls. We believe when reliable local reporting is widely available, the entire community benefits. Thank you for investing in your neighborhood.
Yesterday commenced with an LA bang. I started off at the Indaba music loft again because they have been hosting a plethora of good (free!) shows. There's something comforting about watching bands from someone else's living room. I showed up around mid-day to catch one of my favorite LA bands Division Day. Front man Rohner Segnitz and the boys ran through a pleasant acoustic set. With drummer Kevin Lenhart on shakers, Division Day sounded like a whole different band. Songs from their recently re-released debut Beartrap Island were uber-polished. Things sounded spectacular. Do check out their recently recorded cover of Roxy Music's "More Than This" at their myspace.I ran over to the Fader Party to catch another great LA band. None other than Los Feliz natives Airborne Toxic Event. I must say that Fader Magazine sure knows how to throw a good bash. They had Guitar Hero 3! Need I say more? Free booze, free magazines, and a comfortable space on Orchard Street, just around the corner from the Gothamist's White Rabbit showcase. Anyways, Airborne Toxic Event began their set and the power surge went out. The sound man voiced frustration, "Already?!" Things were a bit chaotic as they were filming the entire performance. Once they got things sorted out Airborne rocked through a set of effervescent brit-pop inspired Indie rock. Their set included crowd pleasers like "Does This Mean You're Moving On?". Airborne Toxic Event is opening for the 1990's at the Troubadour come October 27th. So mark your calendars.
I stuck around to watch people play guitar hero and read through the newest issue of Fader (I chose the one with Devendra on the cover). I also really wanted to see LA band Health because I haven't had the chance to back home. As we were waiting for them to take stage I joked with the guy next to me, who had asked what they sounded like, "They're enormously loud and noisy, but we're used to that sort of thing in LA". The band took stage with a zen-like chant, every member singing in unrefined chorale, and dove head first into a clamor of music. Normally, I'm not into this type of scene, but there is something entirely mesmerizing and, consequently, endearing about their innovative approach. They nearly ripped everyone's face off with their blistering experimental rock. It was a high-energy, constant flux of screaming and singing. My first Health experience was eye-opening, to say the least.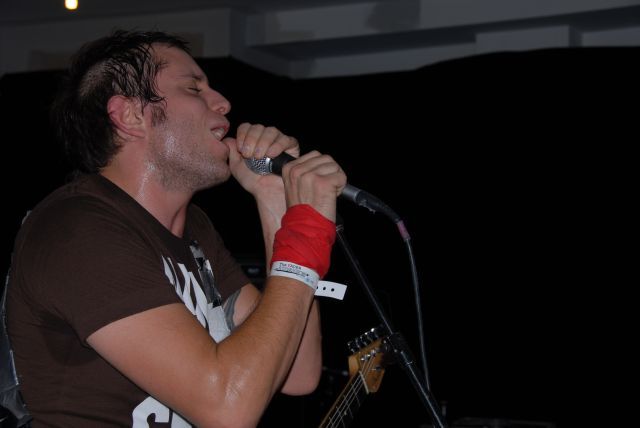 After having my ears hacked at, I rounded the corner and headed over to the Gothamist House at White Rabbit to catch Ghostland Observatory front man Aaron Behrens. Initially, I had thought that he would be DJing or something else inconsequential, but I still showed because I love Ghostland dearly. As luck would have it, Aaron played a very low-key acoustic set of random material. I didn't stick around too long because, frankly, I had no idea what songs he was playing. I really just wanted to be there to say that I had experienced this once in a lifetime solo set. How many opportunities do you get to see Mr. Behrens play all by his lonesome?I swung by the Fader Party again to catch MGMT, one of my favorite artists at the moment. Things were in full effect over there. The space was packed with people and we were all dancing along, doing feel-good two steps to MGMT's throwback tunes. It was clear how much clout these Brooklyn natives have in this neck of the woods. People continued to flow from the downstairs VIP artist's room in order to see what the commotion was all about. Everyone was digging their tightly executed set, which included crowd pleasers like the funky "Electric Feel" and the Bowie-esque "Weekend Wars".
Next, I hit up the Organic Entertainment Showcase at Club Midway. New Jersey locals Holler, Wild Rose were playing and their jams impressed me so much that I made it over to check them out. With two keyboards and three guitars, Holler presented a regal breadth that I did not expect. The front man's vocals were opulent and cleverly disguised behind a facade of vibrato. The stage wasn't large enough to accommodate so many people. So one guitarist literally played off stage. It was an enjoyable excursion through heartfelt melodies. I really appreciate what Organic Entertainment is doing for the music scene, check out their artists.

I have been anticipating seeing Amsterdam's Alamo Race Track after receiving a laudatory suggestion from a friend. Their sound is hard to pinpoint, but I hear elements drawn from The Strokes and The Pixies. They absolutely blew me away. It was hot as hell in the basement venue, but people we're dancing up front and getting into it. Their playful set included "BlackcatJohnBrown", which was recently featured on Grey's Anatomy, and my favorite dance tune "The Northern Territory", It was nice to see such a warm welcome for a small Indie rock band from Amsterdam. Make sure you check them out because they probably won't be playing in LA, ever.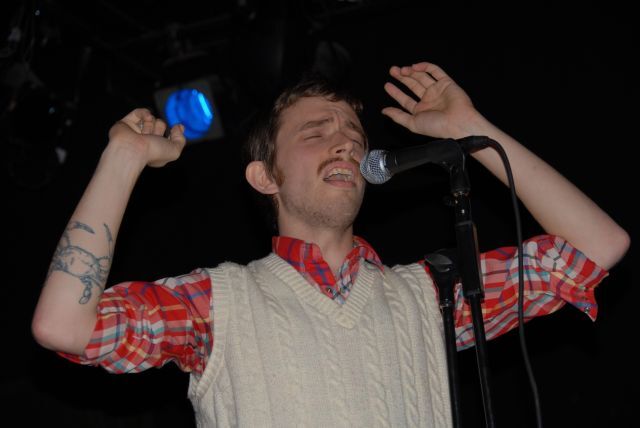 By this point I'm completely beat, but I trek on to Williamsburg via the L train to the Music Hall to catch Yeasayer. I'm a huge fan of their forthcoming debut All Hour Cymbals. Front man Chris Keating's compulsive, schizophrenic presence is exactly what I envisioned it to be from listening to his album. He kept readjusting the mic stand as though it were in the wrong place and once he finally decided it was, he gave off an expression of complacency. Keating provided some much needed comic relief. As the set came to a close, he checked his cellphone, joking about how he got a text message from his mother: "She usually comes to our shows. Momma are you up there?" He looked upwards and jokingly exclaimed, "No, not tonight. Momma's dead!" Yeasayer plowed through a set comprised of tunes from their debut All Hour Cymbals, including my favorites "Sunrise", "Wait For Summer", and "2080".

I stuck around for a bit of Brit-rockers Sam Champion's set. I recall a lot of falsetto, but I bounced out early because my camera had died. When I got back into the city I realized that Foals was slated to play at the Music Hall later that night. I checked their myspace and it appeared that this would be their only CMJ appearance before they head off to open up for Bloc Party's European stint. I freaked out, charged my camera for a bit, and headed back out to Williamsburg to catch them before the night's end.

British dance-rock group Foals took stage on time, but didn't start due to a series of unfortunate technical difficulties. I suppose they wanted their second US performance to be perfect. Who can blame them? People started to get antsy and even began to yell, "Play already!" The keyboardist sensed our anxiousness and replied with humor, "We're really comfortable with our equipment. Really. We've done this loads of times." After a long wait, they decided to play because they couldn't solve their amp-related woes. Despite this dallying, Foals destroyed us. People were flailing about as though they were having seizures, making it nearly impossible to snap shots of the band. The crowd was way into their performance, even pleading for a few more songs as their set concluded. They ran through a substantial set of mostly new tunes that put Bloc Party to shame. Seriously. They put on one of the most energetic, unforgettable shows I've seen thus far at CMJ. If you ever get the chance to see them, you ought to do yourself the favor of experiencing their addictive dance bliss. The people of NY are always one step ahead of the game.More music mayhem to come...