The LA Phil to Play Free Neighborhood Concerts
Stories like these are only possible with your help!
You have the power to keep local news strong for the coming months. Your financial support today keeps our reporters ready to meet the needs of our city. Thank you for investing in your community.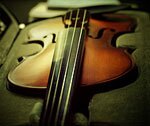 As part of their annual neighborhood and community concert series, the LA Philharmonic will be visiting Van Nuys, Inglewood and Pomona next month. It's all about their goal of making "music accessible to the widest possible audience." To that end, the three concerts are free (well, the Pomona show is an easy $5) and will feature Vaughan Williams' Fantasia on "Greensleeves," Mozart's Exsultate, jubilate and Tchaikovsky's The Nutcracker, Suite No. 1. To get in, you must reserve a spot. Also: The orchestra released a live concert recording for purchase on iTunes today. The concert from the Shadow of Stalin series features works from Shostakovich and Mosolov.
How to Reserve Tickets
Ticket requests are filled on a first-come, first-served basis. The one-hour concerts are presented without an intermission.
Advance tickets may be available by calling Van Nuys High School, 818.778.6871 or emailing wolfpackmusic1@gmail.com, for the concert on December 17; Pomona City Hall, 909.620.2321 or 909.869.3500, for the Pomona First Baptist Church concert on December 18; or St. John Chrysostom Church, 310.677.2736, for the concert on December 19.