This is an archival story that predates current editorial management.
This archival content was written, edited, and published prior to LAist's acquisition by its current owner, Southern California Public Radio ("SCPR"). Content, such as language choice and subject matter, in archival articles therefore may not align with SCPR's current editorial standards. To learn more about those standards and why we make this distinction, please click here.
10 Nearby Scenic Waterfalls To Check Out Thanks To El Niño Rains
Before you read more...
Dear reader, we're asking you to help us keep local news available for all. Your financial support keeps our stories free to read, instead of hidden behind paywalls. We believe when reliable local reporting is widely available, the entire community benefits. Thank you for investing in your neighborhood.
Waterfalls are not the exclusive property of the state's northern half. While Los Angeles might not offer Vernal Falls, it has a few tricks up its sleeve—especially after recent El Niño rainstorms. Here is a list of ten waterfalls that are less than an hour's drive from Los Angeles—some well-known to Southern California hikers, some largely under the radar. Most of these trips have free parking; some require a small fee or an inexpensive pass. Either way, it's cheaper than Disneyland.

Fish Canyon Falls (Photo by Mitch Barrie via the Creative Commons on Flickr)
Fish Canyon Falls
This is one of the larger and more scenic Los Angeles waterfalls—the most attractive in the opinion of many, in fact! Fish Canyon Falls is located in the foothills above Duarte, 23 miles from downtown. Not only is the 100-foot waterfall impressive but it is steeped in history as well. For a long time, the only way to reach it was by a difficult climb and descent on a nearby ridge, requiring a 9-mile round trip hike with a total elevation gain of 3,000 feet. A new access trail has been built which cuts it down to a much more moderate 5-miler with 700 feet of ascent. The trail can be reached by taking the 605 Freeway to its northern end at Huntington Drive. Head east on Huntington Drive for 0.6 miles, turn left on Encanto Parkway and follow it 1.7 miles to a big dirt parking area at its end. For more information, click here.
Frascati Trail
Unlike Fish Canyon Falls is iconic among L.A. hikers, the 10-foot waterfall off the Frascati Trail is virtually unknown. South Bay and Long Beach residents, or L.A. hikers who want to explore the not-very-well-publicized trails of the Palos Verdes Peninsula, can check out the Frascati Trail. From the south end of the 110 freeway in San Pedro, turn left on Gaffey St. and go 0.7 miles. Turn right on 9th St. and go 2.7 miles (9th becomes Miraleste on the way). Turn left on Palos Verdes Drive East and go 0.3 miles to Corsini Place. Turn left and park on the corner of Corsini and Palos Verdes Drive East.
Bailey Canyon Falls
This is a small but attractive waterfall that can be reached with a short hike from Bailey Canyon Wilderness Park in Sierra Madre, just 16 miles from downtown L.A. After leaving the main trail, a brief scramble up the canyon brings you to the base of the waterfall. Other attractions here include the Live Oak Nature Trail and for hikers who want a challenge, a 2,000-foot climb to Jones Peak. To get there, take the 210 to Michillinda Ave. Turn left and go north for 0.9 miles and turn right on Sierra Madre Blvd. Go 0.5 miles and turn left on Lima. Go 0.6 miles, bear left onto Carter Ave and turn right into the park. Hiking buff Dan Simpson offers more details and directions on Bailey Canyon here.

Elsmere Canyon (Photo by Alyse & Remi via the Creative Commons on Flickr)
Elsmere Canyon Open Space
Of all the places around L.A. area, the Santa Clarita Valley may be the last place where you would expect a seasonal 15-footer to be found. There's only water right after rains, but even if it's dry, the pleasant, shaded hike is an enjoyable escape. The trail head is literally right off Highway 14 at the Newhall Exit. This is an especially easy trip from the Valley. The city of Santa Clarita has more information on land once slated to be a landfill that now serves as a "greenbelt buffer" between the city and Los Angeles.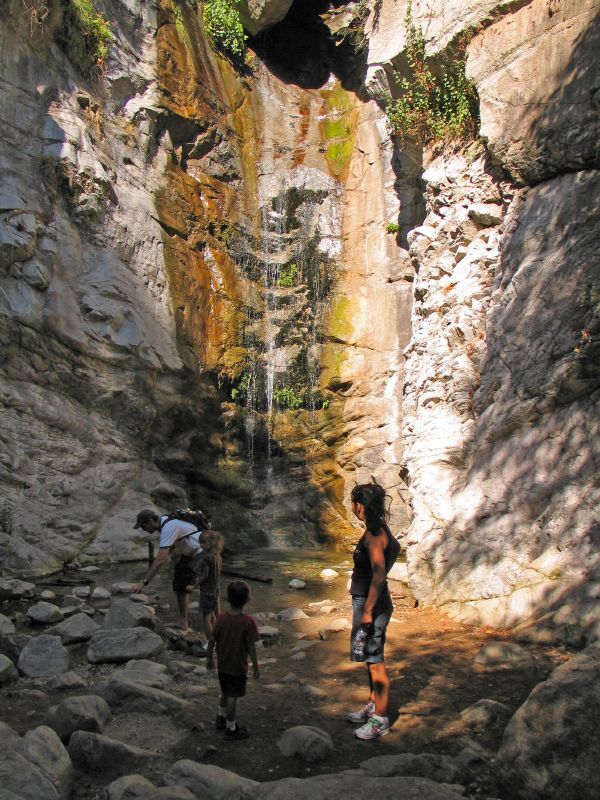 Millard Canyon Falls (Photo by Roy Randall via the Creative Commons on Flickr)
Millard Canyon Falls
This has long been one of the more popular waterfall hikes in the San Gabriel Mountains front country. The trail has recently reopened following the Station Fire and now offers hikers a chance to experience a 50-foot waterfall in Altadena. From the 210 Freeway, exit at Lincoln Ave. Bear right on Lincoln and head north for 1.9 miles. Turn right on Loma Alta Drive and follow it 0.6 miles to Chaney Trail (easy to miss). Turn left and follow Chaney Trail for a total of 1.6 miles to the Millard Day Use Area, a large parking lot. A National Forest Service Adventure Pass is required for parking here ($5 per day/$30 for a year).

Once upon a time, it was decked out by a Christmas tree (Photo by KeithJ via the Creative Commons on Flickr)
Monrovia Canyon Falls
Another favorite of San Gabriel Valley hikers is this two-level 40-footer in the back of Monrovia Canyon Park. Just a short drive from Foothill Blvd. in downtown Monrovia, about 21 miles from downtown L.A., this well-maintained trail explores one of the San Gabriel Mountains' most scenic canyons, lined with oaks, laurels and sycamores, before arriving at the waterfall. From the 210, take the Myrtle Avenue exit and drive north for 1.9 miles. Take a right on Scenic Drive, and stay straight when Canyon Blvd. merges. Follow Canyon Blvd. to the entrance of the park. There is a $5 entrance fee per vehicle and the park is closed on Tuesdays.
Rubio Canyon Falls
The short but challenging off-trail scramble to the falls is another understandably popular hike in Altadena, offering a taste of wilderness just on the fringes of suburbia. In addition to the twin waterfalls Ribbon Rock and Moss Grotto, this hike also offers historic flavor, passing by the foundations of the old Mt. Lowe Railroad. From the 210 Freeway, take the Lake Avenue exit and head north for 3 miles. Turn right on Dolores, go 0.3 miles and merge onto Maiden Lane. In 0.1 miles, bear right on Rubio Canyon Road. Go 0.3 miles and turn left on Rubio Crest Drive. Go 0.1 miles and turn right on Rubio Vista Drive. Park on the corner of Rubio Vista and Pleasantridge, and look for the trail leading into the forest, next to the private residence.
Santa Ynez Falls
A short distance from one of the world's most glamorous streets—Sunset Blvd—hikers can immerse themselves in the primitive. The hike to Santa Ynez Falls, a small seasonal waterfall on the southern edge of Topanga State Park, takes hikers through a narrow canyon with interesting sandstone geology and gnarled oaks. A bit of rock scrambling takes you to the narrow waterfall itself, which—hard as it may be to believe—is actually within the city limits of Los Angeles. From Santa Monica, take the Pacific Coast Highway and turn right on Sunset Boulevard. Go half a mile on Sunset, take a left on Palisades and go 2.4 miles and take a left on Vereda de la Montura, where you will find parking. This waterfall hike is easy enough to bring along kids.

Switzer Falls (Photo by pelcinary via the Creative Commons on Flickr)
Switzer Falls
Another one of the most popular hikes in the San Gabriel Mountains front country is Switzer Falls. A moderate 3.2-mile round trip located only 10 miles up Angeles Crest Highway, this hike not only offers the chance to visit a waterfall, but also provides excellent views down steep-walled Bear Canyon and many opportunities for a longer trip. Like Millard Canyon Falls, parking here requires the National Forest Service Adventure Pass. You can find out more details about the hike here.

Trail Canyon Falls (Photo by Roy Randall via the Creative Commons on Flickr)
Trail Canyon Falls
Also in the front country of the San Gabriels is Trail Canyon Falls named for the trail of gold sought by prospectors. (Just as SoCal has its share of waterfalls, it also saw a lot of mining activity—in fact gold was discovered here before the Gold Rush up north. But that's a story for another day). Though damaged by the Station Fire, the trail has reopened and allows hikers a chance to experience deep seclusion just a few miles beyond the city limits. From the 210 Freeway, take the Sunland Blvd. exit. Head east on Sunland, which becomes Foothill Blvd. At 0.7 miles, turn left on Oro Vista Avenue. At 0.9 miles, bear right onto Big Tujunga Canyon Road. Go 4.4 miles and turn left onto Forest Service Road 3N29 (if you reach Wildwood or Vogel Flats, you've come too far). Go 0.2 miles and turn right at the fork. Go 0.2 miles and park at the trail. Note that the dirt road to the trail, while passable for most vehicles, is narrow so exercise caution. Also remember your National Forest Service Adventure Pass for parking.