This is an archival story that predates current editorial management.
This archival content was written, edited, and published prior to LAist's acquisition by its current owner, Southern California Public Radio ("SCPR"). Content, such as language choice and subject matter, in archival articles therefore may not align with SCPR's current editorial standards. To learn more about those standards and why we make this distinction, please click here.
New Movie Friday: Sea Monsters, Hunky Warriors, Cuban Rappers & More
Before you read more...
Dear reader, we're asking you to help us keep local news available for all. Your tax-deductible financial support keeps our stories free to read, instead of hidden behind paywalls. We believe when reliable local reporting is widely available, the entire community benefits. Thank you for investing in your neighborhood.
The Host - Korean director Joon-ho Bong has created one of the scarier horror films of the year not to mention Korea's most successful domestic release ever. A mutant beast created by U.S. military negligence emerges from Seoul's Han River and snatches the daughter of a vendor who runs a small snack bar on the river's banks. The film is riddled with a sense of urgent dread but Bong also manages to poke fun at monster movie clichés. Count on an English-language remake (probably stripped of the political overtones). If you have a multi-region DVD player you can already catch The Host on the Region 3 DVD.

---
300 - The ancient Greek battle of Thermopylae is recast as a large, glorious, hyper-violent, effects-driven action film that's based on the graphic novel by Frank Miller (Sin City). Scores of hunky shirtless men with rock-hard abs abound (Gerard Butler, Rodrigo Santoro and David Wenham). Various critics have tried to read the political slant of the film, but is it a pro-Bush paean to war or an entertaining condemnation of war's horrors? Who knows.
East of Havana - A meditative documentary about Cuba's grassroots hip-hop scene.
Maxed Out: Hard Times, Easy Credit and the Era of Predatory Lenders - Apparently when credit card companies issue you a card, they're actually hoping you won't pay the money back so they can stick you with exorbitant interest rates and fees. And the people profiting in the collections business are bottom-feeding scum suckers. Credit cards are bad? Gee, who knew.
The Namesake - Directed by Mira Nair and based on the book by Jhumpa Lahiri, the film stars Kal Penn (Harold & Kumar Go to White Castle) as Gogol Ganguli, an American-born Indian struggling to balance his American lifestyle with his Indian heritage. When he wants to change his name, his father reveals to him how his name is tied to his family's journey from Calcutta to America.
Reign Over Me - Adam Sandler and Don Cheadle play former college roommates who run into each and rekindle their friendship, which helps Sandler deal with his ongoing grief from losing his family on 9/11.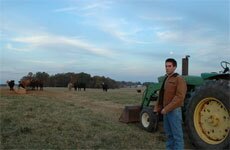 The Ultimate Gift - A family drama about Jason (Drew Fuller), a trust fund brat who must complete 12 tasks, or "gifts," before he can get his hands on his recently deceased grandfather's (James Garner) inheritance. Along the way Jason takes a spiritual journey that forces him to re-examine his outlook on life. Abigail Breslin (Little Miss Sunshine) co-stars as a girl suffering from cancer.
View From A Grain Of Sand - A documentary by Los Angeles-based filmmaker, Meena Nanji, that offers an intimate portrait of the plight of Afghan women over the last 30 years.
But Yeoh is the first to publicly identify as Asian. We take a look at Oberon's complicated path in Hollywood.

His latest solo exhibition is titled "Flutterluster," showing at Los Angeles gallery Matter Studio. It features large works that incorporate what Huss describes as a "fluttering line" that he's been playing with ever since he was a child — going on 50 years.

It's set to open by mid-to-late February.

The new Orange County Museum of Art opens its doors to the public on Oct. 8.

Cosplayers will be holding court once again and taking photos with onlookers at the con.

Littlefeather recalls an "incensed" John Wayne having to be restrained from assaulting her and being threatened with arrest if she read the long speech Brando sent with her.