Hollywood Fringe Festival: That Great and Dreadful Day: Tall Tales from the American Swamp
Stories like these are only possible with your help!
Your donation today keeps LAist independent, ready to meet the needs of our city, and paywall free. Thank you for your partnership, we can't do this without you.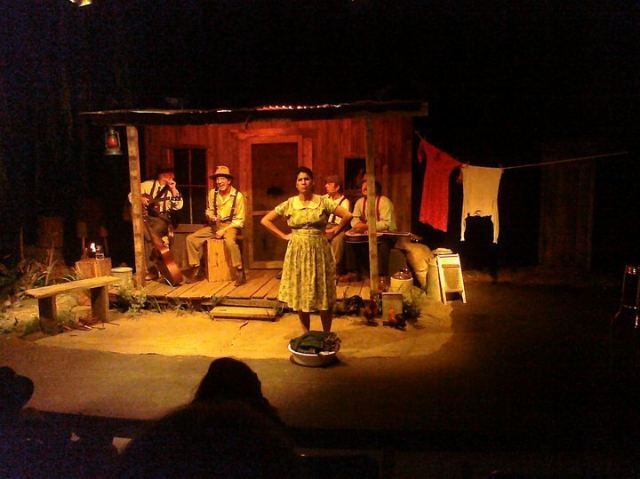 'That Great & Dreadful Day…Tall Tales from the American Swamp' at the Hollywood Fringe.
- by Stephanie Taylor for LAist
The murky swamps of the the Louisiana Bayous brings a surprisingly sweet smell -- and even better music -- to Hollywood as That Great and Dreadful Day: Tall Tales from the American Swamp joins the lineup at this week's Fringe Festival. A soulful, acoustic "swamp operetta," the show is a bluesy journey through the life of musician Laurence Douglas Miner and his band from their Depression-era beginnings into the free-spirited 60s. The production utilizes a narrator format, as an elder Laurence tells tales that are inter-weaved with flashbacks and original songs.
With the exception of narrator Jack E. Curenton, the cast -- Anthony Cook, D. Miner, Dave Resnik, Louis Cox, Mary Stuart and Ray Herron -- make up the real-life band The Black Tongued Bells. The production is far from the more traditional musical with an overarching narrative, but more like a bluegrass romp through the decades with a few stories thrown in for good fun -- perhaps both a strength and weakness of the show.
Since music is really what this production is about, it's worth noting that the songs do in fact make every minute of this show worth it. From "Kingbee Jam" to "John the Revelator" to "Deadman's Grave," smokey vocals combine with a little harmonica, tambourine, and assorted guitars to lead the audience through an hour of foot-tappin' fun. "Rev." Louis Cox's incantations suggest gospel music alone might make it worth going back to church. Lead D. Miner and narrator Jack Curenton spoke with accents so thick you could practically smell the swamp on their breath. And for a set that has to be torn down and recreated at three different venues within a week, it brought the audience straight to the Louisiana sharecropper's cabin on which these tall tales are set.
This is not a show for fans of traditional flashy, larger-than-life musicals. (Although most musicals at the Fringe probably defy the category as well.) The "tall tales" bit seemed almost an afterthought, to allow the band to classify a concert as a musical. And writer D. Miner does admit that the songs came before the story in the creation of this "swamp opera." But nonetheless, fans of blues, bluegrass, gospel and Americana alike will have a delightful musical ride through the backwoods swamps of the Old South.
That Great and Dreadful Day: Tall Tales from the American Swamp
Remaining performances: Stella Adler Theatre, 6/21 and 6/24 @ 8:00pm.
Comedy Sportz- 6/26 @ 5:00 & 7:00pm, 6/27 at 11:00am, 3:00pm & 7:00pm
Tickets: $16.