This is an archival story that predates current editorial management.
This archival content was written, edited, and published prior to LAist's acquisition by its current owner, Southern California Public Radio ("SCPR"). Content, such as language choice and subject matter, in archival articles therefore may not align with SCPR's current editorial standards. To learn more about those standards and why we make this distinction, please click here.
Election 2012: Results for California and L.A. County Races
Our June member drive is live: protect this resource!
Right now, we need your help during our short June member drive to keep the local news you read here every day going. This has been a challenging year, but with your help, we can get one step closer to closing our budget gap. Today, put a dollar value on the trustworthy reporting you rely on all year long. We can't hold those in power accountable and uplift voices from the community without your partnership.
Were you up late last night waiting for the final word on some election results for California or L.A. County ballot measures? Or did you give up before Mitt Romney did and head to bed? Either way, though the results will not be officially certified for a few weeks by the California Secretary of State, with 100% of precincts reporting, we have the election results for many state and local contests.
It was an easy win for incumbent Senator Dianne Feinstein (D), and similar steady wins for other incumbent congressional reps. L.A. City Councilman Tony Cardenas took the win for U.S. Rep (29th), and in the often-tense battle of dueling Dems Howard Berman and Brad Sherman in the 30th, it was Sherman who emerged victorious.
For Propositions, Californians said no to labeling Genetically Modified foods (though L.A. County voters favored the prop), yes to Prop 30 to raise the sales tax to benefit schools, and no to eradicating the Death Penalty.
In L.A. County, voters said they'd prefer to keep electing their assessor, they want porn stars to wear condoms, and not enough people wanted to extend the tax that benefits transit.
Here are the results:
US SENATE
Dianne Feinstein (D) 5,613,610 (61.4%)
Elizabeth Emken (R) 3,528,510 (38.6%)
U.S. REPRESENTATIVE: 23RD DISTRICT
Kevin McCarthy (R) 12,012 (66.34%)
Terry Phillips (NP) 6,095 (33.66%)
U.S. REPRESENTATIVE: 25TH DISTRICT
Lee C. Rogers (D) 79,597 (44.8%)
Howard P. "Buck" McKeon 98,090 (55.2%)
U.S. REPRESENTATIVE: 26TH DISTRICT
Julia Brownley (D) 105,734 (51.7%)
Tony Strickland (R) 98,635 (48.3%)
U.S. REPRESENTATIVE: 27TH DISTRICT
Judy Chu (D) 115,910 (63.4%)
Jack Orswell (R) 66,777 (36.6%)
U.S. REPRESENTATIVE: 28TH DISTRICT
Adam Schiff (D) 140,381 (76.0%)
Phil Jennerjahn (R) 44,433 (24.0%)
U.S. REPRESENTATIVE: 29TH DISTRICT
Tony Cardenas (D) 82,233 (74.2%)
David R. Hernandez (NP) 28,564 (25.8%)
U.S. REPRESENTATIVE: 30TH DISTRICT
Howard L. Berman (D) 71,420 (39.5%)
Brad Sherman (D) 109,311 (60.5%)
U.S. REPRESENTATIVE: 32ND DISTRICT
Grace F. Napolitano (D) 94,920 (65.4%)
David L. Miller (R) 50,297 (34.6%)
U.S. REPRESENTATIVE: 33RD DISTRICT
Henry A. Waxman (D) 126,880 (53.7%)
Bill Bloomfield (NP) 109,297 (46.3%)
U.S. REPRESENTATIVE: 34TH DISTRICT
Xavier Becerra (D) 90,579 (85.6%)
Stephen C. Smith (R) 15,186 (14.4%)
U.S. REPRESENTATIVE: 35TH DISTRICT
Joe Baca (D) 48,385 (44.3%)
Gloria Negrete McLeod (D) 60,866 (55.7%)
U.S. REPRESENTATIVE: 37TH DISTRICT
Karen R. Bass (D) 152,769 (86.4%)
Morgan Osborne (R) 23,969 (13.6%)
U.S. REPRESENTATIVE: 38TH DISTRICT
Linda T. Sánchez (D) 109,080 (67.2%)
Benjamin Campos (R) 53,291 (32.8%)
U.S. REPRESENTATIVE: 39TH DISTRICT
Jay Chen (D) 78,822 (40.9%)
Ed Royce (R) 113,746 (59.1%)
U.S. REPRESENTATIVE: 40TH DISTRICT
Lucille Roybal-Allard (D) 57,716 (59.4%)
David Sanchez (D) 39,494 (40.6%)
U.S. REPRESENTATIVE: 43RD DISTRICT
Bob Flores (D) 43,598 (29.4%)
Maxine Waters (D) 104,931 (70.6%)
U.S. REPRESENTATIVE: 44TH DISTRICT
Janice Hahn (D) 75,678 (60.0%)
Laura Richardson (D) 50,393 (40.0%)
U.S. REPRESENTATIVE: 47TH DISTRICT
Alan Lowenthal (D) 93,047 (55.4%)
Gary DeLong (R) 74,952 (44.6%)
STATE PROPOSITIONS
Statewide Results

CA Secretary of State Election Results
Results in Los Angeles County ONLY

CA Secretary of State Election Results
L.A. COUNTY MEASURES
Passed; was advisory vote only

Passed

Failed; needed 2/3 majority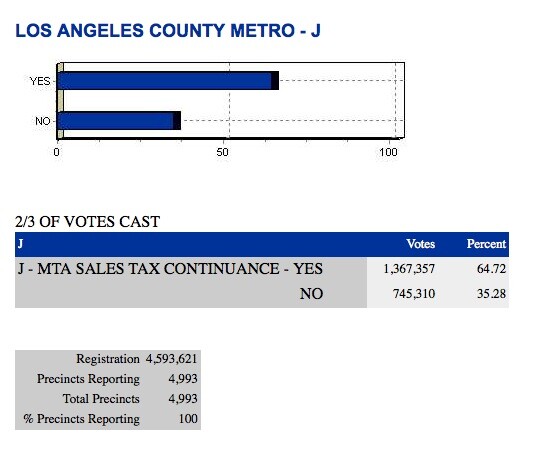 L.A. COUNTY DISTRICT ATTORNEY
For results of city-level contests in cities in L.A. County, the County Registrar has all of those contests indexed here.
Related:
Last Night's Big Election Winner: Downtown's Grand Park
Cruise off the highway and hit locally-known spots for some tasty bites.

Fentanyl and other drugs fuel record deaths among people experiencing homelessness in L.A. County. From 2019 to 2021, deaths jumped 70% to more than 2,200 in a single year.

This fungi isn't a "fun guy." Here's what to do if you spot or suspect mold in your home.

Donald Trump was a fading TV presence when the WGA strike put a dent in network schedules.

Edward Bronstein died in March 2020 while officers were forcibly taking a blood sample after his detention.

A hike can be a beautiful backdrop as you build your connection with someone.