Election 2012: Results for California and L.A. County Races
LAist relies on your reader support.
Your tax-deductible gift today powers our reporters and keeps us independent. We rely on you, our reader, not paywalls to stay funded because we believe important news and information should be freely accessible to all.
Were you up late last night waiting for the final word on some election results for California or L.A. County ballot measures? Or did you give up before Mitt Romney did and head to bed? Either way, though the results will not be officially certified for a few weeks by the California Secretary of State, with 100% of precincts reporting, we have the election results for many state and local contests.
It was an easy win for incumbent Senator Dianne Feinstein (D), and similar steady wins for other incumbent congressional reps. L.A. City Councilman Tony Cardenas took the win for U.S. Rep (29th), and in the often-tense battle of dueling Dems Howard Berman and Brad Sherman in the 30th, it was Sherman who emerged victorious.
For Propositions, Californians said no to labeling Genetically Modified foods (though L.A. County voters favored the prop), yes to Prop 30 to raise the sales tax to benefit schools, and no to eradicating the Death Penalty.
In L.A. County, voters said they'd prefer to keep electing their assessor, they want porn stars to wear condoms, and not enough people wanted to extend the tax that benefits transit.
Here are the results:
US SENATE
Dianne Feinstein (D) 5,613,610 (61.4%)
Elizabeth Emken (R) 3,528,510 (38.6%)
U.S. REPRESENTATIVE: 23RD DISTRICT
Kevin McCarthy (R) 12,012 (66.34%)
Terry Phillips (NP) 6,095 (33.66%)
U.S. REPRESENTATIVE: 25TH DISTRICT
Lee C. Rogers (D) 79,597 (44.8%)
Howard P. "Buck" McKeon 98,090 (55.2%)
U.S. REPRESENTATIVE: 26TH DISTRICT
Julia Brownley (D) 105,734 (51.7%)
Tony Strickland (R) 98,635 (48.3%)
U.S. REPRESENTATIVE: 27TH DISTRICT
Judy Chu (D) 115,910 (63.4%)
Jack Orswell (R) 66,777 (36.6%)
U.S. REPRESENTATIVE: 28TH DISTRICT
Adam Schiff (D) 140,381 (76.0%)
Phil Jennerjahn (R) 44,433 (24.0%)
U.S. REPRESENTATIVE: 29TH DISTRICT
Tony Cardenas (D) 82,233 (74.2%)
David R. Hernandez (NP) 28,564 (25.8%)
U.S. REPRESENTATIVE: 30TH DISTRICT
Howard L. Berman (D) 71,420 (39.5%)
Brad Sherman (D) 109,311 (60.5%)
U.S. REPRESENTATIVE: 32ND DISTRICT
Grace F. Napolitano (D) 94,920 (65.4%)
David L. Miller (R) 50,297 (34.6%)
U.S. REPRESENTATIVE: 33RD DISTRICT
Henry A. Waxman (D) 126,880 (53.7%)
Bill Bloomfield (NP) 109,297 (46.3%)
U.S. REPRESENTATIVE: 34TH DISTRICT
Xavier Becerra (D) 90,579 (85.6%)
Stephen C. Smith (R) 15,186 (14.4%)
U.S. REPRESENTATIVE: 35TH DISTRICT
Joe Baca (D) 48,385 (44.3%)
Gloria Negrete McLeod (D) 60,866 (55.7%)
U.S. REPRESENTATIVE: 37TH DISTRICT
Karen R. Bass (D) 152,769 (86.4%)
Morgan Osborne (R) 23,969 (13.6%)
U.S. REPRESENTATIVE: 38TH DISTRICT
Linda T. Sánchez (D) 109,080 (67.2%)
Benjamin Campos (R) 53,291 (32.8%)
U.S. REPRESENTATIVE: 39TH DISTRICT
Jay Chen (D) 78,822 (40.9%)
Ed Royce (R) 113,746 (59.1%)
U.S. REPRESENTATIVE: 40TH DISTRICT
Lucille Roybal-Allard (D) 57,716 (59.4%)
David Sanchez (D) 39,494 (40.6%)
U.S. REPRESENTATIVE: 43RD DISTRICT
Bob Flores (D) 43,598 (29.4%)
Maxine Waters (D) 104,931 (70.6%)
U.S. REPRESENTATIVE: 44TH DISTRICT
Janice Hahn (D) 75,678 (60.0%)
Laura Richardson (D) 50,393 (40.0%)
U.S. REPRESENTATIVE: 47TH DISTRICT
Alan Lowenthal (D) 93,047 (55.4%)
Gary DeLong (R) 74,952 (44.6%)
STATE PROPOSITIONS
Statewide Results

CA Secretary of State Election Results
Results in Los Angeles County ONLY

CA Secretary of State Election Results
L.A. COUNTY MEASURES
Passed; was advisory vote only

Passed

Failed; needed 2/3 majority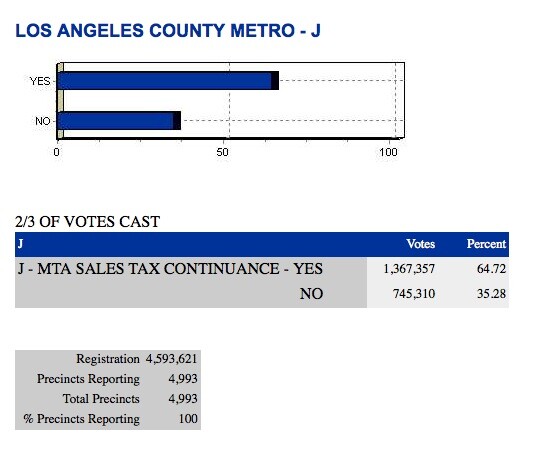 L.A. COUNTY DISTRICT ATTORNEY
For results of city-level contests in cities in L.A. County, the County Registrar has all of those contests indexed here.
Related:
Last Night's Big Election Winner: Downtown's Grand Park