This is an archival story that predates current editorial management.
This archival content was written, edited, and published prior to LAist's acquisition by its current owner, Southern California Public Radio ("SCPR"). Content, such as language choice and subject matter, in archival articles therefore may not align with SCPR's current editorial standards. To learn more about those standards and why we make this distinction, please click here.
112 degrees outside, you'd better get a run
We need to hear from you.
Today, put a dollar value on the trustworthy reporting you rely on all year long. The local news you read here every day is crafted for you, but right now, we need your help to keep it going. In these uncertain times, your support is even more important. We can't hold those in power accountable and uplift voices from the community without your partnership. Thank you.
Because LAist loves you and loves the Dodgers, we thought it would be nice to give you some road trip action. Hooray for you.
Okay, really I just had to escape LA for a while for fear of vengance from the Victoria's Secret Pink Army and thought Phoenix would be safe. I can blend in with all of the other out-of-town Dodger fans and no one will suspect a thing.
Before I go into anything, however, I have to say IT IS ONE HUNDRED AND TWELVE DEGREES OUTSIDE. It is so hot that I cried in discomfort and the tears evaporated straight off my eyeballs. It took me 6 minutes to peel my thighs off of my car seat. My camera was too hot to touch and I considered putting it in the cooler. Okay. Got that off my chest.
More on Malingering's road trip to baseball stadium #9 of 30 after the jump.
So I hopped in the Dodger-mobile and drove to Phoenix. This was the best thing I saw on the way there, besides the guy who blew out a tire and continued to drive the next mile on the bare rim which was causing debris to fly everywhere.
Then I got to look for parking, which was splendidly easy and only cost $5 and was a much shorter and flatter walk than the walk to Dodger Stadium though it was still about 108 degrees so that made it just slightly uncomfortable. Oh and my toe is busted. More on that later.
Bank One Ballpark/Chase Field is actually quite comfortable despite the outrageous heat, and this is because they blast the AC (1.2 million cubic feet/minute) even when the roof is open. I mean this is blasting. There is a veritable air conditioning tornado going on right into the night desert air. And all those years I got in trouble from my parents for cracking the window while the AC was on in the car. Just sitting there made me feel like an energy wasting rebel! So despite it being 104 degrees at game time, it was very pleasant inside. Much nicer than Dodger Stadium at a Sunday day game. Just saying.
Chase Field also has the variety of food that you always wished Dodger Stadium could handle: hot wings, cheeseburgers, chili cheese fries, Coldstones, po-boy fish sandwiches, fried oysters, oh the list goes on and on. There is even a guy who walks around with about 600 gallons of Margaritas strapped to his back and will squirt out a cupful at your seat for only $7. That's service.
The other big plus was the fact that there seemed to be more Dodger fans than DBacks fans. And the DBacks fans don't get too riled up about anything. Their team hasn't even celebrated its 10th birthday, how attached can they really be? It's like they're on a perpetual 9th date. There were no fights or peanut throwing or name calling, though one pimply guy kept getting in my face yelling "booooooooo Dodgers," which was so ridiculous that even the AZ fans laughed at him.
Since I have few goals or ambitions in life, I decided I want to visit all 30 baseball stadiums or at least the home stadium for all 30 teams, seeing as everyone's getting a new ballpark and naming it after some corporation these days. Anyway, Chase Field is stadium #9 on my list. One of the most interesting parts of this whole adventure is watching the funny rituals that are unique to each team, like the YMCA at Yankee Stadium and that goddamn monkey at the OC team's park, or the racing presidents at RFK, Sweet Caroline at Fenway... you get the point.
Three things about Chase Field.
1) They have a mascot. It's a pussycat named Baxter the Bobcat. He's not very nice or funny. He steals hats and banners from Dodger fans and then mocks them. He's also bounding around on top of the dugout intermittently throughout the game which sort of freaks me out. Also I want to know if Baxter the Bobcat got into a fight with a Diamondback, who would win? I'm pulling for the snake.
2) They have spirit-people. I don't know what to call them and I'm trying not to be derogatory so I will call them spirit-people. They're blonde attractive girls that also bounce around on top of the dugout and help give away free t-shirts and giggle when they're told. Sort of like those beer promoters in bars. I think it's a bit sexist. Most people say it's not. Well whatever, there should be male spirit people as well just to even out the field. Then I won't think it's sexist, I'll just think it's dumb.
3) They have this thing called "the dance" and they play a song and flash on the jumbotron "DO THE DANCE" and apparently they expect people to do this weird two fisted thing that looks like they're milking a cow. Then the camera scans the audience to show people who are "DOING THE DANCE" and it's supposed to be funny. Unfortunately, I didn't see anyone participating. They tried this on four separate occasions and no one got into it. Whatever. Points for perseverance.
Dodgers, if you can hear me now: STOP LEAVING SO MANY MEN ON BASE. I'd rather see Randy Johnson throw a perfect game tomorrow than have you guys get 13 men on base and not score a single run. Loading the bases only to strike out is a mean, nasty cocktease and I'm tired of it.
Here are more photos.
Looky! Skanks handing out beers outside the ballpark! For a mere $4 she will pop open a cold one with a bottle opener that is stored flat smack against her ass (what she's reaching for right now). Gotta love America.
Oh yeah, in my LA to Phoenix frenzy I managed to injure my toe. I'm pretty sure it's broken as I can't move it and it's purple and I can't get my regular shoes on. You see, LAist sacrifices life and limb to bring the action to you. Don't ever say we didn't give you anything.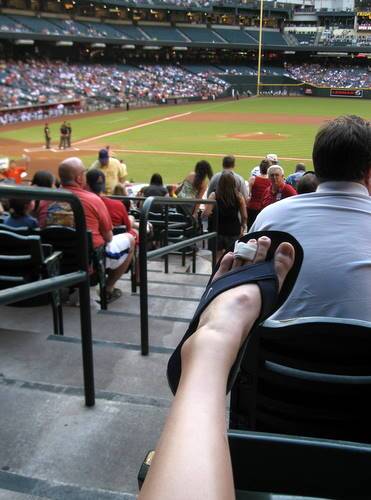 The only player batting over .300, which is why he was able to boot Nomar over to third base.
They started this crap in the bottom of the 1st. How original.
All photos by Malingering, whose toe really hurts right now.
It's been many, many years since we saw this much snow in our mountains. Going up there right now isn't safe, but here are some places where you can enjoy the view and snap a pic.

April Valentine died at Centinela Hospital. Her daughter was born by emergency C-section. She'd gone into the pregnancy with a plan, knowing Black mothers like herself were at higher risk.

A look at years past when snows creeped into our citified neighborhoods, away from the mountains and foothills.

In the face of a drier future, that iconic piece of Americana is on its way out in Southern California.

Bob Gregory, 62, went missing the same day as Sands. His body was recovered near Mount Islip.