Dodger Stadium, you are killing me.
Stories like these are only possible with your help!
Your donation today keeps LAist independent, ready to meet the needs of our city, and paywall free. Thank you for your partnership, we can't do this without you.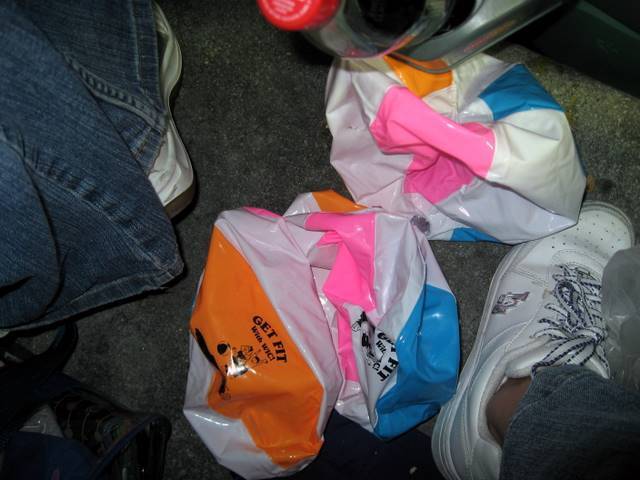 Three dead beach balls that we killed last night.
Last night at Dodger Stadium was Helmet Radio Night, where the first 50,000 (or so) receive a free radio shaped like a helmet that receives exactly one station: AM 790. It was also douchebag night, and obnoxious kids with no parents night, and beach ball night, and people with Sharpie eyebrows who show up in the 6th inning and spill beer all over you so they can leave in the 8th night. At about 5 different points in the game, I considered just getting into my car and driving home. I tell you, the whole scene was fucking awful.
My nightmare told in photos, story in the captions:
Oh yeah, and I still don't have good photos because my lens is going on its 7th week at the Nikon repair facility. Today they called me up to tell me that my lens has been repaired. So I drive down to El Segundo to pick it up, only for them to inform me that it has been repaired, but it's not there. Um, okay, then where the fuck is it? So I get back on the 405 and drive all the way back up. What a wonderful way to spend a 75 degree sunny Friday afternoon: Going 12 miles/hour on the 405 for 90 minute for no reason.
Also if anyone wants to get me a press pass, I'll start taking photos of the game.