This is an archival story that predates current editorial management.
This archival content was written, edited, and published prior to LAist's acquisition by its current owner, Southern California Public Radio ("SCPR"). Content, such as language choice and subject matter, in archival articles therefore may not align with SCPR's current editorial standards. To learn more about those standards and why we make this distinction, please click here.
DesertXpress Train to Vegas in Planning Stages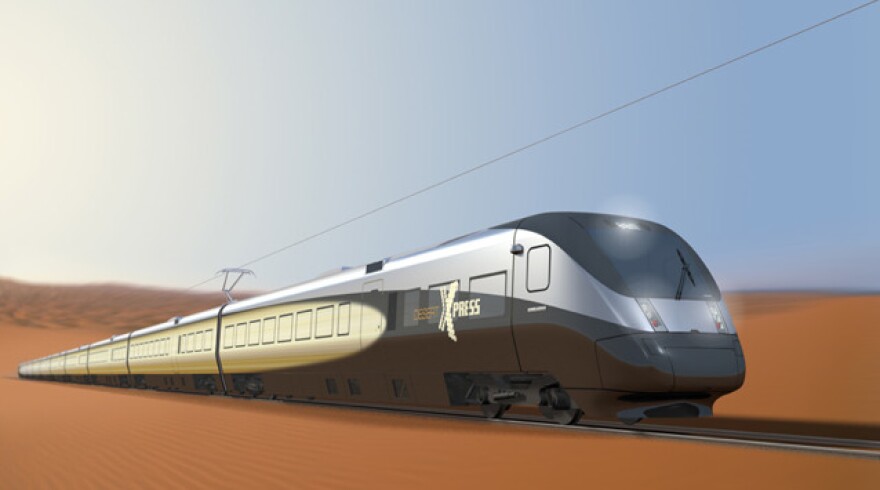 We need to hear from you.
Today during our spring member drive, put a dollar value on the trustworthy reporting you rely on all year long. The local news you read here every day is crafted for you, but right now, we need your help to keep it going. In these uncertain times, your support is even more important. We can't hold those in power accountable and uplift voices from the community without your partnership. Thank you.
After 30 years of planning, the MagLev project between Anaheim and Vegas lost one of its biggest proponents last month to a train part of the federal high-speed rail corridor. Nevada Senator Harry Reid is now behind the DesertXpress between Southern California and Las Vegas that would mainly go along Interstate 15. Unfortunately, the phase planned right now only goes between Vegas and Victorville. Why Victorville? Their website explains:
Of course it would be great if DesertXpress could be extended to downtown Los Angeles, Anaheim and Ontario, and someday it might. But for this initial project, it is critical for the station to serve the Southern California market and be financeable without public tax dollars. Victorville makes a lot of sense because it is the first major population center northeast of the Cajon Pass through the San Bernardino mountain range separating the High Desert from the Los Angeles basin. Victorville is within only a 30- to 45-minute drive for roughly 5 million people who live in the Inland Empire, Antelope Valley, and the eastern portions of Los Angeles County, and only a one to two hour's drive for most of the rest of the Southland's 21 million residents—many of whom routinely drive at least an hour to and from work each weekday.

Victorville also is the choke point of I-15, where the roadway narrows from from four through lanes to three in each direction. With the station in Victorville, DesertXpress avoids the uncertainty of the challenging 200-mile drive across the Mojave Desert that could take anywhere from 4 hours to 10 hours - you never know, because of congestion and incidents or accidents.


Yes, someday "it might" go to Los Angeles." The Victorville leg will cost $3.5 to $4 billion for 200 miles of work--that's less than proposed subway to the sea in Los Angeles.
It's been many, many years since we saw this much snow in our mountains. Going up there right now isn't safe, but here are some places where you can enjoy the view and snap a pic.

April Valentine died at Centinela Hospital. Her daughter was born by emergency C-section. She'd gone into the pregnancy with a plan, knowing Black mothers like herself were at higher risk.

A look at years past when snows creeped into our citified neighborhoods, away from the mountains and foothills.

In the face of a drier future, that iconic piece of Americana is on its way out in Southern California.

Bob Gregory, 62, went missing the same day as Sands. His body was recovered near Mount Islip.