This is an archival story that predates current editorial management.
This archival content was written, edited, and published prior to LAist's acquisition by its current owner, Southern California Public Radio ("SCPR"). Content, such as language choice and subject matter, in archival articles therefore may not align with SCPR's current editorial standards. To learn more about those standards and why we make this distinction, please click here.
Catholic School Girls Rule the World
Stories like these are only possible with your help!
You have the power to keep local news strong for the coming months. Your financial support today keeps our reporters ready to meet the needs of our city. Thank you for investing in your community.
LAist sometimes is invited to parties. Sometimes it's a backyard BBQ. Sometimes it's a dinner party. Sometimes it's LAist's friend's two-year-old's birthday party.
However, sometimes it's a Hollywood film production company's high school-themed summer party where every girl dresses up as a slutty Catholic school girl.
Production company Hard C, headed by director Jason Reitman and producer Daniel Dubiecki, hosted this particular shindig at The Highlands at Hollywood & Highland this past Saturday. The Hard C team were behind 2005's Thank You For Smoking.
LAist would like to thank Hard C and their guests for being smoking... hot.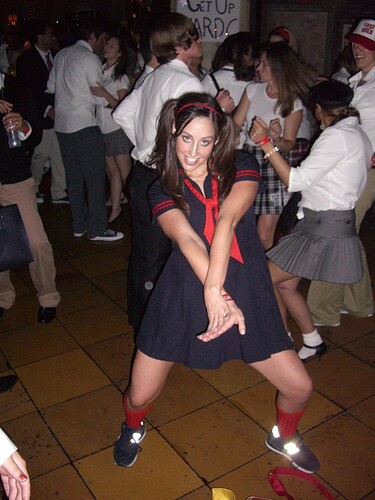 Catherine Reitman, sister to Jason and daughter of director Ivan,
does her best Sailor Moon. I guess she's an exchange student.
While the ladies made the greatest contributions of the night, the
fellas stepped up -- perhaps even high-stepped up -- as well.
More photos of the party here.
Photos by Krapistan via Flickr

* * *
Added bonus, check out the video for the Red Hot Chili Peppers' "Catholic School Girls Rule" from Freaky Styley: