This is an archival story that predates current editorial management.
This archival content was written, edited, and published prior to LAist's acquisition by its current owner, Southern California Public Radio ("SCPR"). Content, such as language choice and subject matter, in archival articles therefore may not align with SCPR's current editorial standards. To learn more about those standards and why we make this distinction, please click here.
A Confederacy of Dunces
Before you read more...
Dear reader, we're asking you to help us keep local news available for all. Your tax-deductible financial support keeps our stories free to read, instead of hidden behind paywalls. We believe when reliable local reporting is widely available, the entire community benefits. Thank you for investing in your neighborhood.
Maybe LAist has been covering a lot of Dodgers lately and we should think about something else for once.
Wrong!
They're winning!
They've got the best record in the MLB! Let us bask in the glory while it lasts!
Meanwhile, yesterday's game was just plain silly. Three errors in three innings, players falling down on their faces, five broken bats, drizzly rain to make the Dodger Dogs just soggy enough, it all added up to general ridiculousness punctuated with a loss to the Pirates.
Arrrrrrrrrr!
In an attempt to get over this damp and generally yucky day, I have compiled a photo essay. Note there are no photos from the 6th and 7th innings (which involved a ball rolling through the Buc's pitcher's legs) because it was raining a bit too hard and I didn't want to get my camera wet. Sorry.
I call this one SPLAT!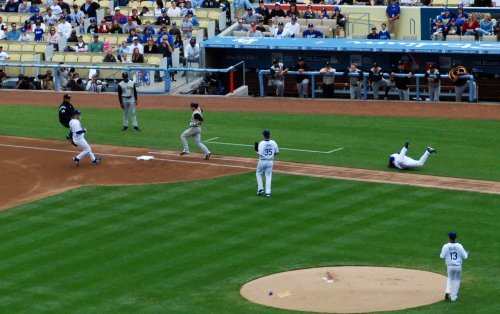 Um, Olmedo? Ball's behind you. Yeah. Rolling toward the Pirates' dugout. See it?

Yeah, that's the ball we just threw away. Sure Duffy, dust yourself off and go take 3rd base on our error. We don't mind.

Jeff Kent has had enough.

Nice tag, Olmedo, but the ball is over there at the dugout (again).

Juan Pierre made the most impressive error of the game. He stood and watched this ball come at him for what seemed like 45 minutes, only to make this great catch.

One of 5 broken bats (of course the only player to actually get a hit off his broken bat was NOT a Dodger).

Sigh.

But in the end, the winner of Crappiest Day at Chavez Ravine goes to this "cranky" woman in green, who had to be asked to leave the left field bleachers several times. Whatever she was doing caused the entire section to begin the "kick her out!" chant.

She was escorted out once and then returned. So the second time around, they took matters into their own hands.

All photos taken by Malingering, whose wounds are bleeding Dodger Blue.
Michael John Mammone, 58, was riding his bicycle Wednesday along Pacific Coast Highway in Dana Point when he was assaulted.

Please don't hurt yourself.

Anthony Lowe was shot and killed by Huntington Park police on Jan. 26. 'Thank goodness that we're in the era of videos,' said the family attorney as they file a federal civil rights lawsuit

The mountain lion's death comes about a month after the beloved P-22 was euthanized.

With two hikers still missing — one the well-known actor Julian Sands — expert mountaineers say the usual scarcity of snow in the L.A.-area makes it especially hard to get enough experience to safely venture out in harsh conditions.

But Yeoh is the first to publicly identify as Asian. We take a look at Oberon's complicated path in Hollywood.