This is an archival story that predates current editorial management.
This archival content was written, edited, and published prior to LAist's acquisition by its current owner, Southern California Public Radio ("SCPR"). Content, such as language choice and subject matter, in archival articles therefore may not align with SCPR's current editorial standards. To learn more about those standards and why we make this distinction, please click here.
Oh God: Portions Of The 101 Freeway Through Hollywood Will Be Closed For Four Nights In A Row [UPDATED]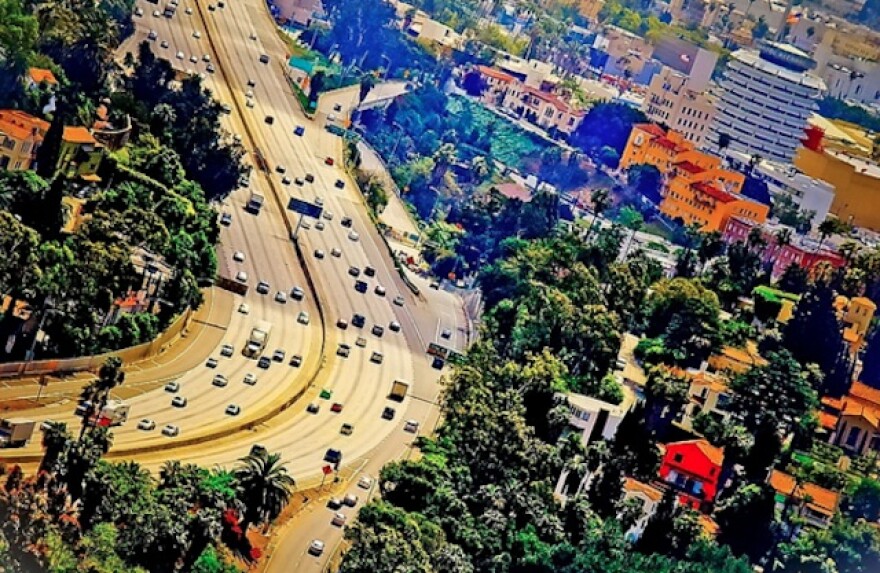 Support your source for local news!
Today, put a dollar value on the trustworthy reporting you rely on all year long. The local news you read here every day is crafted for you, but right now, we need your help to keep it going. In these uncertain times, your support is even more important. We can't hold those in power accountable and uplift voices from the community without your partnership. Thank you.

This sounds bad.Caltrans has announced that both the northbound and southbound lanes of the 101 freeway through Hollywood will be closed partially closed for four nights in a row starting this Sunday, in order for crews to do some road improvements.
According to a release from Caltrans, portions of both the southbound and northbound lanes of the Hollywood Freeway between Glendale Boulevard and Cahuenga Boulevard will be closed during the early morning hours from midnight to 5 a.m., Sunday through Wednesday. Caltrans spokesman Patrick Chandler told LAist there could "possibly" be a second week of closures affecting Labor Day weekend.
Crews will be installing loop detectors in the roadway during the closure as part of a $19 million repaving project of the freeway. The loop detectors are used to collect real-time traffic data. Similar work was done on the northbound section of the freeway earlier this month.
Even though the closures will be in effect during the wee hours, any Angeleno knows that traffic can be brutal at any time of the day (or night). The closures could make getting back home from FYF Fest pretty bad, so we'd recommend you #GoMetro and take the Expo Line!
Update [10:50 a.m., 8/24]: Patrick Chandler has clarified to LAist that the work will not involve a complete shutdown, but instead a series of partial closures that can affect both directions. Either way, he advises drivers to avoid the freeway during the affected hours. The story has been clarified to reflect this.
Here's a handy map to show you the stretch that will be affected:

Avoid the red area. (Google Maps, with illustration by Timothy Loc)

It's been many, many years since we saw this much snow in our mountains. Going up there right now isn't safe, but here are some places where you can enjoy the view and snap a pic.

April Valentine died at Centinela Hospital. Her daughter was born by emergency C-section. She'd gone into the pregnancy with a plan, knowing Black mothers like herself were at higher risk.

A look at years past when snows creeped into our citified neighborhoods, away from the mountains and foothills.

In the face of a drier future, that iconic piece of Americana is on its way out in Southern California.

Bob Gregory, 62, went missing the same day as Sands. His body was recovered near Mount Islip.