This is an archival story that predates current editorial management.
This archival content was written, edited, and published prior to LAist's acquisition by its current owner, Southern California Public Radio ("SCPR"). Content, such as language choice and subject matter, in archival articles therefore may not align with SCPR's current editorial standards. To learn more about those standards and why we make this distinction, please click here.
Your Guide to the Guides: The November 2nd, 2010 Election
Before you read more...
Dear reader, we're asking you to help us keep local news available for all. Your tax-deductible financial support keeps our stories free to read, instead of hidden behind paywalls. We believe when reliable local reporting is widely available, the entire community benefits. Thank you for investing in your neighborhood.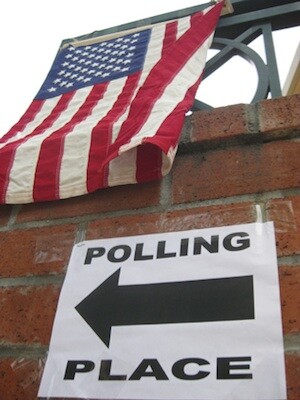 Photo by @sevenphoto via LAist Featured Photos on Flickr
Many have already voted by mail, but there are still a good number who will hit the polls tomorrow. This guide to guides, mainly focusing on the wider Los Angeles region, is for you. If there's anything missing, or if you have suggestions, please leave them in the comments section and we'll try to fill any gaps in coverage. Where to Vote: L.A. County has a website where you can make sure you're registered to vote and to find your polling place.
Getting the Information Straight: The most straight-forward material, but sometimes more difficult to read through, can be found in the state's official voter guide. Our favorite place for information, however, is the League of Women Voters for their comprehensive L.A. County guide, which even includes local contests and measures such as Santa Monica's sales tax increase (Measure Y) and Long Beach's tax on marijuana (Measure B), should Prop 19 pass. If you don't live in L.A. County, the League offers information for all of California here. Ballotpedia, a wiki, is also a useful website.
GOOD Magazine: The folks at the Young Progressive Majority teamed up with GOOD to produce this extensive guide, which goes beyond the usual races -- gubernatorial and U.S. Senate -- and props by featuring other elected offices like State Insurance Commissioner and U.S. House of Representatives.
What the Local Mainstream Media is Saying
For Something a Little More Untraditional: Check out LA Weekly, LA Streetsblog, Mayor Sam (scroll around) and Calitics. By no means is this list comprehensive (it is lacking in Republican links), so please help by adding links to guides in the comments section below and we'll get them up here.
Election Results: Various news outlets will carry and update results as they come in. The best place to check is the Secretary of State's semi-official results webpage. Once the polls close at 8 p.m. on Tuesday, the office will continue to update the results throughout the night and into Wednesday.
Michael John Mammone, 58, was riding his bicycle Wednesday along Pacific Coast Highway in Dana Point when he was assaulted.

Please don't hurt yourself.

Anthony Lowe was shot and killed by Huntington Park police on Jan. 26. 'Thank goodness that we're in the era of videos,' said the family attorney as they file a federal civil rights lawsuit

The mountain lion's death comes about a month after the beloved P-22 was euthanized.

With two hikers still missing — one the well-known actor Julian Sands — expert mountaineers say the usual scarcity of snow in the L.A.-area makes it especially hard to get enough experience to safely venture out in harsh conditions.

But Yeoh is the first to publicly identify as Asian. We take a look at Oberon's complicated path in Hollywood.