Photo Essay: Yes, It Rains in LA. We Also Have Rainbows. And Snow.
LAist relies on your reader support, not paywalls.
Freely accessible local news is vital. Please power our reporters and help keep us independent with a donation today.
The following photos of this unique week in Southern California weather were handpicked from your contributions to the LAist Flickr Photo Pool and elsewhere with permission or via Creative Commons license. Keep 'em comin'! Contribute to LAist by joining our Flickr Pool or send photos directly to zach@laist.com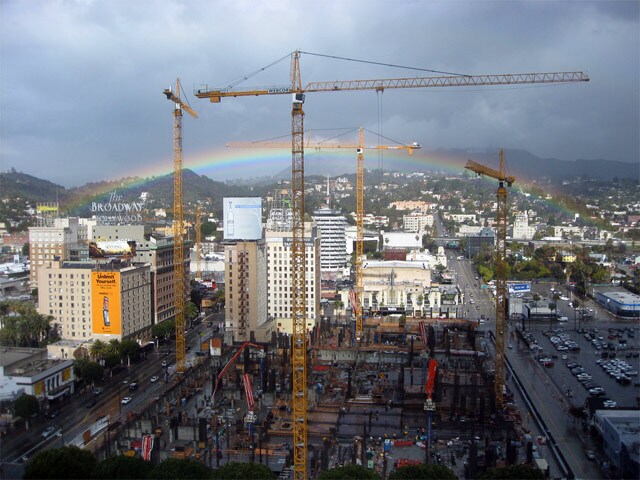 From the 20th floor of the Sunset Media Tower aka 'The House of Blues Building,' 6255 W. Sunset Blvd. by Michael J. Lambie.
Daily rain records set yesterday near LA:
* Santa Maria: 2.10" (old record 0.65" in 1994)
* Long Beach: 1.42" (old record 0.94" in 1995)
* Paso Robles: 1.00" (old record 0.79" in 1994)
* Lancaster: 0.27" (old record 0.25" in 1995)
Snapped yesterday at 3:44 p.m., downtown, by J.R. McHale.
More rain and snow photos from the road and your office window after the jump.