This is an archival story that predates current editorial management.
This archival content was written, edited, and published prior to LAist's acquisition by its current owner, Southern California Public Radio ("SCPR"). Content, such as language choice and subject matter, in archival articles therefore may not align with SCPR's current editorial standards. To learn more about those standards and why we make this distinction, please click here.
Photo Essay: Yes, It Rains in LA. We Also Have Rainbows. And Snow.
Before you read this story...
Dear reader, we're asking for your help to keep local reporting available for all. Your financial support keeps stories like this one free to read, instead of hidden behind paywalls. We believe when reliable local reporting is widely available, the entire community benefits. Thank you for investing in your neighborhood.
The following photos of this unique week in Southern California weather were handpicked from your contributions to the LAist Flickr Photo Pool and elsewhere with permission or via Creative Commons license. Keep 'em comin'! Contribute to LAist by joining our Flickr Pool or send photos directly to zach@laist.com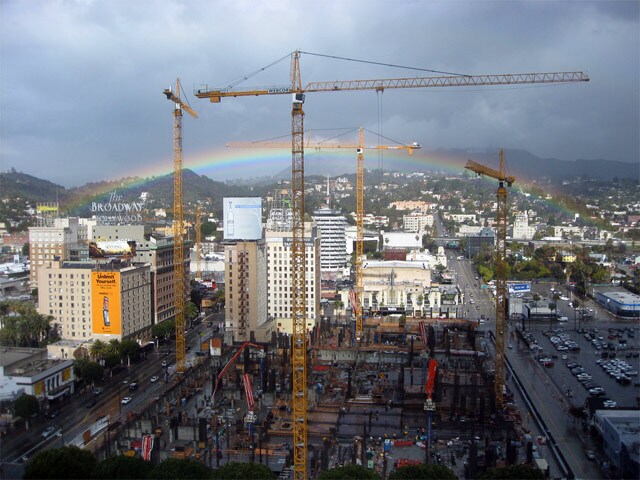 From the 20th floor of the Sunset Media Tower aka 'The House of Blues Building,' 6255 W. Sunset Blvd. by Michael J. Lambie.
Daily rain records set yesterday near LA:
* Santa Maria: 2.10" (old record 0.65" in 1994)
* Long Beach: 1.42" (old record 0.94" in 1995)
* Paso Robles: 1.00" (old record 0.79" in 1994)
* Lancaster: 0.27" (old record 0.25" in 1995)
Snapped yesterday at 3:44 p.m., downtown, by J.R. McHale.
More rain and snow photos from the road and your office window after the jump.
24-hour rainfall totals (in inches, via LADPW):
* USC: 0.96
* Hollywood Res: 1.16
* Sepulveda Cyn: 1.28
* Flintridge: 1.52
* Pacoima Dam: 1.40
* La Habra Heights: 0.72
Flash Flood Watch through Friday afternoon in burn areas.
From the Hollywood office of Sam Proof.
Snapped yesterday by cherbonsy, via mobile near the Grapevine.
Winter Storm Warning: A total of 1-2 feet are expected to fall by 10PM Friday night at elevations above 4,000 ft.
The moon, this morning, after the rains cleared in Burbank, by Matt.
Taken this morning from Sepulveda Center by yunny.
left: downtown, last night, by elaine layabout. right: this morning, headed east on the 10 from LA to San Bernardino, by Dawn.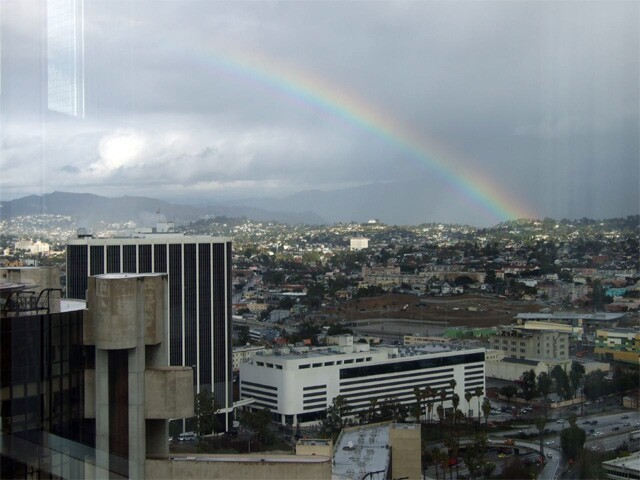 Taken this morning by theoakmonster.
AP video from the Grapevine
:
CBS2 Report on the Ski Resorts
: