This is an archival story that predates current editorial management.
This archival content was written, edited, and published prior to LAist's acquisition by its current owner, Southern California Public Radio ("SCPR"). Content, such as language choice and subject matter, in archival articles therefore may not align with SCPR's current editorial standards. To learn more about those standards and why we make this distinction, please click here.
Wilco @ the Greek Theatre - 8/29/07
Before you read more...
Dear reader, we're asking you to help us keep local news available for all. Your financial support keeps our stories free to read, instead of hidden behind paywalls. We believe when reliable local reporting is widely available, the entire community benefits. Thank you for investing in your neighborhood.
One of the last songs WIlco played in its just over two hour, two encore long set, was the lovely "California Stars" and it was a fitting song for the mood and atmosphere of the evening. The moon was full, those "California Stars" were out, albeit hidden behind the light pollution of LA and the crowd was into it, it was an overall great night for music, especially the brand that Wilco delivers.
Playing from a set mixed from old standards such as, " I'm The Man Who Loves You" "Handshake Drugs" "Jesus, Etc." and "War on War." and new songs off the just released Sky Blue Sky The band was tight as ever, sporting 7 members lead by Jeff Tweedy and the AMAZING Nels Cline on guitar. Wilco is a tough band to categorize, at times straight forward folk-rock, sometimes pure rock and sometimes there is an electronic element that seeps in. However you define it, their eclectic brand of music kept the sold out Greek Theatre constantly engaged in the show and Jeff Tweedy was personable and entertaining as the frontman of the group.

Tweedy's voice oozes emotion from each of the songs and the band is always right there with him. It is truly amazing to see a band this on point with their material as well as each other. "Impossible Germany" off the new record featured a four headed guitar section for the breakdown, with each member playing a different solo, with Cline at the forefront.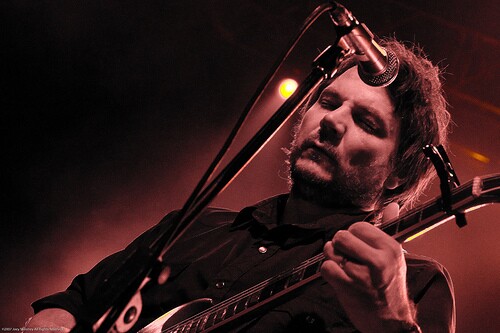 Before I knew it Wilco was in their second core and just wrapping up. it is a testament to their live show. Their albums are moody and sublime affairs while their live performance is a whole different animal, an exercise in pure guitar rock, still moody, still sublime but a little louder and energetic.

All Photos By Joey Maloney / LAist