This is an archival story that predates current editorial management.
This archival content was written, edited, and published prior to LAist's acquisition by its current owner, Southern California Public Radio ("SCPR"). Content, such as language choice and subject matter, in archival articles therefore may not align with SCPR's current editorial standards. To learn more about those standards and why we make this distinction, please click here.
Why Laker Fans Booed Britney Spears
Support your source for local news!
The local news you read here every day is crafted for you, but right now, we need your help to keep it going. In these uncertain times, your support is even more important. Today, put a dollar value on the trustworthy reporting you rely on all year long. We can't hold those in power accountable and uplift voices from the community without your partnership. Thank you.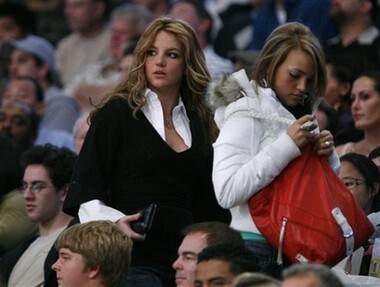 Britney shouldn't take what happened to her the wrong way. People get booed all the time and sometimes they don't know why.
Britney went to the Lakers - Wizards game this Sunday with her little sister and during a time out they showed the pop princess's pucker and the Staples Center joined together in a chorus of boos.
Brit needs to know that it's not because shes a lip syncher, nor is it because she married and then divorced KFed. Girl, we're glad you dumped that fool.
The reason Laker fans booed is because this is not the Laker team that they want. Their record is fine, but true Laker fans know this isn't a championship team.
And nobody knows how you could make a team of Kobe and Allen Iverson work perfectly together but secretly Laker fans want AI, badly, and hope that Phil Jackson could work a miracle and have both egotistical stars suddenly become unselfish teammates.
But the problem is, when theres stars like Britney Spears trolling in the good seats, Dr. Buss isn't going to feel the need to pull any deals. Namely Lamar, Bynum and Farmar for The Answer.
Moves happen when there aren't stars roaming around trying to pretend to be interested. LAist loves Britney but we would have booed her ass too.
If the Clippers are smart they'd trade Livingston, Maggette, and Cassell for AI, but nobody seems to be very smart right now.
AP Photo by Mark Avery
Cruise off the highway and hit locally-known spots for some tasty bites.

Fentanyl and other drugs fuel record deaths among people experiencing homelessness in L.A. County. From 2019 to 2021, deaths jumped 70% to more than 2,200 in a single year.

This fungi isn't a "fun guy." Here's what to do if you spot or suspect mold in your home.

Donald Trump was a fading TV presence when the WGA strike put a dent in network schedules.

Edward Bronstein died in March 2020 while officers were forcibly taking a blood sample after his detention.

A hike can be a beautiful backdrop as you build your connection with someone.