LAist relies on your reader support, not paywalls.
Freely accessible local news is vital. Please power our reporters and help keep us independent with a donation today.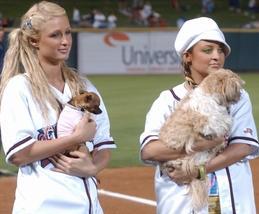 Now, we've learned from Paris & Nicole and a few other trendsetting celebs that it's okay to bring your dog to baseball games, boutique shopping, to New York fashion shows, and to LA outdoor cafés but even Ms. Hilton hasn't brought fair Tinkerbell out clubbing with her.
Well, Lara Flynn Boyle has broken that taboo. Just one night after attending the Amazon.Com Goes Hollywood for the Holidays Party sans puppy, the actress whose last non-scenester on-screen performance was getting "Punk'd" by Ashton Kutcher, decided that canines would no longer be left on the wrong side of the velvet rope.
Carrying what looked to be a white Scottish Terrier in her arms, she walked in to Guy's, lips glistening, as all eyes turned trying to figure out who brought in the cute pup. She eventually made her way to the outdoor area where, it's assumed, she took a smoke and her 4 legged friend a doody.