This is an archival story that predates current editorial management.
This archival content was written, edited, and published prior to LAist's acquisition by its current owner, Southern California Public Radio ("SCPR"). Content, such as language choice and subject matter, in archival articles therefore may not align with SCPR's current editorial standards. To learn more about those standards and why we make this distinction, please click here.
Trader Joe's Says 'No' to Some Chinese Foods
Support your source for local news!
The local news you read here every day is crafted for you, but right now, we need your help to keep it going. In these uncertain times, your support is even more important. Today, put a dollar value on the trustworthy reporting you rely on all year long. We can't hold those in power accountable and uplift voices from the community without your partnership. Thank you.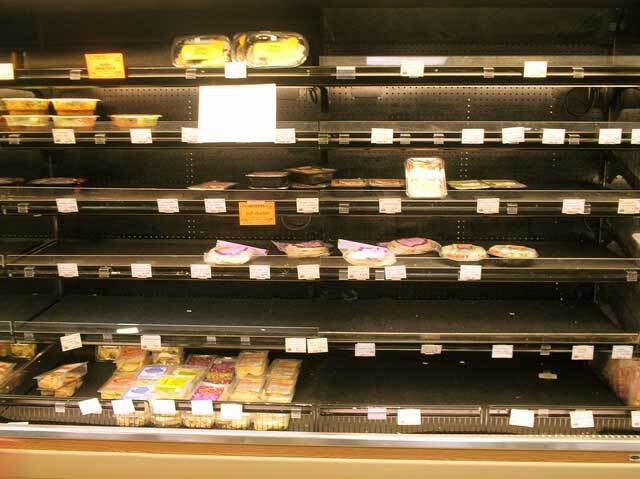 Okay, it won't be even close to this dramatic looking when the food is pulled | Photo veganstraightedge by via Flickr
Trader Joes, based here in Southern California in Monrovia, made a big announcement today regarding imported food from China:
Garlic, frozen organic spinach and other "single ingredient" food items from mainland China will be phased out by April 1, although products that include ingredients from both China and other sources will remain. The company believes the foods are safe but "we will continue to source products from other regions until our customers feel as confident as we do about the quality and safety of Chinese products," Trader Joe spokeswoman Alison Mochizuki said in a statement. [Business Week]


Earlier this year, products from China such as pet food and toys have caused alarm for recalls in the United States.
Business Week
also reports that Whole Foods Market Inc., Kroger Co. [they own Ralphs] and Safeway Inc. [they own Vons] did not immediately return their calls seeking information on their product lines. But Wegmans on the East Coast did stop selling garlic from China last fall.
For us, our favorite garlic from Trader Joe's is the Dorot Crushed Garlic found in the frozen section (those little cubes). It's incredibly potent and does a great job in soups and when sauteing veggies. Luckily, Dorot is Kosher and manufactured in Israel.
Cruise off the highway and hit locally-known spots for some tasty bites.

Fentanyl and other drugs fuel record deaths among people experiencing homelessness in L.A. County. From 2019 to 2021, deaths jumped 70% to more than 2,200 in a single year.

This fungi isn't a "fun guy." Here's what to do if you spot or suspect mold in your home.

Donald Trump was a fading TV presence when the WGA strike put a dent in network schedules.

Edward Bronstein died in March 2020 while officers were forcibly taking a blood sample after his detention.

A hike can be a beautiful backdrop as you build your connection with someone.