This is an archival story that predates current editorial management.
This archival content was written, edited, and published prior to LAist's acquisition by its current owner, Southern California Public Radio ("SCPR"). Content, such as language choice and subject matter, in archival articles therefore may not align with SCPR's current editorial standards. To learn more about those standards and why we make this distinction, please click here.
NBC News' Tim Russert is Dead at 58
Support your source for local news!
The local news you read here every day is crafted for you, but right now, we need your help to keep it going. In these uncertain times, your support is even more important. Today, put a dollar value on the trustworthy reporting you rely on all year long. We can't hold those in power accountable and uplift voices from the community without your partnership.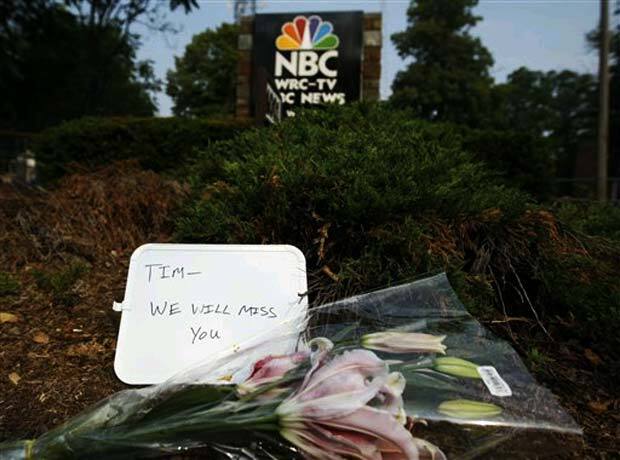 Tim Russert, NBC News' Washington bureau chief and moderator of "Meet the Press" died after collapsing at NBC Studios in New York this afternoon. He was 58 years old.
Retired NBC News anchor Tom Brokaw delivered the news at 12:39 p.m. LA time:
"Our beloved colleague," a somber Mr. Brokaw called him, one of the premier journalists of our time. He said this was one of the most important years in his life, with his deep engagement in the network's political coverage, and that he "worked to the point of exhaustion." [...]

"This news division will not be the same without his strong, clear voice," Mr. Brokaw said. -- NYT.


Both presidential candidates reacted with
grief and high praise
from the campaign trail. Obama said Russert was "one of the finest men I know," and McCain called him "the preeminent political journalist of his generation."Video of Brokaw breaking the news below:
Russert is survived by his wife, Maureen Orth, a writer for Vanity Fair, and son Luke, who co-hosts a sports podcast with James Carville. The family had just returned from Italy where it was celebrating Luke Russert's graduation from Boston College.
Jen Chung wrote the following memoir and obit for our sister site Gothamist:
Russert, who started in politics working for Senator Daniel Patrick Moynihan and Governor Mario Cuomo, was hired by NBC in 1984 and became Washington bureau chief in 1988. He had hosted Meet the Press since 1991, but his insightful political analysis reached even broader audiences during the 2000 election: When it was unclear how the election would turn, Russert used a dry erase board to explain the electoral college cont. His use of a dry erase board was selected by TV Guide and TV Land as one of the 100 Most Memorable moments (#68) back in 2004.
Also in 2004, the Washington Post's Howard Kurtz wrote a feature on him, "Tim Russert is the quintessential Washington insider, a man with tentacles deep into the political and media worlds, one of the few journalists in a puffed-up, preening profession who really matter." This year, Time magazine named him one of the 100 most influential people.
NBC News recently revealed ambitious plans for covering the Democratic and Republican conventions -- 20 hours of live coverage each day; Russert would have provided coverage and analysis of the vice-presidential and presidential candidates' acceptance speeches. Here's how Russert predicted electoral maps for the 2008 election back in April, looking at possible Obama vs. McCain and Clinton vs. McCain matchups.
Russert, who regularly contributed to radio station WTOP, had discussed the Obama's campaign's new website to fight myths about Obama this morning (MP3).
Cruise off the highway and hit locally-known spots for some tasty bites.

Fentanyl and other drugs fuel record deaths among people experiencing homelessness in L.A. County. From 2019 to 2021, deaths jumped 70% to more than 2,200 in a single year.

This fungi isn't a "fun guy." Here's what to do if you spot or suspect mold in your home.

Donald Trump was a fading TV presence when the WGA strike put a dent in network schedules.

Edward Bronstein died in March 2020 while officers were forcibly taking a blood sample after his detention.

A hike can be a beautiful backdrop as you build your connection with someone.